iLink2Music – An Emerging Tailor-made Music Entertainment Social Media Platform Powered By BlockChai
Check the official video of iLink2Music out!
STARTER INFORMATION
Blockchain, the emerging technology that has drawn attention globally, retains many attractive benefits for the media and entertainment industry. Although certain difficulties exist in terms of full adoption for the technology, there is no doubt that blockchain has a high potential of changing the way the industry currently functions. With the numerous applications of blockchain technology, a series of problems have emerged such as the gatekeeper problem, a lack of protection of intellectual property, and a flaw in tangible goods management. These issues can be solved by effectively changing the business models in the media and entertainment industry.
While talking about the entertainment industry, people generally picture large distribution companies and studios who control and allocate resources in the industry the gatekeepers. As the intermediaries between artists and audiences, these gatekeepers are centralized organizations who allow flourishing content onto their platform. However, these gatekeepers would most likely promote the content that favors in individual interests. Although participating in the media and entertainment industry is easier due to platforms such as YouTube, the uneven distribution of content and unfair compensation for artists are still major disadvantages within the industry.
With the implementation of blockchain technology, the method of communication in the industry would become decentralized. Under this system, artists and their audiences would then be able to interact directly without the aforementioned intermediaries. Through bypassing the distribution channels, a large share of revenue could be collected directly by the artists, which would greatly improve the payback for content contributors and creators. On the other hand, artists would be able to take advantage of smart contracts to enforce license terms and distribute payments more effectively. Micropayments using stable cryptocurrencies can be used by the content consumers without having to worry about expensive transaction fees or exchange rate fluctuation.
Overview of iLink2Music
iLink2Music is an emerging tailor-made Music Entertainment Social Media Platform Powered By BlockChain, Uniting Artists, Executives & Music Lovers worldwide, regardless of their age, experience, race or beliefs, providing exclusive international music entertainment content, networking, events, contests, prizes, products & services. iLink2Music also pledge live exclusive global concert/charity fund raising streaming online, as well as feature exceptional co-creation content designed to facilitate & revolutionize the management of online "way of life."
The approach of the company is to be able to provide for generated individuals and a structure that is user-driven.
The effort of iLink2Music is focused on bringing the symbiosis to the production of music, social media, digital and mobile landscape consumer consumption and also the distribution of the sub-ecosystem.
The approach of the company is to be able to provide for generated individuals and a structure that is user-driven.
The effort of iLink2Music is focused on bringing the symbiosis to the production of music, social media, digital and mobile landscape consumer consumption and also the distribution of the sub-ecosystem.
iLink2Music will rediscover and will revolutionize the social media music industry by:
HOW IT WORKS?
iLink2Music will enable you to create a user profile that displays your talent or expertise in the entertainment business, (artists, professionals or technicians) enroll in contests, get discovered & win exclusive prizes. You can also simply be a music fan that enjoys listening to music, socializing or following & supporting others. Each member will be able to network within our community in order to find what they're looking for globally, & possibly enable his/ her talent to be reviewed by successful entertainment influencers within their field; thus, transforming part of our platform into an exclusive worldwide online community based on the same principles as multiple mainstream music television shows with successful international growth worldwide.
The Impending Challenge
Fans-Consumers are increasingly in control but also increasingly confused
consumers have seen an explosion in their media choices. This past year highlights that: This blizzard of consumption choices is creating confusion in the minds of the consumer & this extends to the legitimacy of the content they access just from smart phones.
The Solution: From "mass media" to "my media." – WHY ILINK2MUSIC STANDS OUT
As media consumption fragments across devices, consumers increasingly demand personalized experiences — their content on their chosen devices, when they want it. This move to "my media" can be seen in "cord- cutting," where consumers abandon their pay TV subscriptions & instead access the content they want via cheaper, Internet & mobile broadband-based content services
Strategic Growth Plan
iLink2Music will listen to their audience: What are they saying? What type of content do they find appealing? What is the best format of content that our audience consumes?
iLink2Music will engage; iLink2Music will create content based on the areas or topics of interest learned from the listening phase. Overall, the content we create should be relevant, helpful, engaging & information-rich
iLink2Music will measure communications by tracking "likes," "shares," "re-tweets," "clicks," etc., so iLink2Music can easily determine success, failure, & areas of improvement, most importantly what type of content is resonating with the audience.
iLink2Music will constantly learn. Measuring results is useless unless iLink2Music learn sfrom it. The goal of measurement is not just to understand what happened in the past, but to determine our future as well. We can then tweak our strategy & try to solicit more engagement.
Advantage of iLink2Music
iLink2Music's voting protocol offers a solution for the drama that so often accompanies online voting, providing both security and transparency to generate credibility for its hosted competitions. Together with the variety of features promised by the rest of the community platform, this should make it attractive to users. If that calculation pays off and the site becomes popular, iLink2Music will have many different options when it comes to expanding its revenue stream, such as advertising, more promotions and games, music downloads and so on. Meanwhile, community users will gain a new hub in which to get together and perhaps try to gain exposure.
WHY YOU SHOULD CHOOSE iLink2Music?
There is a High Demand for the Company's Services
We Have a Strong Professional Management Team
We Have a Solid & Aggressive Growth Plan
We Have a Unique Social Media Platform Powered By BlockChain
TOKEN SALE AND ICO DETAILS
The ELINK Token is an ERC-20 compliant digital token issued by iLink2Music and is the official token of the platform. These tokens will allow an individual or organization to secure access to the IL2Voting platform and its features to successfully operate Celebrity/Influencer contesting and secondary activities (Ads, Shows, sponsorship etc). IL2Voting provides the functionality for running contests. It combines advanced capabilities coupled with a private BlockChain framework with public sidechains for additional verification, using voter anonymizing technology schema and mathematical proof of verifiability, all enabled by ELINK Tokens.
TOKENS LIMITED TO 10,000,000,000 ELINKS
2% will be allocated to the private sale with a vesting period of 12 months
40% of the tokens will be released to public.
15% will be allocated to the project management, core developers and founders with a vesting period of 12 months.
7% will be allocated to our advisors with a vesting period of 3 months.
3% will be distributed to our users during our bounty and referral program.
The remaining 23.6% will be in reserve for business development, user growth and future market expansion.
Bonus Tokens 9.4% (Remaining tokens will be added to the reserve.)
Token Details
Token: ELINK
1ELINK = $0,005
Min amount = $50 USD
Max amount = $50 000 USD
PreICO price: 1 ELINK = 0.005 USD
Price in ICO: 1 ELINK = 0.005 USD
Tokens for sale: 4,000,000,000
Min. investment: 50 USD
Accepted currencies: BTC, ETH, LTC, BCH, XRP, DASH, ETC, NEO, Qtum, TRX, ZEC and Credit Cards through PayPal.
Distributed in ICO: 40%
Soft cap: 3,500,000 USD
Hard cap: 21,000,000 USD
Token Distribution
Use of Funds
The marketing and advertising department will have 60%.
I.T research and development will have 25% allocated to them.
Operations, legal as well as administrations will have 15% allocated to them.
Stages and Bonuses
The PRE-ICO stage (10% of the total supply) = 1,000,000,000 ELINKS.
The Public ICO stages (30% of total supply) = 3,000,000,000 ELINKS.
The Soft-cap is $3,500,000 or equivalent and the Hard-cap is $21,000,000 or equivalent.
All unsold ELINKs per stage will be added to the following respective stage.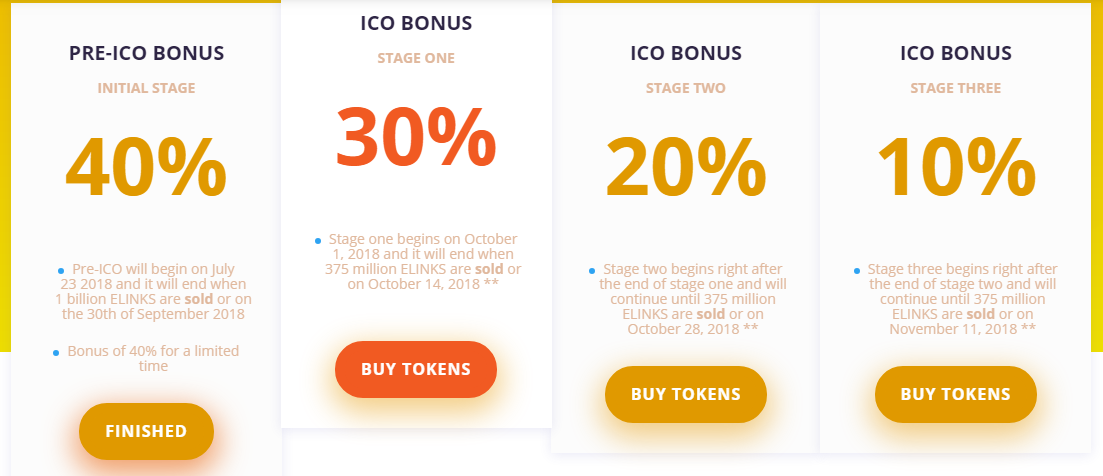 ROADMAP
Q1 2016
Concept Development with the Influencer Entertainment Industry (Canada / United States / Latin America).
Q2 2016
Gathering Intelligence Intensity: Online Music. Film & Mode Contest.
Q3 2016
Online Platform Completion (BetaRevision).
Q4 2016
Intelligence Collection: Online Sports & Comedy Fan Contest.
Q1 2017
Gathering Intelligence: Online Platform & Cellular Application. Building Relationships with Entertainment Industry Devices in South Korea.
India. Armenia, France, Brazil.
Q2 2017
Improving the Concept of Online Work: Music, Fashion, Film, Sports & Comedy.
Q3 2017
Improvement of Cellular Application infrastructure.
Q4 2017
Completion of the Cellular Application infrastructure.
Q4 2017
Online Platform Completion is ready for Soft Launch (BetaRevisionZ).
Q1 2018
Focus on BlockChain (Internet 2.0) technology. Exchange with Some
BlockChain Specialists.
Q2 2018
The Core Team is Extended to meet with BlockChain Development. The decision to make an EOS Token. Decision to Develop BlockChain & Launch Online Platform. The agreement was signed to develop the BlockChain Platform. Adjusting the Company's Business Plan to the whitepaper.
Q3 2018
Token Sale. Our Token Spread at Blockchain ETH.
Q4 2018
Agreement with Mathematicians, Economists & BlockChain Specialists. Convert from Blockchain ETH to our personal BlockChain. Set our Ecosystem. Agreement with Celebrity / Influencer Music Entertainment. Customize Websites & Mobile Applications to the requirements of Celebrities / Shields.
Q1 2019
BlockChain Technology Development. BlockChain Technology Development (Expected Timeline 12-18 months).
Q2 2019
Establishing Press Release Strategies. Terrestrial Social Media & Marketing Campaign for Launching Online & Cellular Applications. A-List Celebrity Red Carpet Launch Party.
Q3 2019
Announce the 1st Winner of the Contest. Sign the First Global Ambassador. Stan Mentoring Section Mentoring on the Platform.
Q4 2019
Branding & Merchandising melalui E-Commerce.
Q1 2020
Influencer Entertainment Fashion Agreements. Specify the "Music in Mode" Contest. Customizing Websites 8. Cellular Applications for influencer requirements.
Q2 2020
Launch of Testnet 2. Start of "Music in Fashion" Contesting ".
Q3 2020
Launch MainNet.
Q4 2020
Road Map VZ.
TEAM
ADVISORS
For more information, please visit:
Website: https://ilink2music.co/
Whitepaper: https://ilink2music.co/wp-content/uploads/2018/07/iLink2Music-WhitePaper-Final-V1-1.pdf
ANN: https://bitcointalk.org/index.php?topic=4759293.0
Telegram: https://t.me/iLink2Music
Facebook: https://www.facebook.com/iLink2Music.co
Twitter: https://twitter.com/ilink2music
Medium: https://medium.com/@ilink2music
Author: Cryptoholical
My Bitcointalk Profile: https://bitcointalk.org/index.php?action=profile;u=2487106
Email: cryptoholically@gmail.com