First of all, I want to start with blockchain part of IMMVRSE. They will go to us blockchain ethereum, the tokens do not surprise the ERC20 ethereum tokens as well. So you can save it in your ERC20 compatible wallet.Creators will create virtual reality content and advertisers who will pay or sponsor the content. Content creators will be able to transfer their earnings to the wallet, viewers will also get IMV tokens as a form of payment to interact with the ecosystem. So they'll get an advertiser's percentage of payments and this will increase usage and demand in essence will incentivize viewers on the platform. 
And they will also be able to store their tokens in the ImmVRse wallet as well. Advertisers will pay and buy paid content for services in the store and basically they will be able to hire creators to create content for them. Brands can also buy tokens to pay advertisers and pay for jobs, services as well. Referring back to the ImmVRse network whitewith details as the network architecture consists of tokens, wallets, VRT protocols and also DApp (decentralized apps) as well. DApp has two parts for it, a decentralized engine as well as a user retention engine so tokens are standard tokens ERC20 and that will be used as fuel in ecosystems for transactions to buy and sell content etc.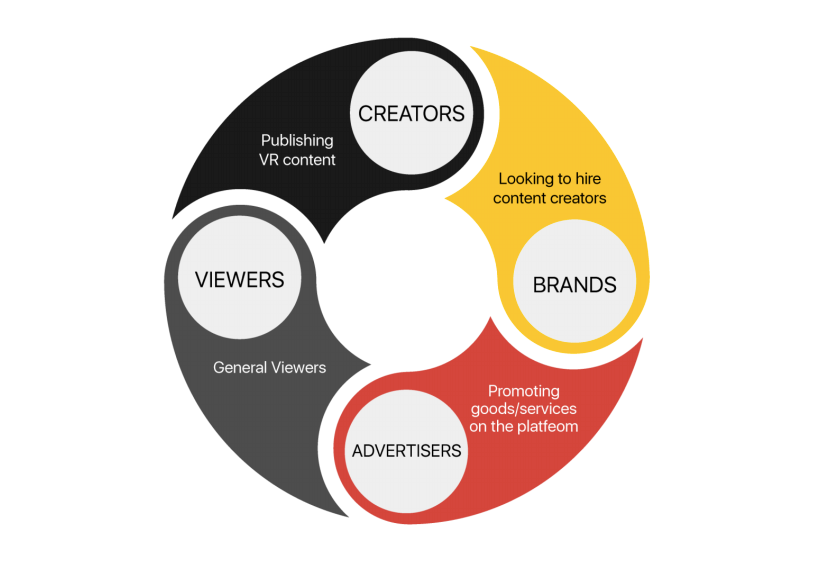 The protocol is a ledger where the monitors are all so everything is recorded. DAP is made up of two parts and it will be an app that you can hire your content creator and also for people to advertise and receive awards for interacting with the app. Decentralized machines are being developed to connect all users in the platform and user retention machines are specifically designed to keep users in the ecosystem. Basically to give users incentives to keep using it and join too.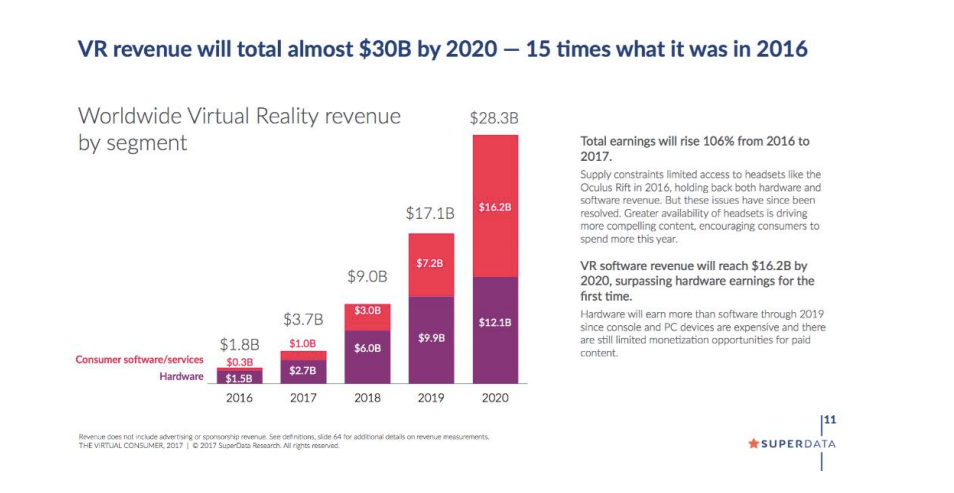 By utilizing smart contracts, it means they can have a peer-to-peer payment service and also make sure no third parties are involved so everything will be automated on the ecosystem. The file distribution system, they will use IPFS and this gives the benefit of saving files in a decentralized manner.Basically, what happens is the files are then ished into blockchain so they are known in the blockchain as a hash rather than as a full file that will obviously be too bloated. They will also have decentralized storage engines that they will allow to balance the outstanding supply of tokens to stabilize unexpected volatility, but also more importantly to retain users on the platform. 
So if you're a user, you'll get rewards for interacting, liking, commenting, and so on. Just like the current steem blog platform and therefore encourage users to actually use the platform and engage with the creator, the brand. Another thing I want to mention briefly is the meritocracy that will be provided by this platform. What I mean is that it will reward the creators involved so that there will be a monthly content prize, a reward for the creator, there will be a support badge, maker badge, and so on.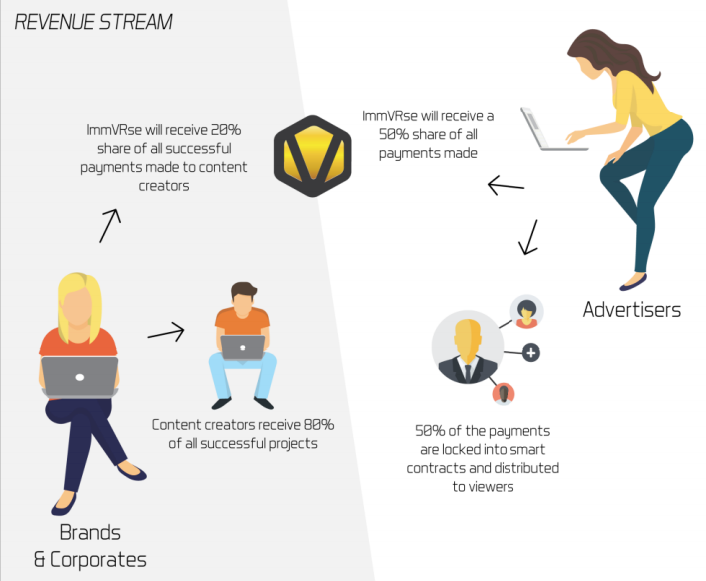 There will be a kind of revenue stream coming for ImmVRse to actually continue to maintain the platform and this will be in the percentage of the content creator hire. The cost they say for creators is between three thousand and fifty thousand dollars depending on the quality of the creators they will use. Then there will be a torn creator so if you want to participate in it, you have to pay a monthly fee. There will be revenue generated from it as well and it will be $ 5.99 per month up to $ 10.99 per month and then there are other interesting ideas that I've noticed, they want to really charge for the academy. They will have video tutorials with more experience for real reality creators. Education about film making and so on and so forth. So it sounds pretty interesting and that's a little extra addition for people interested in getting involved with this platform. This is relevant because not many people will film 360 or virtual reality before.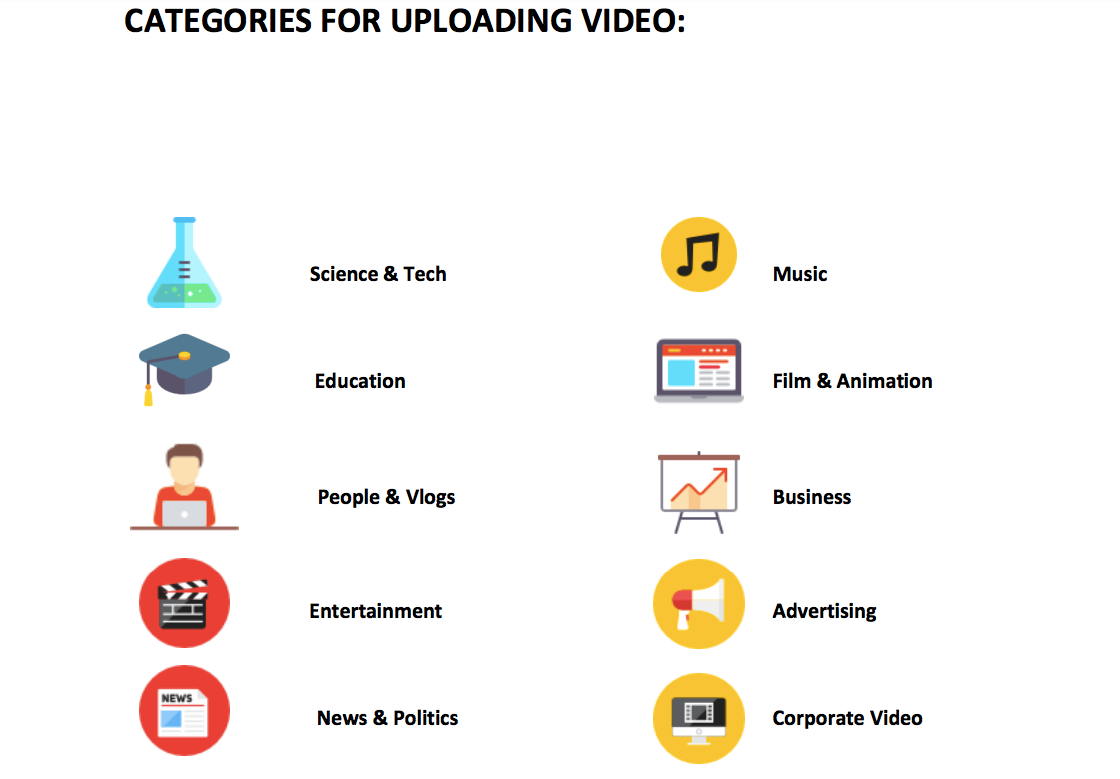 Information about tokens:
Token is denoted by IMV and ImmVRse token fee is $ 0.20. It builds on Ethereum technology and complies with ERC20. Participants in crowdsale can buy tokens through Ether and store them at the MyEtherWallet address given to them. There is a 20% discount offered as a bonus for Participants in Pre-ICO.
Private pre-ICO is ready to start from April 2018 for contributors willing to contribute more than 1 Ether. The ICO date has not been announced, but they are planning to release a total of 100,000,000 IMV. The distribution of funds from crowdsale is as follows:
Symbol: IMV

Total Supply: 300.000.000 IMV

Token on sale: 33% (300.000.000 IMV)

Token Price: 0.2 USD + bonus

Minimum investment: 50 USD

Softcap: 5,000,000 USD

Hardcap: 20,000,000 USD
Timeline – PROCESS DEVELOPMENT
Under development: ImmVRse DApp MVP is under development. The development of the ImmVRse Protocol is also ongoing and is projected to be completed in Q4 2018. Meanwhile, ImmVRse plans to use Etherscan.io to record the ledger and monitor the health of our blockchain platform.

Q1 2018 Launch of Marketing Campaign: Our marketing campaign for ICO will launch in the first week of 2018. We will reach potential investors through multiple promotional channels along with Google AdWords. Part of our marketing campaign is to sign up users for an alpha version of our app

Pre ICO: Private pre-ICO will be conducted in April 2018 with investors willing to contribute more than 1 Ether. Pre-ICO allocation will be 10% token to be distributed.

ICO Launch: ICO launch date not yet announced. ImmVRse plans to release 100,000,000 IMV shortly after sales with hard stamp of US $ 20 million.

Q2 2018 Token Release: ImmVRse token will be released in one or more exchanges after successful completion of ICO. Some exchanges may be confirmed before ICO, however, the official date from which the token will be transferable will be announced after the ICO.

Q3 2018 Team Expansion: 3 months after the ICO launch, ImmVRse will recruit the full DevOps team to begin development operations for the full version of the app, to prepare for the official launch of the alpha version. Marketing Campaigns: An important part of this plan is PR and positive marketing because the success of the app will depend heavily on user adoption and retention. On this basis, we decided to allocate certain funds for marketing campaigns.

2014 Office Q4 Extension in UE & Asia: Team segments will join dynamic communities with local offices in Asia and EU to manage DevOps. ImmVRse Alpha Launch: ImmVRse aims to launch an alpha version of the app in Q4 2018.
ImmVRse Ecosystem Settings: After the establishment of the ImmVRse Protocol, ImmVRse tokens will be used in the application ecosystem. Brands and advertisers will be able to purchase the ImmVRse token to recruit creators.

Advanced Research and Development: ImmVRse will partner with universities across the country to enable student participation in blockchain technology.Part of this process is to recruit PhD students and special researchers to improve VR / MR / AR technology based on the blockchain platform.
ImmVRse DevCon Token: ImmVRse will set up a global hackathon to gather talented blockchain developers around the world.

ImmVRse Full Version Launch: The full version of this app will launch in mid 2019 after extensive testing in beta. ImmVRse aims to stay on this target date and predict that this will be the optimal time to launch the app, as this will coincide with the year in which Facebook, Intel and Apple will also launch their own commercial VR headsets. Once this happens, mass adoption will take place, creating a very high demand for VR content.
The root of any project is, of course, team members who can complete assigned tasks to them, which will make it possible to realize a unique idea. Why ImmVRse you ask, because the team has outstanding experience in project management, which totals more than 30 million pounds sterling, as well as experience in global companies. Team members have experience in management, marketing, detachment and in many other areas. The team's ability to create complex projects, together with investment and cryptographic experience, will enable the team to easily implement the project. Many start-ups suffer from losses due to a lack of experience in the management team.ImmVRse on the contrary, has extensive experience in both personnel and financial management.
Certified Marketing Specialist with Certification (ACIM), work experience of more than 10 years. Investors and researchers of blocking technology and crypto currencies in general, professional Solidity programming languages ​​on the Ethereum platform. He has 2.5 years experience in creating multimedia content from visual reality. To date, he heads a group of medical students in the field of VR -Neuroscience research.
An investor and entrepreneur, a pioneer in the crypto industry and trader, has 14 years of experience in financial management and control for various organizations worldwide.Expert in the application of several projects in various industries.
He is one of the founders of MadBuzz HK, specializing in online content development.Has 4 years experience in marketing and journalism.
He has over 15 years experience in managing IT projects, managing IT project infrastructure and projects in this field for a total value of over $ 100 million.
App developers on Android, working with the largest campaigns in the EU, have JS, Python PHP, JAVA, and SQL. He has over 8 years of experience as a developer, as well as dimensional software manager.
He is a team member who provides architectural solutions, digital transformation and content management systems. Direct technology management in the roadmap, maintenance of the digital program lifecycle.
Specialist in creating strategies and business models. The head of the largest program in the European Union with a budget of 2 billion pounds. Member of 2012 London Olympic review team Winners in field of management advice and certified SCRAM master. Experts in RPA and implementation of business models.
The multi-disciplinary manager and project manager PRINCE2 Agile has 8 years experience in project management in various fields and budgets of more than 1 million pounds sterling.
The SCRAM certified master, strategically and tactically solves the problem, is known for its technical experience. Being able to turn complex business tasks into a simple concept.He is the complete life cycle manager of the dev project.
He is an app developer with extensive experience in developing and developing Android in C ++, JS, Python.
Content manager, a very ambitious team member who has experience in social media, journalism. He is a top level expert to create releases, manage groups and full understanding and interaction in multiple languages.
He is the head of the personnel department.Have high leadership skills, an understanding of financial problems and business requirements.
Company manager. It is famous for its very high level within the scope of managers and believes in the future of crypto currencies and blockbuster technology. He has years of experience in management and participates in campaigns such as Odem, Realisto, CryptoBnB.
So the information I can tell you about this platform, you can definitely judge for yourself that this platform is very good and I highly recommend it to you all, for that if you want to join please click this link
https://immvrse.typeform.com/to/ Fs0lS9
For more information, you can visit the following websites:
My Bitcointalk Profile: https://bitcointalk.org/index.php?action=profile;u=2038562