INBOT AMBASSADOR: ACCELERATE CUSTOMER RELATIONSHIPS.

Inbot have identified and developed an idea that can revolutionize the way companies introduce their service or product to their customers, and this method of operation cuts the time taken to develop a fresh personal relationship with your customer's decision makers. Simply put, Inbot Ambassadors is a global web of persons who help businesses grow by making introductions to their customer's decision makers, eliminating the need for local sales teams. After the development, the business will be run with AI. It will set fair and easy-on community regulations with smart contracts on the blockchain, and pays the members with token dividends.
Members will be paid token dividends using the InToken utility, which can also be traded on cryptocurrency exchanges. This Inbot's own token is running on stellar blockchain and the token's value is dependent on the value its holder placed on its utility.
With the use of InScore, members of the Inbot ambassador community can get their rewards automatically multiplied. The InScore does so by reducing the rewards of spammers and increasing the rewards of true Inbot community ambassadors.
One of the outstanding and most useful tool on the Inbot system is the People Graph. It's an AI-powered technology developed to use social graphs, communication patterns and histories of successful jobs completed, to map out trustworthy people with the highest contextual relevance, who has a personal relationship with your business' customer, or a customer in your business' field for business introduction. People Graph AI enables us retain privacy of our members who are mostly VIPs in their areas of expertise.
TOKEN DETAILS:
Total Token – 13 billion InTokens.
5.8 billion InTokens – Public.
2 billion – existing Inbot, Inc. shareholders, who will forfeit their shares in the process.
Inbot Oü is the governing body of InToken.
800 million – liquidity. This which will be managed with Bancor protocol.
1.25 billion – team & advisor compensation.
150 million – Token Sale Costs.
TOKEN DISTTRIBUTION: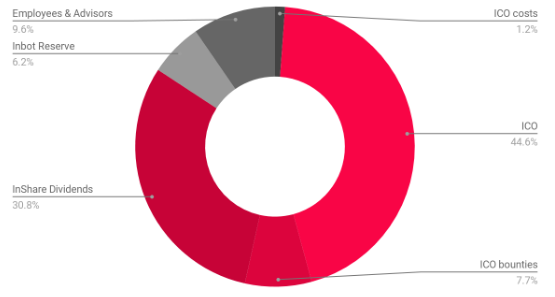 Employees & Advisors – 9.6%
Inbot Reserve – 6.2%
Inshare Dividends – 30.8%
ICO costs – 1.2%
ICO – 44.6%
ICO bounties – 7.7%
FUNDS ALLOCATION: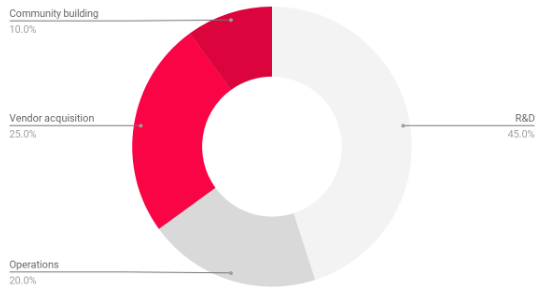 10% of the total funds will be allocated for Community building.
25.0% of the summed funds will be kept aside for Vendor acquisition.
20.0% will be for Operations.
R&D will take 45.0% of the total funds.
ROAD MAP: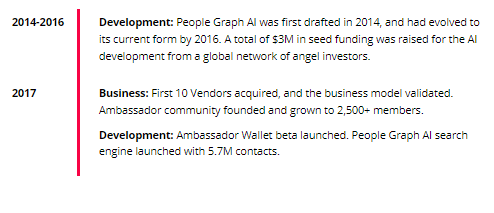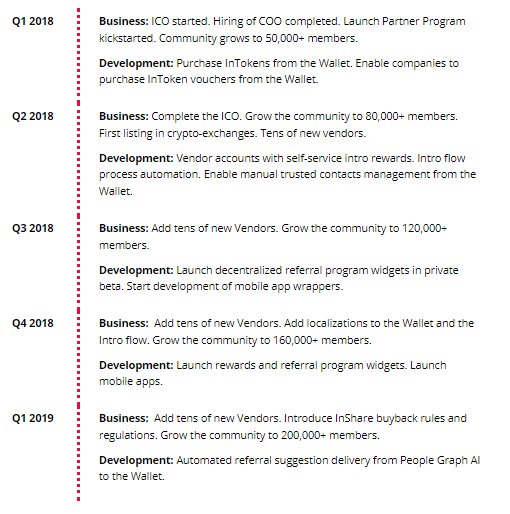 2014 – 2016
Development: People Graph AI was first drafted in 2014, and had evolved to its current form by 2016. A total of $3M in seed funding was raised for the AI development from a global network of angel investors.
2017
Business: First 10 Vendors acquired, and the business model validated. Ambassador community founded and grown to 2,500+ members.
Development: Ambassador Wallet beta launched. People Graph AI search engine launched with 5.7M contacts.
Q1 2018
Business: ICO started. Hiring of COO completed. Launch Partner Program kickstarted. Community grows to 50,000+ members.
Development: Purchase InTokens from the Wallet. Enable companies to purchase InToken vouchers from the Wallet.
Q2 2018
Business: Complete the ICO. Grow the community to 80,000+ members. First listing in crypto-exchanges. Tens of new vendors.
Development: Vendor accounts with self-service intro rewards. Intro flow process automation. Enable manual trusted contacts management from the Wallet.
Q3 2018
Business: Add tens of new Vendors. Grow the community to 120,000+ members.
Development: Launch decentralized referral program widgets in private beta. Start development of mobile app wrappers.
Q4 2018
Business: Add tens of new Vendors. Add localizations to the Wallet and the Intro flow. Grow the community to 160,000+ members.
Development: Launch rewards and referral program widgets. Launch mobile apps.
Q1 2019
Business: Add tens of new Vendors. Introduce InShare buyback rules and regulations. Grow the community to 200,000+ members.
Development: Automated referral suggestion delivery from People Graph AI to the Wallet.
PARTNERS:

Claned Group
We Are
Beekeeper
Verbit
TEAM:
Mikko Alasaarela – Founder & CEO
Ameetess Dira – COO
VilenJumutc- Lead AI & Blockchain Architect
Jilles van Gurp – Lead Server Developer
Joona Kulmala – Founder & Lead App / Web Developer
Miiro Seppänen – Lead Designer
ADVISORS:
Henok Tekle
Giuseppe Donagemma
Jan Karnath
Petter Sehlin
To gain more in-depth knowledge of this work, do well to follow the members of the team closely and do visit their social media pages for more information using the mentioned links below:
Website: https://inbot.io/
Whitepaper: https://docs.google.com/document/d/12siRqjuHIHelPS-NaVVZxnq4AJ1hGlDXoGo6DeVw51U/edit?usp=sharing
Telegram: https://t.me/intoken
Twitter: https://twitter.com/inbot_int
Facebook: https://www.facebook.com/inbotambassador/
Reddit: https://www.reddit.com/r/ico/comments/810n4m/inbot_airdrop_and_presale_is_on_click_on_wallet/
BITCOINTALK USERNAME: thankyoulord
BITCOINTALK URL: https://bitcointalk.org/index.php?action=profile;u=2076086
WALLET ADDRESS: 0x2859DD117e5E186B2dec97b50012C66D0E7597Ad