INTRODUCTION
Inmusik is an ecosystem based on a blockchain database that supports the music industry, streaming, and social interaction, with cryptocurrency rewards and a financial framework on which future music industry applications can be built.The platform is a fusion of concepts from music streaming and social media which includes community curation, verification and transparent payouts to both content owners and contributing listeners/fans. To enable a fair market economy for an industry built on all types of music assets requires a system capable of easily accounting every users' contribution.
Inmusik's Token is the first cryptocurrency that attempts to accurately and transparently enable an industry to thrive in this new digital age, while rewarding its users for their subjective contributions to the ecosystem and enabling a host of applications not yet imagined.
Music Industry, Decentralized
Inmusik's Cryptocurrency ($OUND Token) is the first of its kind in the creative industry, enabling everyone who contributes to the success of the platform to be fairly rewarded based on measurable values. The system is designed to mathematically recognize contributions and automatically pay users, all built on a viable and sustainable business model.
The Inmusik cryptocurrency serves the music industry by:
Being a fair and transparent system that enables the business of music to take place.
Being governed by the community so that the system is defined by those it provides value to.
Allows other 3rd parties to utilize the currency, platform and system to create new and more efficient solutions for problems not yet imagined.
Supporting the creative arts to ensure the creation of music thrives.
Increasing the music industry's economy by opening up business in new and unrestricted ways.
Economic incentives
The Inmusik platform is designed to be the first platform that rewards both listeners and content creators, in equal measure, based on the value they provide to the community. In this way, the growth of a new social content platform can be greatly accelerated using the economic incentives enabled by cryptocurrency. Furthermore, this system is built on a real, viable and scalable business model, supporting the Inmusik cryptocurrency and giving Inmusik a formidable market advantage.
Recognizing contributions
Beauty is in the eye of the beholder. An accurate and wonderful philosophy, but also a significant challenge in how rewards can be distributed for the curation of musical content.
Who's to say if one should be rewarded or not based on their personal taste? For users partaking in Quick-Play on a daily basis, they receive rewards for simply participating, as their contribution (while self-serving) helps new music find an audience faster and provides the system with valuable data. In keeping with our first fundamental principle – All people who actively contribute to the success of a venture should be rewarded in direct proportion to the measurable value of their contribution – that participation should be awarded, and so it is.
Inmusik Solutions
Thanks to Blockchain technology , Inmusik solves all problems, opening completely new opportunities for musicians, performers, and simply music lovers.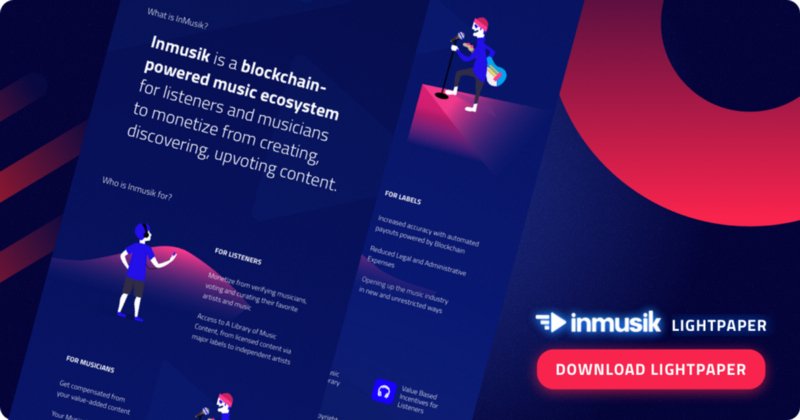 For musicians
Earn much more, thanks to the platform's unique approach. The more your popularity in the ecosystem – the more money you earn. All revenues are tied to the US dollar to ensure fair payouts. Thanks to Blochein technology, the Inmusik team creates a completely transparent reward system .
For fans and listeners
Inmusik encourages listeners for their positive contribution to the community. Earn tokens for finding great new songs, voting for the best music and for helping musicians achieve their success. Your love of music has never been so useful.
For labels
Inmusik works with the largest publishing companies in the world to create a better copyright management system based on Blochein. In addition, the platform offers larger payments for all content owners, real-time revenue monitoring and automatic distribution of payments.
What Inmusik Enables
REWARDS AND INCENTIVES
Fans are rewarded for simply interacting. Finding great new music and helping it surface pays.
FAIR PAYOUT FOR ARTISTS
Artists earn more in a fair and transparent way and connect directly with fans. Designed for signed and independent artists
FINANCIAL TRACKING
With 3rd generation distributed ledger and smart contracts, every cent of revenue can be easily automated and transparent.
FASTER LIQUIDITY
With no wait time, payouts are instantly available to whoever is earning within the community.
How to Contribute
This section outlines the ideas behind Inmusik and the type of gifts that are available to users based on their measurable contribution to the Inmusik community.
1.Double Token system
2.Inmusik Tokens (Coins)
3.Cash Inmusik (IC)
4.Wallets
5.Economic model
6.Influence of 7 Distributing Tokens
8.Preventing abuse of influence
Platform Inmusik
Inmusik platform entirely designed and is being developed. The trains are not only deep, it's interesting and entertaining. But this is just the beginning. Here are some of the application Applications of the future :
Tracking Radio play and manage payments
TV drama/movie Tracking and payment of scabies
Using AI to understand the emotional connection that is owned by users of music
Live streaming of music concerts and concert arena home
music recording software leased/rented on demand based on usage time and export
Direct ticket Solutions
Ticket security solutions
For the results in live events
Merchandise printed on demand with simpler logistics
Music education online
Stirring, production and mastery of online services
online music Collaboration
Copyright protection and usage tracking
Review platform for artists/writers
blogging Platform for industry professionals, producers, mixers, etc.
virtual recording session
the Matching tape counting overlap fan to festival
Location services for festival
the Crowd to let the artist
various music creation service
A wide range of financial services to music
Distribution and supply
Sound Coin, which is the main tab, can be exchanged for currency (dollars, euros), in jurisdictions where such exchange is legal, or another cryptographic currency (for example, Bitcoin, Ethereum) after the initial ICO. The projected value is expected to be approximately $ 0.10 per Sound Coin.
Token name: Sound Coin
Token Symbol : SOUND
Token type: Ethereum ERC20
Total $ OUND Tokens issued: 400,000,000 Hard Cap
Price of the token: 1 ETH = 10,000 SOUND
Accepted payments: USD, EUR, INR, BTC, ETH
Tokens Issue Day: Will be announced
More information read our lightpaper to get a summary of what inmusik offers to musicians, music lovers and labels. http://inmusik.co/lightpaper/
ROADMAP
Q1 2018 Sound currency Presale. Bounty campaign. Times Media Campaing
Q2 2018 Sound currency Presale. Bounty campaign. Times Media campaign.
Q3 2018 Phase 2 Development. Implementation of virality. Issue sound tokens. Start Sound Wallet.
Q4 2018 Sale of main Token. Phase 1 Development. Product tests. Content deals with industry prathers.
Q3 2018 Phase 2 Development. Implementation of virality. Issue sound tokens. Start Sound Wallet.
Q4 2018 Implement minimally viable Inmusik test platform marketing campaigns.
2019 Launch functions in the transmission platform.
CORE TEAM – ADVISORS
Join our and buy your TOKENS Inmusik and enjoy the benefits offered by the most advantageous platform in the market. Do not waste any more time and join our Telegram group so you can communicate with us and clarify any questions you may have.
Do not miss this great opportunity offered by the Inmusik project.Take advantage of the bonuses available from the early stages of the pre-sale. (ICO) Visit our WEBSITE so you can get more information about the benefits of this great project.
More Information Contact :
Website: https://inmusik.co/
White Paper: https://inmusik.co/wp-content/uploads/2018/05/inmusik-wp-v1.1.pdf
Facebook: https://www.facebook.com/WohooInMusik/
Linkedin: https://www.linkedin.com/company/inmusik/
Twitter: https://twitter.com/InmusikOfficial
Telegram: https://t.me/inmusik
Bitcointalk profile: https://bitcointalk.org/index.php?action=profile;u=2038562
Ethereum : 0xC12c4ce6f433C2b39494aE9460055E76D828e34c