INS ECOSYSTEM: THE GROCERY INUSTRY, REINVENTED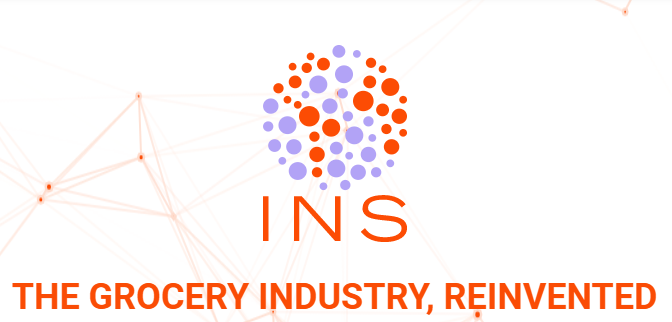 Greetings to all my readers! Today I will be introducing you to a very interesting subject, the INS project. Yeah, interesting because it's all about grocery (which every one of us is very particular about) and the digital world. With every aspect of our lives going digital, the growing dependence of consumers on digital media and devices to get detailed information about products before purchase empowers them to have a very informed decision-making process. Furthermore, consumers look for the attractive discounts offered on grocery items, which further propels the rate of revenue generation in the market due to increased sales volume. Being one of the biggest consumer markets globally, the grocery market is predicted to reach $8.5 trillion by 2020.
However, the grocery market is hugely challenged by two correlative issues irrespective of its extremely large growth rate. With the abuse of grocery retailers being one of the problems, retailers somehow get to decide what food is grown, how it is processed, packaged, priced and promoted. Their influence over manufacturers has left a huge impact on consumers globally. Secondly, trade promotions have proved to be ineffective and outdated despite the outrageous cost. While their outputs keep coming out inefficient, the costs of promotion keep rising. To put the power back in the hands of the consumers, INS is implementing a decentralized ecosystem to save up to 30% on everyday shopping buying directly from grocery manufacturers.
The INS ecosystem will be the very first decentralized grocery marketplace in the world that connects a consumer directly to manufacturers, including farmers; availing low transparent prices for a wide range of high quality products, and save on direct promotions. Incorporated as a BVI company, INS Ecosystem Limited is the official entity that creates the INS tokens, platform and technology. INS tends to help grocery manufactures to cut retailers and wholesalers to sell directly and promote their products to consumers.
Based on their vast knowledge on the industry for over four years and verified interest from major grocery manufacturers globally, INS has the requirements to perform an innovative task of disrupting the grocery industry. INS is founded by veterans of the online grocery industry, who have established solid relationships with manufacturers and gained valuable feedback from consumers. More interestingly, INS will eventually implement the effective "pull" system in order to reduce inventories and out-of-stocks that would decrease the food waste.
PARTNERS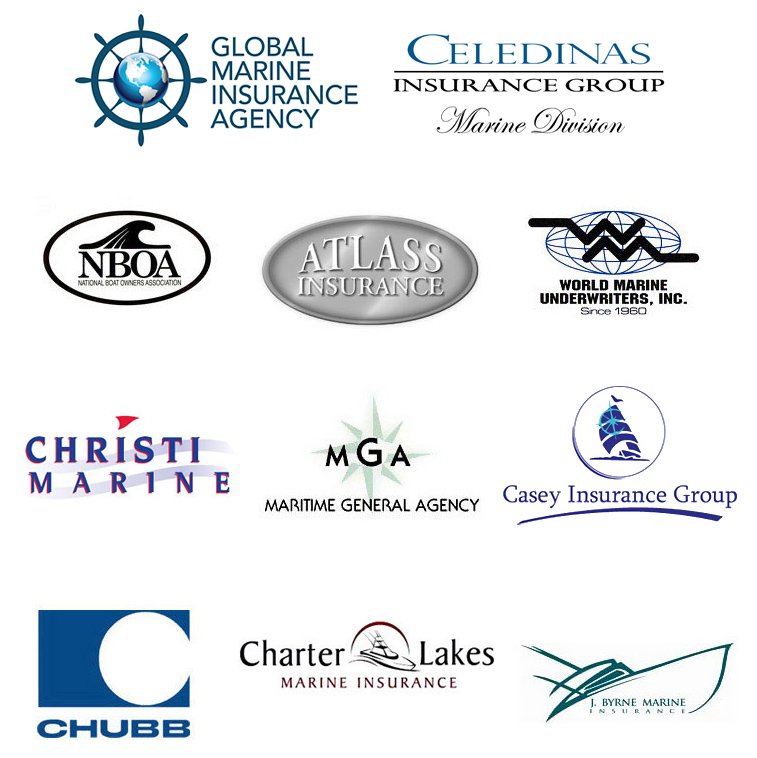 Benefits of the INS Ecosystem
To Manufacturers:
Full control of product pricing and listing
Marketing and promotion directly to consumers
Fast and detailed customer feedback
To Consumers:
High-quality groceries cheaper than in stores
Groceries bought online easily and conveniently
Unlimited access to suppliers of choice
Some Functionalities of INS
● Creation of an effective incentive model for all parties to join the INS ecosystem
● Development of an active marketing campaigns to ignite initial traction
● Development of smart contracts to run the order payment and fulfillment process
● INS token creation and the token launch to fund development and expansion
● Establishment of a decentralized, fair and secure model for order execution
The INS Platform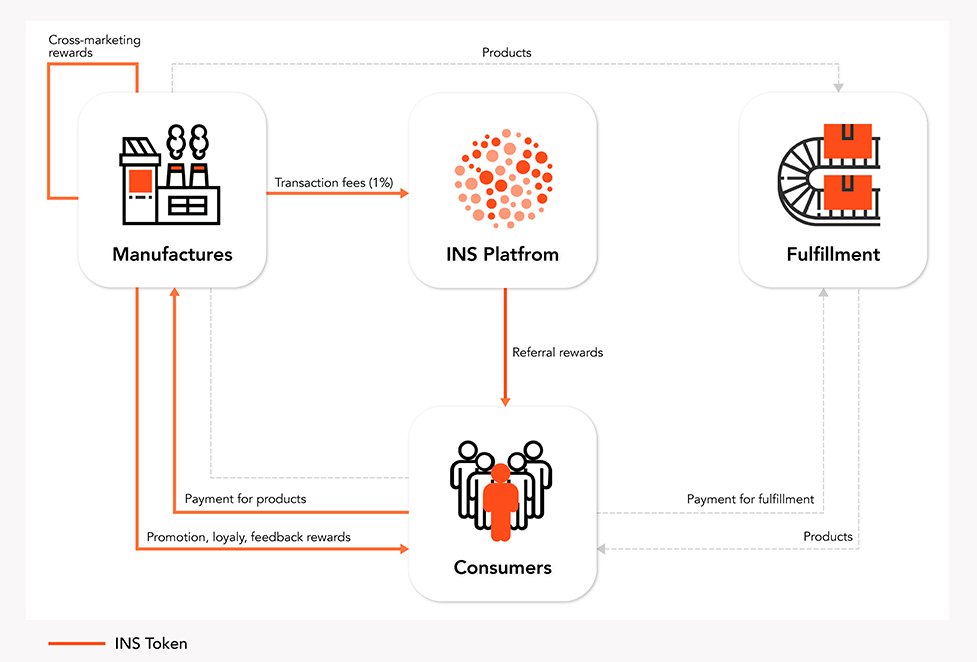 The INS platform is a distributed or decentralized marketplace where manufacturers can join, publish their products for sale, carry out promotion and loyalty campaigns, and get feedback from consumers. It enables consumers to order those products and facilitates the order fulfillment process. Consumers will shop for groceries and provide feedback on the website or in the apps. The official consumer app implements the consumer side of the model including access to smart contracts and access to products from a decentralized cloud storage.
INS Token Details
Start date: 11:00 AM (GMT) on DECEMBER 4, 2017
Payment methods: BTC, ETH, LTC, DASH, USD (bank transfer)
Soft cap: 20,000 ETH
Hard cap: 60,000 ETH
Token exchange rate: 1 ETH = 300 INS tokens
Total token supply (max): 50,000,000
Minimum purchase: 0.1 ETH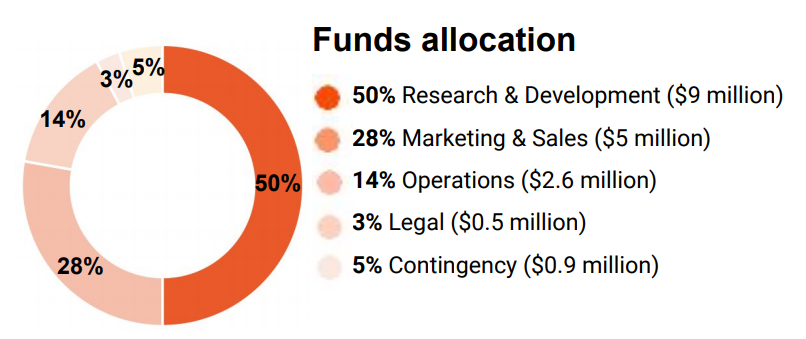 BOUNTY & REFERRAL CAMPAIGN
BitcoinTalk Signature Сampaign: 30%
Blog Article & Video Campaign: 20%
Social Media (Facebook & Twitter): 20%
Translations: 15%
Telegram: 2%
Miscellaneous: 13%
The bounty pool is 500,000 INS tokens. See details on BitcoinTalk https://goo.gl/KNh4ZH
INS Promo Token Airdrop
INS will be organizing a bonus airdrop on the 2nd of July, and trust me you don't want to miss it. After 3 successful monthly airdrops, they will be carrying out a single distribution of all the remaining airdrop tokens (600,000 INS) on the said date, with >=0.1ETH airdropped to all Ethereum addresses. This distribution will take into account all INS Token holders, including those who did not buy during the token sale and purchased tokens later. All you have to do to get the INS token airdrop is just to hold your INS tokens on your personal wallet (Tokens on Exchanges not inclusive ) or purchase more on exchanges and send them to your personal wallet!
Some Rules about the Airdrop you should know:
• You need not pay anyone to get the INS token airdrop as it is absolutely free. Hold your INS tokens or buy and keep them in your personal wallet to maximize your stake!
• All INS token holders (exept team and advisors) are eligible for the INS token airdrop, including those who didn't participate in the token sale in December 2017
• The total number of the INS token airdrop for Apr-Jun 2018 is 600,000 INS
Roadmap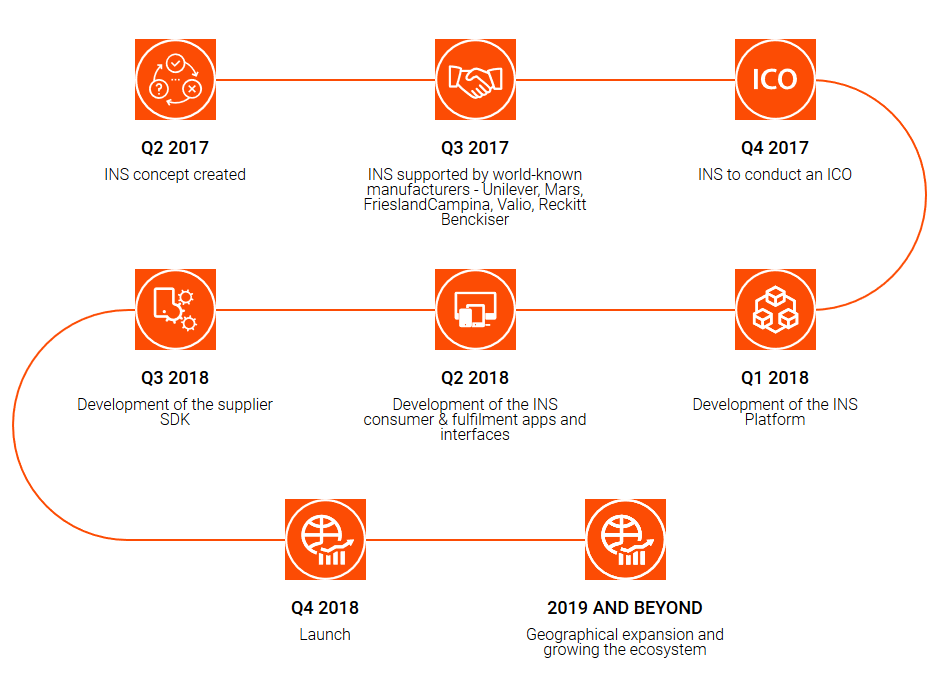 Q2 2017
INS concept created
Q3 2017
INS got confirmed interest from leading global and national grocery manufacturers
Q4 2017
INS to conduct an ICO
Q1 2018
Development of the INS platform
Q2 2018
Development of the INS consumer & fulfillment apps and interfaces
Q3 2018
Development of the supplier SDK
Q4 2018
Launch
2019 and beyond
Geographical expansion and growing the ecosystem
The Team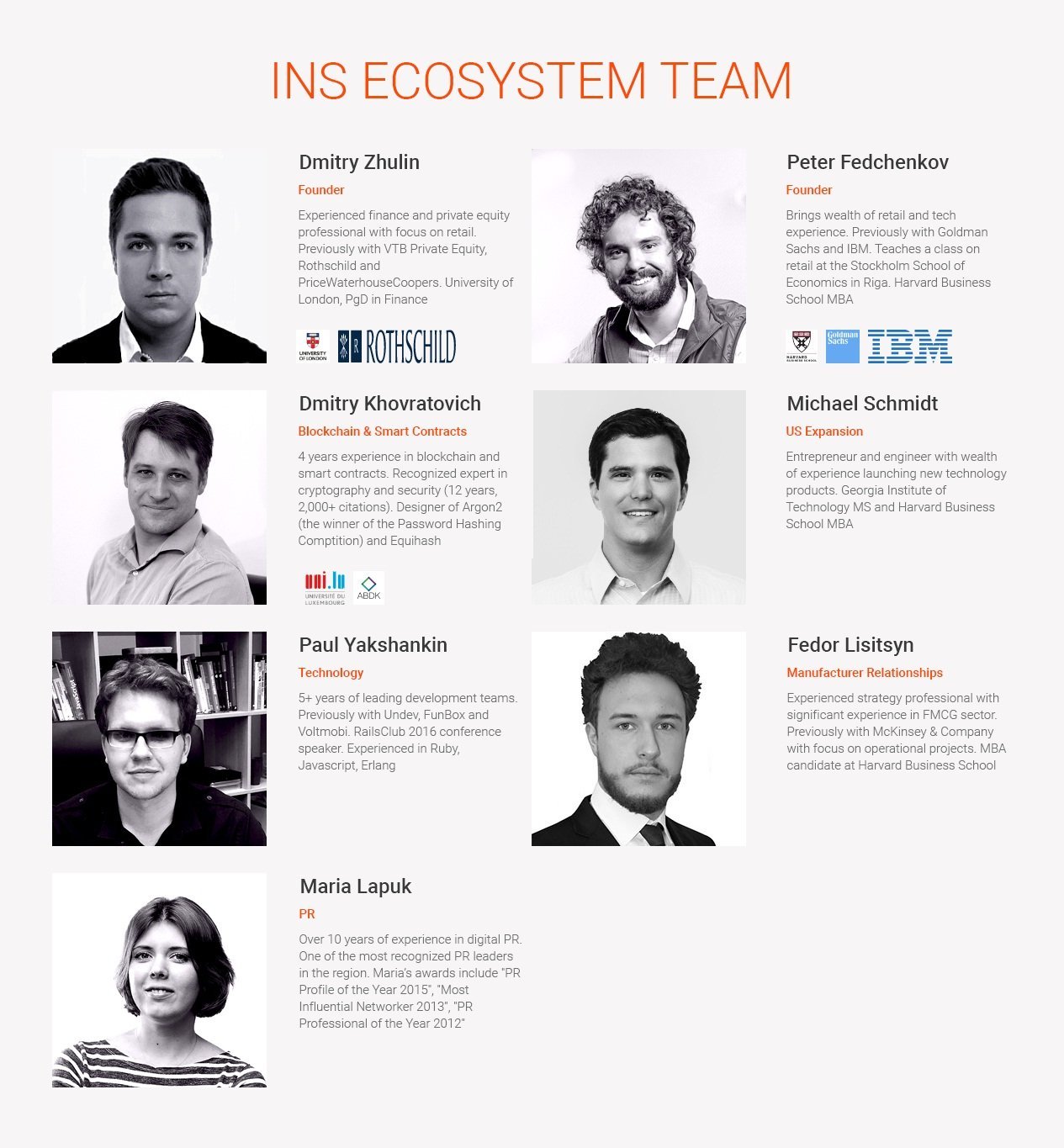 Peter Fedchenkov – Founder
Dmitry Zhulin – Founder
Dmitry Khovratovich – Blockchain & Smart Contracts
Prabhakar Reddy – Asia Expansion
Pavel Yakshankin – Technology
Michael Schmidt – US Expansion
Fedor Lisitsyn – Manufacturer Relationships
Frank Van Der Tol – Europe Expansion
Maria Lapuk – PR
Dmitry Gladkov – Legal Advisor
A competent Advisory Board
Conclusion
Just to reiterate, INS Ecosystem is the global decentralized grocery marketplace driven by blockchain and smart contracts enabling consumers to buy products directly from manufacturers, which will result in low transparent prices for a wide range of high quality products, and save them on direct promotions. You have too much to gain on the INS bounty campaign, being an INS token holder and especially on the July 2nd Airdrop, so waste no time further to take this exciting offer and join this revolution. Please follow the links provided below to join, and for more information.
Reference Links
Website: https://ins.world/
Telegram: https://t.me/ins_ecosystem
Twitter: https://twitter.com/ins_ecosystem
Facebook: https://www.facebook.com/ins.ecosystem
Reddit: https://www.reddit.com/r/INS_Ecosystem/
GitHub: https://github.com/ins-ecosystem
Medium: https://blog.ins.world/
YouTube: https://www.youtube.com/channel/UCyAkkLSuxsuwBIRo6u1keHA/featured
Bitcointalk: https://bitcointalk.org/index.php?topic=2208591.0
Authored by: Davison
Bitcointalk url: https://bitcointalk.org/index.php?action=profile;u=2075838
Wallet: 0xcd3AA411AAF6Ab5017394e00Ad49eCF6B39Ee84B