INS: REINVENTING THE GROCERY INDUSTRY


The grocery market is one that is highly profitable and with a huge margin for growth. The global grocery industry is forecasted to grow at 6.1% annually from 2016 to 2020, reaching an estimated $8.5 trillion in 2020. This growth is expected to largely be based from the internet (online). However, even with the boom being experienced by the grocery market, it is still faced with challenges. The market is abused by grocery retailers who are a huge part of the market, which isn't healthy. Retailers greatly influence grocery manufacturers since they help generate a large share of grocery revenue. To state more of their influence, they determine what foods are grown and how they are processed, packaged, priced, and promoted. Another challenge faced by the grocery market is the ineffective, costly and alienated promotions practice (represents 17% of manufacturers sales). Issues in trade promotions include lack of appropriate KPI's, ineffective organization and partner integration, inability to plan promotions based on analytics, and lack of accurate timely information. However, INS wants to change this trend. The INS ecosystem, the first global decentralized grocery marketplace, will enable consumers to buy products directly from manufacturers at low and transparent prices for a wide range of high quality products. The INS is implementing a decentralized ecosystem that enables consumers to save up to 30% on their daily shopping by buying directly from grocery manufacturers. The INS offers the following:
• Enables manufacturers to market their goods directly to the consumers
• Direct interaction between consumers and manufacturers
It is interesting to know that the capabilities of the INS are wanted by the largest grocery manufacturers in the world.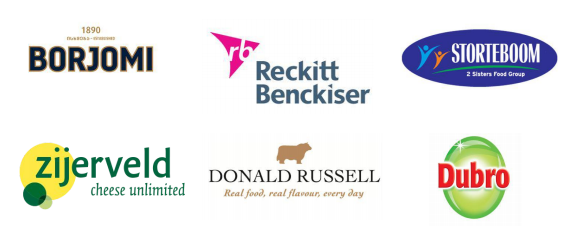 They know it has the ability to disrupt the highly profitable grocery industry due to its vast experience in the grocery market. Based on the fact that price, product quality, convenience and other special promotions are key influencers of consumer behavior, INS wants to create a situation where consumers can buy high-quality groceries at cheaper price. And that's not all. Coupled with buying high quality products at cheaper prices, the INS will also enable consumers to receive rewards directly from manufacturers, which will propel consumers to conveniently buy groceries online.
The INS will have the following participants in its ecosystem: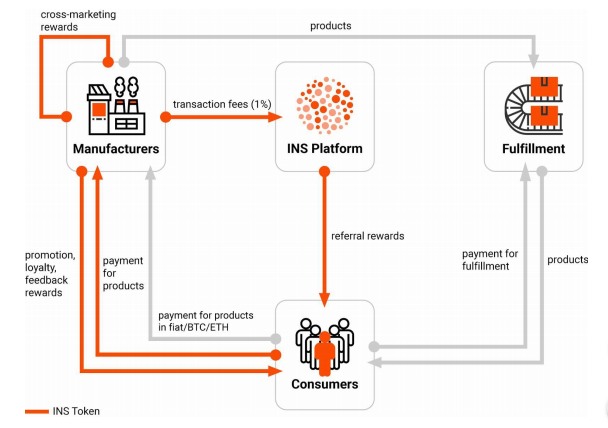 • Platform
• Consumers
• Manufacturers
• Fulfillment (fulfillment center operators and workers, couriers)
On the INS, manufacturers can publish their products for sale, perform promotion and loyalty campaigns and get feedback from consumers, while consumers can search and order these products, with the INS facilitating the order fulfilment process. Note that, the INS has plans in place to develop and publish a website and mobile apps for consumers and other participants of its ecosystem.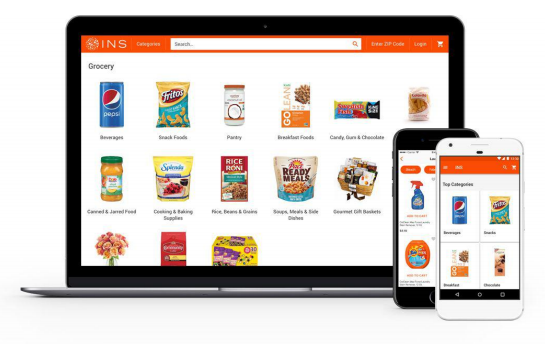 ROLES OF THE INS PLATFORM
• Creation of an effective incentive model for all parties to join the INS ecosystem
• Development of an active marketing campaigns to ignite initial traction
• Elaboration of the ecosystem's regulatory aspects
• INS token creation and the token launch to fund development and expansion
• Establishment of a decentralized, fair and secure model for order execution
• Development of smart contracts to run the order payment and fulfillment process
• Release of the customer website and app, fulfillment app for fulfillment center workers and couriers, and web interfaces for manufacturers and fulfillment center operators.
INS BENEFITS FOR MANUFACTURERS
• Serve in a trustful manner to keep a high rating score and attract more consumers
• Provide attractive promotion and loyalty rewards to acquire and retain consumers 25
• Get direct customer feedback
• Publish products to make them easily available for ordering
• Provide fair prices on their products and compete openly with other manufacturers
• Customize the INS official app according to their own branding, promote it to consumers to increase repeated usage and earn cross-marketing rewards
INS BENEFITS FOR CONSUMERS
• Leave feedback to influence manufacturers
• Get different types of rewards
• Order everyday grocery and consumable products cheaper than at retail stores
• Get orders delivered to the doorstep without need to spend time on offline shopping
INS TOKEN
The INS tokens are ERC20 compliant and will be one of the means through which payment can be made. Once the ICO is over, all contributors will receive their transferrable, divisible, exchangeable INS tokens. When the INS blockchain is launched with is its token mechanism, the INS token will be accepted for exchange on a 1:1 basis. INS tokens can be used for the following purposes:
• For manufacturers
Rewards: loyalty, promotion, cross-marketing, feedback
Minimum balance hold
• Consumers
Payment for orders
• INS
Referral rewards to consumers
TOKEN SALE DETAILS
Start date: 11:00 AM (GMT) on December 4th, 2017
Payment methods: BTC, ETH, LTC, DASH, USD (bank transfer)
Soft cap: 20,000 ETH
Hard cap: 60,000 ETH
Token exchange rate: 1 ETH = 300 INS tokens
Total token supply (max): 50 million
Min purchase amount: 0.1 ETH
Schedule of bonuses;


TOKEN DISTRIBUTION
60% – ICO Participants
15% – Team
20% – Reserve Fund
5% – Advisors, Early Supporters, Bounty
FUND USE
50% – Research & Development
27.8% – Marketing & Sales
14.4% – Admin & Operations
2.8% – Legal
5% – Contingency
ROADMAP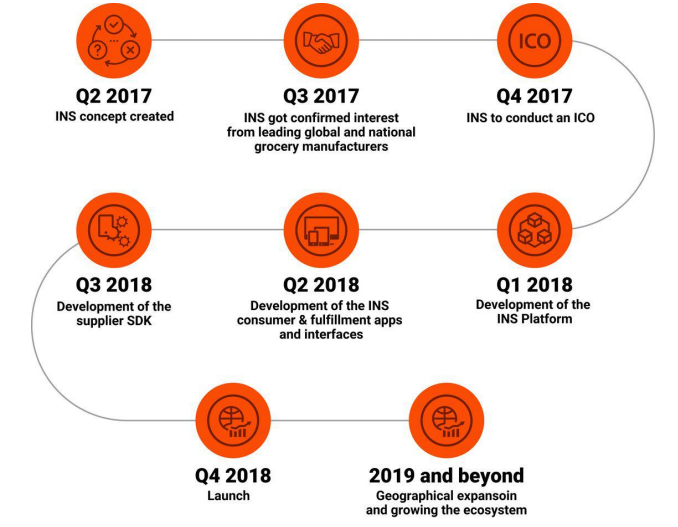 Q2 2017 – INS concept created
Q3 2017 – INS got confirmed interest from leading global and national grocery manufacturers
Q4 2017 – INS to conduct an ICO
Q1 2018 – Development of the INS platform
Q2 2018 – Development of the INS consumer & fulfilments apps and interfaces
Q3 2018 – Development of the supplier SDK
Q4 2018 – Launch
2019+ – Geographical expansion and growing the ecosystem
TEAM
Peter Fedchenkov – Founder
Dmitry Zhulin – Founder
Dmitry Khovratovich – Blockchain & Smart Contracts
Prabhakar Reddy – Asia Expansion
Michael Schmidt – US Expansion
Pavel Yakshankin – Technology
Frank Van Der Tol – Europe Expansion
Fedor Lisitsyn – Manufacturer Relationships
Dmitry Gladkov – Legal Advisor
Maria Lapuk – PR
ADVISORS
Eyal Hertzog – Product Advisor
Michael Terpin – Advisor
Moe Levin – Advisor
David Wachsman – PR Advisor
Dr. Rawi Abdelal – Academic Advisor
SEBASTIAN STUPURAC – Community Advisor
Ilya Perekopsky – ICO Advisor
George Li – Strategy Advisor
The grocery market will be greatly improved with the help of the INS ecosystem. I, therefore, urge everyone to partake in the token sale event and have a share in its benefits.
Please, feel free to click on any of the following klinks should you require more information on this project or want to connect with other unique participants across the globe:
Website: https://ins.world/
Whitepaper: https://ins.world/INS-ICO-Whitepaper.pdf
ANN thread: https://bitcointalk.org/index.php?topic=2208591.0
Facebook: https://www.facebook.com/ins.ecosystem/
Twitter: https://twitter.com/ins_ecosystem
Telegram: https://t.me/ins_ecosystem
Youtube: https://www.youtube.com/channel/UCyAkkLSuxsuwBIRo6u1keHA/featured
Reddit: https://www.reddit.com/r/INS_Ecosystem/
Published by: charleyles
Bitcointalk URL: https://bitcointalk.org/index.php?action=profile;u=1344011
Ethereum wallet address: 0x69C516900e939e97C7c60Ca59bdaF15295556838