Inspem – Artificial Intelligence and Blockchain Technology
Hello everyone, meet again with me Kartika. Today I will explain about Inspem. So, check it out!
What Is Inspem?
INSPEM is a blockchain based artificial intelligence platform that is able to recognize faces and objects using phones and static cameras. The of the platform as a result of artificial intellect and numerous face recognition system enables faster and easy ways of curbing insecurities in the cities and reduces the processing time.
Inspem LLC was established in 2015. The legal entity of the Inspem is registered on April 03, 2015. D-U-N-S Number: 102122-196939. Inspem has been downloaded over 20000 on iOS and Android. Our main site is located at www.inspem.com and available in 28 languages.
Inspem Mission
INSPEM firstly aims on provision of city safety. For example, the wanted criminal may freely visit the grocery supermarket, get caught into the sight of the store's surveillance cameras and freely go home, since this footage would remain within the store. By employing the INSPEM platform, the special services would be able to upload the criminal's picture to the database, and any user video camera which recognizes this person would immediately receive a reward through smart-contract. It's certain, that there are way more user and commercial surveillance systems, than any government control systems.
Problem
Search squads and special services still search for missing people using flashlights in the outdoors and abandoned buildings. This is now a history!
Got your wallet, bag or other valuable item stolen? Find witnesses or video footage from the crime scene.
Looking for a person, who was in a specific place at specific time and you don't know how to find them? It is now possible within a few clicks!
The security of the city is provided by CCTV Cameras, however many districts drop out of sight range of vision. There are blind spots even in central areas. The surveillance is hindered during mass arrangements. We will help to solve this problem!
Solution
AI-assisted people search
Employment of learning neural networks allow to reach exceptional video analytics effectiveness results. The search for the required person comes to a brand new level.
The whole world under sight
By 2020 there would be more than 1 billion of vidceo cameras worldcwide. Any of those devices would be able to operate under our platform.
Active implementation of partner services, which are targeted on the city safety improvement, ranging from the online registration of street fights and robberies with immediate transfer of such information to the appropriate services, to saving lives through prompt responce.
HOW DOES IT WORK?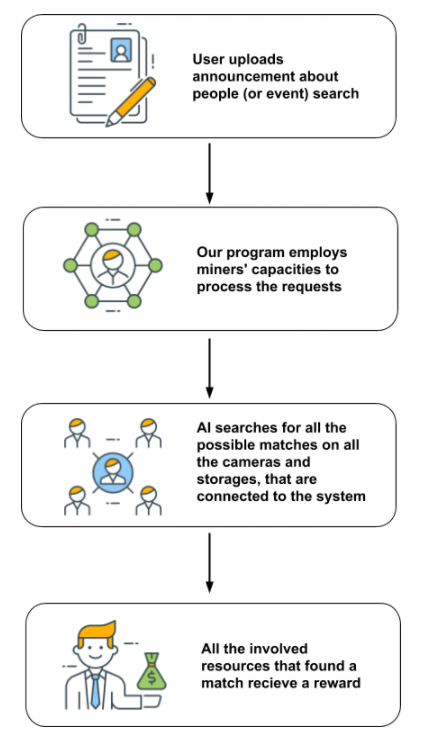 Advantages
Complex solutions for biometric face recognition in public places based on deep-learning neural networks operate dramatically faster than the traditional algorithms.
Inspem Token
INP – is an Ethereum based token, which supports the ERC-20 standard. The INP token is a utility-token, since it is only appropriate for usage of theINSPEM platform's internal features. The token holders do not received dividends and do not participate in company managements. Therefor INP is not a securitytokenand is not affected by the financial regulator.
Token name: INP
Platform: Ethereum
Token standard: ERC 20
Base price of a single token: 1 ETH = 5000 INP
Minimal transaction: 0.1 ETH
Emission and the IPN token distribution
The IPN tokens would be released once during the ICO.
Token Distribution
Disposition Of ICO Funds
Roadmap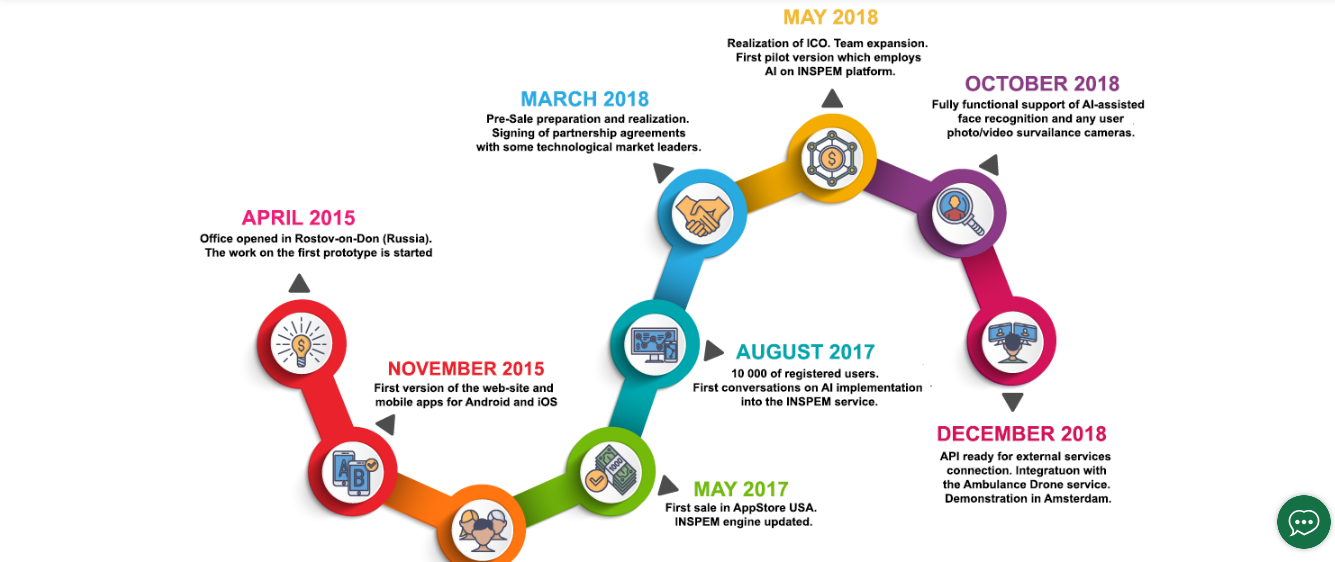 ——————————
PRE-SALE [20 March, 2018 – 16 April, 2018]
IСO [01 May, 2018 – 28 May, 2018]
——————————
Twitter: https://twitter.com/inspem_com
Facebook: https://www.facebook.com/inspem
Medium: https://medium.com/@inspem
Telegram: https://t.me/inspem
YouTube: https://www.youtube.com/watch?v=7O7VFi4HtIY
Whitepaper: https://inspem.com/WP_en.pdf
Website: https://ico.inspem.com
Author by
Bitcointalk Username: Kartika1
Bitcointalk Profile: https://bitcointalk.org/index.php?action=profile;u=1964049
ETH Address: 0x941C6ca63C1855a2c4B5aAC13B4729fF816f5fDb