Instant Access Medical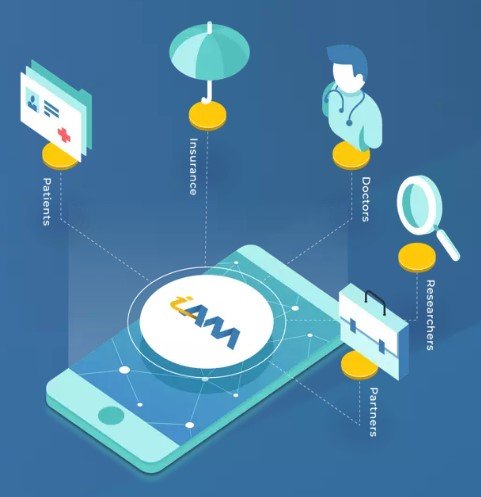 IAM's personal care platform solves global problems in the health care industry using Blockchain technology.
The iAM platform is a unique solution for consumers and health care professionals. All parties in health and social care can benefit from iAM solutions, including patients, doctors, nurses, care providers, funders, insurance, pharmaceutical companies, and researchers. Features developed specifically for the iAM platform enable increased clinical results while reducing global medical costs. iAM automates clinical processes through evidence-based personal care channels and minimizes manual data entry.
What is an IAM?
The iAM integrated platform solves the biggest health problems including insurance fraud, medication compliance, prescription abuse and also the problem of portability of medical data.
With corporate partners, Guardtime, Healthcare Gateway, and DXS, our solutions will be accessible to more than 70% of the UK population. Users can share their records (guaranteed by blockchain) and pay for services with iAM tokens.
Our health economy is governed by smart contracts.
Patients, doctors, insurance, researchers, public health institutions and large pharmacies often have different goals. iAM reconciles conflicting goals and provides win-win results for all participants. We call it a consensus point.
Our Solution Problems
PROBLEM
Patients want the best health outcomes, the lowest pocket costs, and the ability to manage their health records directly from their cellphones. Patients are very concerned about cyber criminals targeting their medical data. This data is now worth 100x more than a credit card number! They want to guarantee their personal and safe health records.
Doctors and providers want to increase their productivity and income while providing patients with high-quality care and the lowest possible costs.
Insurers want to predict risk, increase efficiency, and reduce costs. This is made possible by risk assessment and handling higher quality claims. All insurance needs are appropriate, up-to-date health information and the desire to significantly reduce health service fraud. Such fraud is currently a $ 260 billion problem worldwide.
The researcher wants to gain access to anonymous longitudinal personal care data for health analysts.
Partners want to instill influence, attract and retain more customers, and access a wider health market.
AI Analystics has an insatiable thirst for health data.
SOLUTION
iAM makes the patient's health data actively active by automatically creating a special personalized care path specifically for each patient. This application combines multilingual alerts, reminders, and follow-up to guide patients to their best health outcomes. These can all be accessed on the patient's cellphone. Decentralized technology also ensures the safety of each patient's health data.
IAM's personal care record is digital, proactive and can be accessed anywhere in the health care setting.
This saves doctors time, and time is the same as money. Our records utilize the world's best evidence to improve the quality of patient care. Personalized care lines ensure that the oue solution provides the best costumes at the lowest cost. Patient data is stored safely and shared. It can only be accessed and updated with the owner's concentration.
With concentration, insurance companies gain access to comprehensive realtime data through the iAM personal care record platform. All personalized care records are in accordance with evidence-based care centers. Insurers will be able to conduct risk assessments to optimize efficiency and reduce claims handling costs. Decentralization allows secure sharing of unchanged personal health data, which is evidence of fraud and tamper proof.
IAM's personal care record allows research to access patient data that is comprehensive, longitudinal, multilingual, structured, coded and anonymized. Patients also benefit from sharing personal data that is not identified by getting iAM rewards and discounts.
iAM allows partners to temporarily label the application of iAM personal care records and package them with their own solutions. This increases efficiency, reduces costs, brings in new customers, and increases customer loyalty
There is no better health data for AI than complete, comprehensive, longitudinal, multilingual, structured personal care records. IAM's personal care record provides real-time access to the best data AI enemy Analystics.
Token Details
SYMBOL: IAM
PRICE: $ 0.40
Supply Token: 500,000,000
Token Type: ERC20 Utility Token
Rate: 1 IAM = $ 0.4 0USD
PRE-ICO Start Date: 24 September / 2018
PRE-ICO End Date: 25 / October / 2018
ICO Start Date ICO: 25 / October / 2018
ICO End Date ICO: 31 / December / 2018
During pre-ICO: 0 – 40 000 000 IAM -> 80% discount, price: 1 IAM = $ 0.08 USD
During ICO Stage 1: 25,000,000 iAM -> 60% discount 1 IAM = $ 0.16 USD
During ICO Stage 2: 25,000,000 iAM -> 40% discount 1 IAM = $ 0.24 USD
During ICO Stage 3: 25,000,000 iAM -> discount of 20% 1 IAM = $ 0.32 USD
During ICO Stage 4: 25,000,000 iAM -> 0% discount 1 IAM = $ 0.4 0USD
Token distribution
50% of Sales to Buyers in Sales Tokens
38% iAM Reserve
8% Team & Founder
2% Community Engagement
2% Bounty Campaign
75% Delivery of Health Services ($ 26M)
25% Development Platform & Load Launch ($ 9M)
TOKEN ECONOMY
iAM puts users in control of their own health data. Users manage their own personal health records and share them with doctors, hospitals, care providers, and other health care participants. iAM gives awards to individuals who choose to share their anonymous health data with iAM tokens.
Members pay to store their data safely on our blockchain, share with health care professionals, and write to their records using IoT devices.
Members pay payment for health services with iAM tokens. This transaction creates an iAM health care economy.
Good health is not something that just happened to you. It must be made and managed properly. That is why everyone needs adequate personal care records. And the best choice is our Blockchain based iAM platform.
FOR MORE INFORMATION CLICK THE LINK BELOW:
Author. Sademolar
My Bitcointalk profile link: https://bitcointalk.org/index.php?action=profile;u=2279550
My Ethereum wallet: 0xB00B339F3Da6b471A253Bf4f94000b1e769D86B8