INSTANT MEDICAL ACCESS
INSTANT MEDICAL ACCESS ICO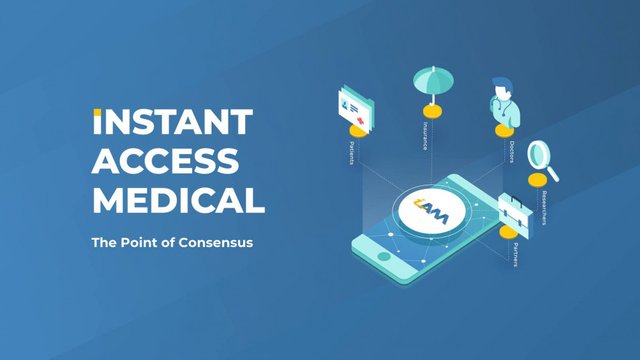 Good day crypto family , I'm here again to tell us about a innovative health care ico called INSTANT MEDICAL ACCESS [iAM]
Instant medical access is an ecosystem that empowers people to manage their healthcare wherever they are in the world, 24/7. Built on blockchain technology, the ecosystem helps to make interactions between all participants transparent and simple. Instant medical access platform facilitates mutual financial settlements, open access to medical records and to specialists' certification status. It is a peer-to-peer based healthcare platform that will aim to utilize digital solutions to bring a robust connection between medical specialists and patients. The platform sets to utilize the use of advanced technologies such as AI, blockchain technology and telemedicine to present advanced healthcare systems. Apart from the medical specialist, instant medical access will also aim to offer an ecosystem with health insurance providers and other offline medical services to improve and support the overall medical support.
Some of the applications of the iAM token are as follows:
Owners of iAMtokens can use automated treatment. Follow-up strategies to save on the purchase of medicines related to their treatment.
Talented physicians can develop their own combinations of treatment combinations for their patients, and then use them to improve the health of their own patient-or publicly share them on the share of profits and / or fees in case other doctors or health care providers want to adopt a treatment strategy.
iAMtoken holders can choose one or a basket of treatment strategies, and then automatically monitor their treatment.
As the traded currency of Crypto in the open market.
WHY iAM
Instant medical services provided by iAM offer patients a 24/7 access to medical advice and consultation services
Better interaction with specialists with the advanced technologies enabling video and voice consultation with the medical practitioners
iAM solves the problem of poor health result and high treatment cost and also ensures security of patients data
Get to work with experienced individuals within the wide range of specialists present on iAM.
               Roadmap
2018 Q2:
iAM has used MVP in the form of a fully operational personal care record mobile application. We have also demonstrated the success of integration with Guardtime.
IAM HealthONE is the foundation for the Healthy Athlete Software system used by the Special Olympics. This system has recorded data for more than 1.8 million athletes since 2003. IAM HEALTHONE architecture is used by more than 3,000 doctors in five countries. He manages the lives of more than 6 million patients.
Lay foundation for iAM Health Care economy
2018 Q4
iAM Crowdfunding
Further integration with DXS, Healthcare Gateway and Patient Advocate
2019 Q1
Integrate Guardtime technological solution (KSI & HSX)
Upgrade iAM Web and Mobile App UI. Kaa IoT platform integration
Integrate a decentralized Wallet embedded in the iAM mobile application and create a Fiat "on ramp"
Enhanced Record sharing via smart contracts
Enable iAM Platform Store. Write, Share, Pay and Earn through the digital health care economy transactions.
2019 Q2
Deploy Guardtime medical insurer personal care record.
Integrate Validic Wearables Platform
2019 Q4:
Deploy plans to scale to the United States and Australia
iAM TEAM
You can check the iAM team out on their social media pages and you would see ruly that the team has the capacity and potential to push this project to the next level of success. Also our ICO advisors are among the best.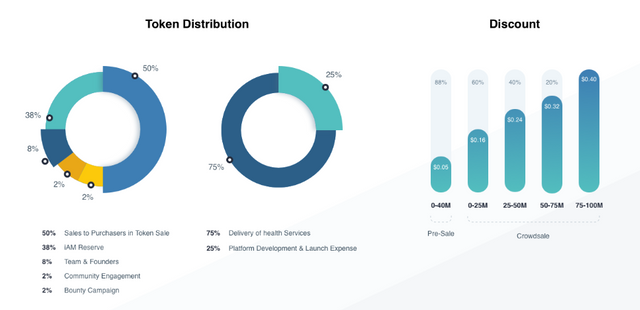 Token Details
SYMBOL
IAM
PRICE
$0.40
Soft Cap
$2,000,000
Token Supply
500,000,000
Token Type
ERC20 Utility Token
Token Distribution
50% Sales to Purchasers in Token Sale
38% iAM Reserve
8% Team & Founders
2% Community Engagement
2% Bounty Campaign
75% Delivery of health Services ($26M)
25% Platform Development & Launch Expenses ($9M)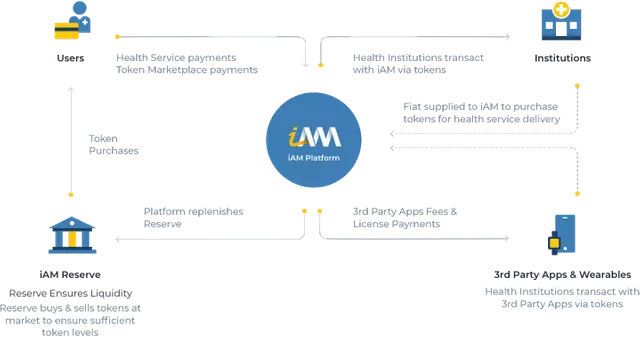 For More Information Click Belows Link:
Website: https://www.instantaccessmedical.io/
ANN Thread: https://bitcointalk.org/index.php?topic=5039302.0
Telegram: https://t.me/iAMcommunity
Reddit: https://www.reddit.com/r/InstantAccessMedical/
Twitter: https://twitter.com/IAMHealth4Life/
Final Words
I like the very idea behind the instant medical access project and the structure of the platform seem beautifully designed. Considering the delicately prepared website, properly published white paper and detailed presentation of the team make the promising project offer much more expectation.
Author's bitcointalk username : Oluwamozzy
Bitcointalk Profile :https://bitcointalk.org/index.php?action=profile;u=2441915;sa=summary
ETH address: 0x0Cbd1B3F1E138a78fe35b7fe91E38c01E8837259