InstantAccessMedical Your Healthcare Tracker.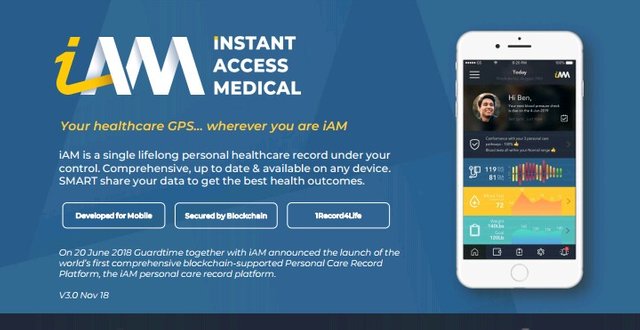 Manage your own health by automatically syncing your full medical history from your GP, Hospital or Healthcare provider. A comprehensive, up to date healthcare record on any device. SMART share your data to get the best health outcomes. Instant Access Medical is changing everything by creating a single, lifelong healthcare record under your control.
Blockchain enabled Healthcare records are one of the most important secure digital documents in the fight to combat insurance fraud as provenance of the data is immutable. The iAM personal care record meets this global opportunity.
In the US medication non-adherence is the leading cause of preventable illness and death. The iAM personal care record will help improve medication adherence with potential savings of at least GBP 800 million and US$290 billion in the US.
In the UK Diabetes already costs the NHS nearly £10 billion a year, and 80% of this is spent on managing avoidable complications. 40% of the population have at least one long term condition (hypertension, heart, lung or kidney disease, asthma, epilepsy etc.) the iAM personal care record ensures that anyone with a long term condition, including Diabetes, or other long term condition, is unfailingly alerted, reminded and followed up, entirely automatically, requiring no effort or resources from the GP, the practice staff, or the patient.
HEALTHCARE ODDS AT HAND
Despite exponential advancements in pharmaceuticals, medical procedures and diagnostics world over, health care record infrastructure​ remains fragmented and the industry still faces six key challenges: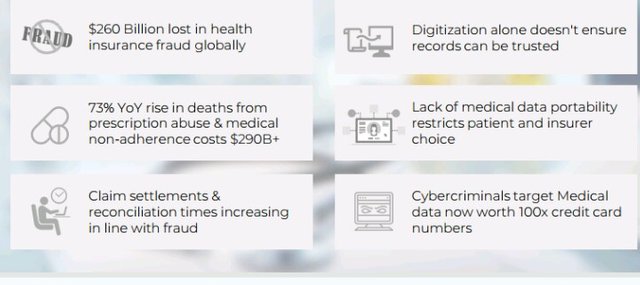 An industry solution to multi billion dollar problems!
Instant Access Medical is changing everything by creating a single, lifelong healthcare record under your control. Easy, portable management of health data in a comprehensive, up-to-date record and the ability to SMART share with healthcare professionals to get the best possible outcomes.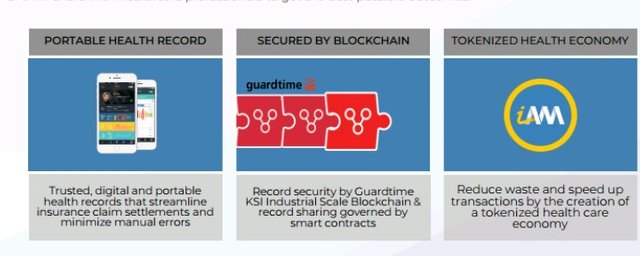 Despite the apparent conflict that exists between parties within the Healthcare Industry; iAM's platform delivers a win – win outcome, we call this the "The Point of Consensus."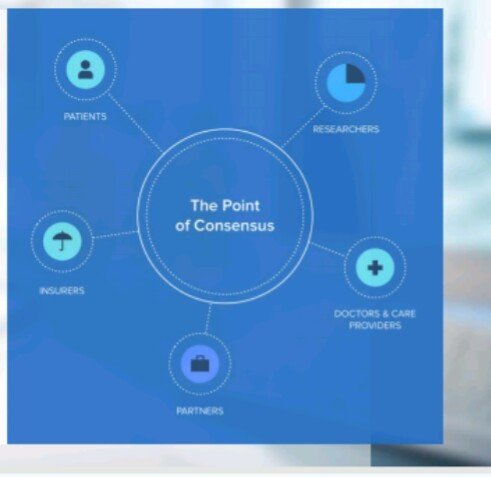 Patients: Achieve better healthcare outcomes with increased control, portability and personalised care pathways, alerts & reminders, save time & earn money by optional sharing of anonymised health data.
Insurers: Access to digital patient data to reduce the cost of care delivery; reduced fraud & settlement claims costs.
Doctors & Care providers: Can provide better care in collaboration with the iAM app, records are digitised reducing manual errors, can treat patient's record data as primary evidence, reduce time wasted. Patient data is securely shared using the blockchain.
Researchers: Competitively priced and easy access to comprehensive, complete and trusted de-identified patient data.
Partners: Improved access to health market place and permissioned access to patient health data.
PARTNERS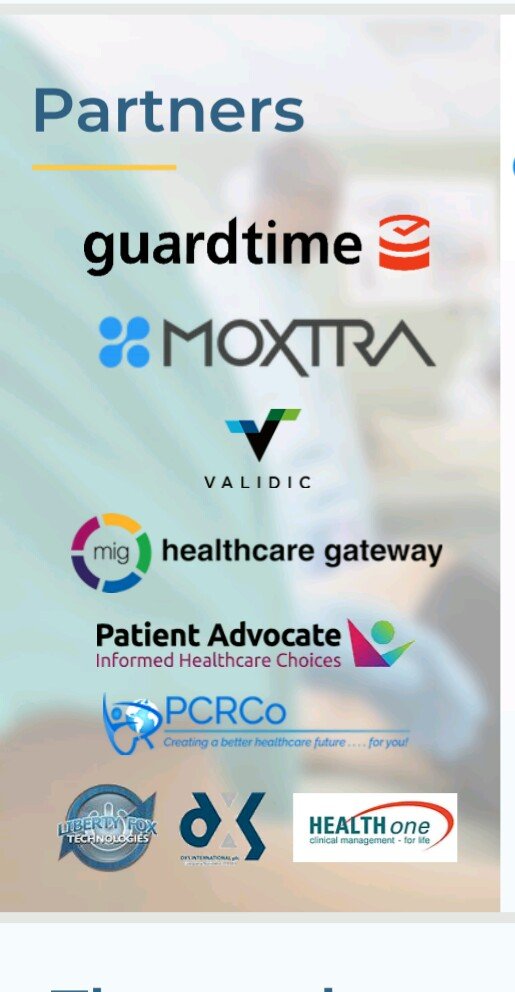 Guardtime is the world's leading blockchain company by revenue, headcount and production deployments. Guardtime's KSI Blockchain is the fundamental substrate for the Estonian e-Government systems that have 1,000+ citizen services and is ranked as one of the most advanced in the world.
Healthcare Gateway extracts data from hospitals, General Practice, community services and social care systems with 60% coverage of Clinical Commissioning Groups (CCGs) in the UK (80% of the NHS' £110bn budget). Integration with Healthcare Gateway and patient consent based data extraction will enable iAM to populate the personal care records of over 30m people in the UK before the end of 2019.
Moxtra (a mobile extra solution created by the original founders of Webex) delivers imbeddable cloud collaboration for the mobile era. This allows the iAM personal care record to imbed real-time interactive "conversation capabilities" into our health record workflows.
Validic's platform and mobile solutions provide continuous access to personal health data from nearly 400 in-home medical devices and wearables.
HealthOne, used by 3,000+ physicians and 5 countries to manage 6 million patients. Since 2003 HealthOne partnered Special Olympics to manage their Healthy Athletes
Software system, the world's largest database for people with intellectual disabilities.
THE PRODUCT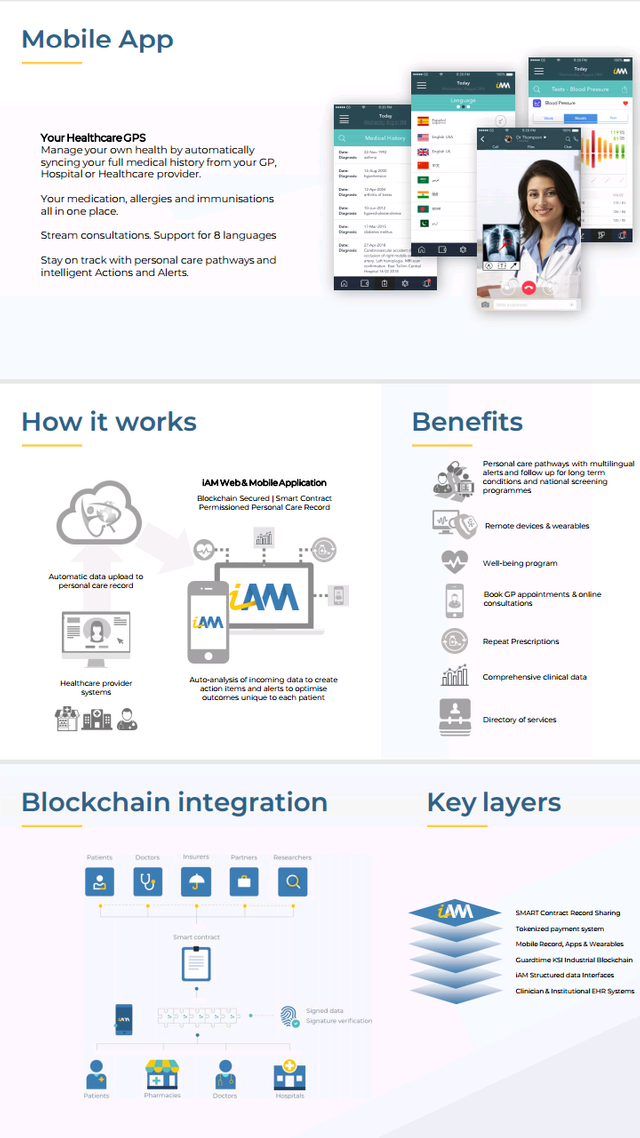 HOW IT WORKS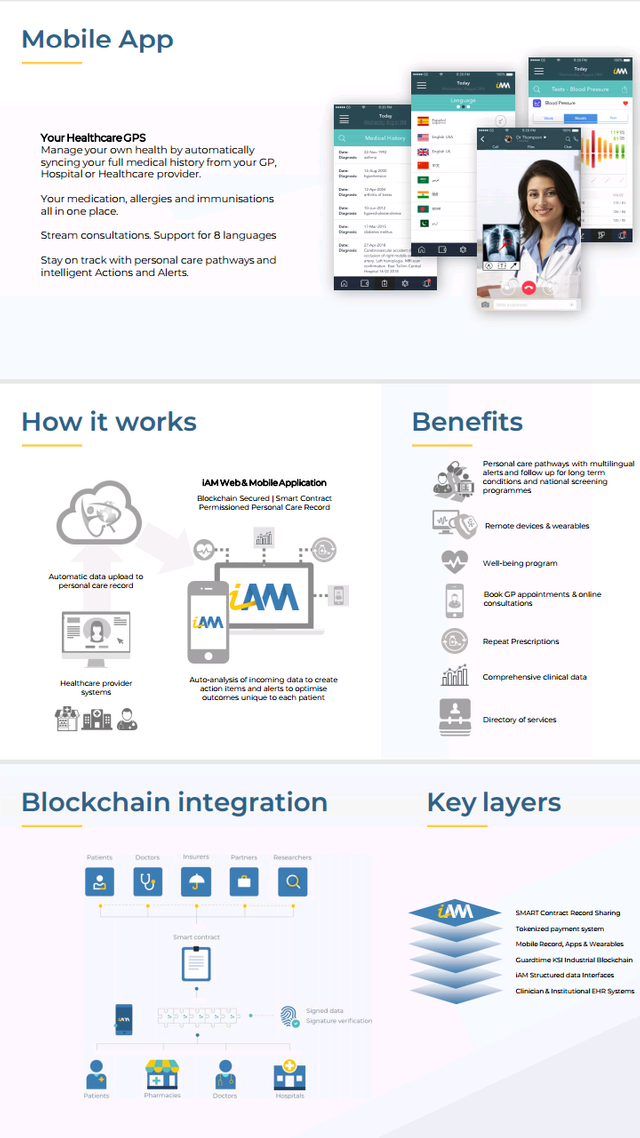 TOKEN UTILITY
Users manage their token balance via their iAM Wallet (Mobile & Web app) and top up their balance by purchasing tokens from the iAM reserve. iAM Tokens are used to pay for services. Users can even earn tokens if they consent to sharing their anonymized data with researchers.
Secure :Blockchain Secured Full benefits are derived through the iAM platform for a fee. Users are charged for their personal care records to be secured by the blockchain
Share: Record Sharing Users share their record with health care professionals, the interaction is governed by smart contracts. Sharing is priced in Fiat and charged in iAM tokens.
Write: Write Access Doctors, hospitals,
healthcare providers and authorised 3rd parties will have permissioned access to read and write to the user's personal care record. Some transactions will incur a write access fee.
Pay and Earn: Payments & Transfers Pay for services such as booking appointments or telemedicine consults. Users are also able to send, receive and pay in iAM tokens as they would any other crypto currency.

ROAD MAP

MARKET
The iAM Personal care record addresses the single point of failure in healthcare systems globally – iAM ensures that anyone with a long term condition is unfailingly alerted, reminded and followed up, entirely automatically, requiring no effort or
resources from their doctor, practice staff, or the patient.
$8.7 trillion expenditure by 2020 – Total Addressable Market
Diabetes alone as one example annual cost of $825 billion – Serviceable Available Market
Diabetes costs the UK alone £10 billion annually – Serviceable Obtainable Market
GROWTH
iAM believes that based solely on the four healthcare sector expenditures below, we can achieve an iAM Token Economy spend in excess of USD $5 Billion per annum by 2020:
1.Hospital spend – USD $1,000 billion
2.Health Insurance – USD $852 billion
3.Spend on Physicians – USD $635 billion
4.Spend on prescription drugs – USD $329 billion
With a fixed iAM token supply, growing adoption (users & institutions) and a $5B iAM Token economy, token price will be
set by market forces.
Use OF FUNDS

TOKEN SUPPLY & DISTRIBUTION


TEAM
Our team has a unique combination of experienced doctors, healthcare and IT specialists. The team has over 50 years of combined experience in healthcare that translates into domain expertise, strong vision and sound strategy.

Dr Stan ShepardChairman
and CEO GP Practitioner,
Care Quality Commission GP
Inspector & Special Olympics Medical Advisory Committee member

Dr Jonathan Dawson Clinical Director
Consultant Surgeon, Northampton
General Hospital, Private Practice
System Solution founder

Bill Evans
Proj Tech Advisor,
CEO Liberty Fox, Entrepreneur,
Liberty Fox Founder

Michelle Carnot
Agile Project Manager, Liberty Fox
Media Arts, Animation, Creative Design
and Project Management

Ray Jordan
Solutions Director
Healthcare Systems Architect, designer
and implementation manager

Mike Palumbo
Senior Developer, Liberty Fox
Web Application Specialist & Mobile
Platform Development

Russell Beattie
Director and Co-Founder
Hospital Management, Health record &
pharm-tech start-ups, Health tech
company CEO

Nicholas Beattie
Digital Economy Director
S&M, Supply Chain Mngt, Engineering in 2
Forbes top 100 Companies.

Andrew Bonner
Co-Founder
Pharmacy Benefit systems expert,
Health Insurance & Insurance Claims

For more information contact :
Website : https://www.instantaccessmedical.io
Litepaper: http://Litepaper.pdf
Author: Nyosop
Bitcointalk Profil Link: https://bitcointalk.org/index.php?action=profile;u=1876033