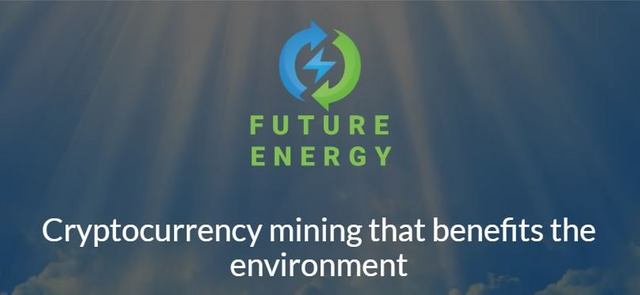 The earth we live in is now getting older, scientists estimate it's 4.54 billion years old. Aware of not being aware, our natural resources are already on the verge of an energy crisis due to excessive human exploitation. Will our old earth go to extinction? But take it easy, • This project has a lot of development that will be carried out patented with great confidence to produce free green energy sources. this project is called FUTURE ENERGY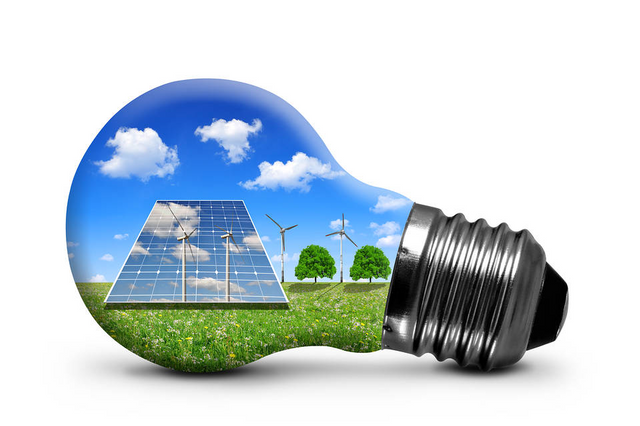 About ENERGY
FUTURE ENERGY ENERGY will optimize operational costs for mining cryptocurrency through the use of non-traditional renewable electricity resources with operational components 0
Look at this video: THE IDE OF THE PROJECT
SUMMARY
Use of tokens from the first day of purchase
During the project period, we will install mining modules on our farm with an electricity tariff of $ 0.05
Profitable
After completion of installation, the cost of kW / h will be 0. This guarantees profitable mining
Decentralization
We produce our own electricity and do not depend on the central electricity network and their rates
Autonomy of
Plants is fully automated and does not require maintenance personnel. There is no raw material needed
Clean ecological ways to get energy Our
development in electricity generation resolves a number of environmental problems, substantially reducing CO2 and H2S emissions
Security
We have a security system developed internally for the mining module and software protection
ELECTRICAL COSTS
It is no secret that the main cost of mining cryptocurrency is electricity. This trend will continue due to the development of the cryptocurrency and Blockchain industries.
The "ASIC revolution" in the technology used for bitcoin mining will end soon. The ASIC chip format for mining approaches the nanometer limit of Moore's Law. For this reason, large future growth in chip production is not possible.
This results in the commodification of chips, which means they become simple commodities in the eyes of the market or the consumer and their value suddenly drops. This will result in producers being forced to concentrate on mass production to benefit from volume, rather than using technological advances. Because of the race to develop the most up-to-date technology, the bitcoin mining industry will experience a transition to the condition of excess production of equipment. The determining factor for production is electricity, not equipment efficiency.
We are in front of this global race without competitors. Our energy costs are zero when we invest in green energy plants during the construction phase. Our energy plant provides free green energy with a plant life of 40 years.
Token distribution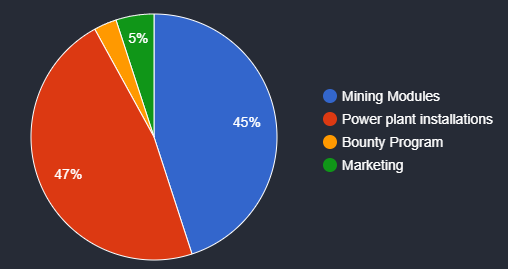 Token Information
Signs of Future Tokens Energy is an ethereum-based FGY. This token is only used as the cost of hosting in the cryptocurrency field. Following is the launch schedule of ICO
PRE ICO:
tokens will be available for purchase within 60 days from 01/11/2018 until 12/31/2018.
ICO:
tokens will be available for purchase within 90 days starting 01/01/2019 to 03/31/2019.
Soft cover (pre ICO) 500 ETH.
Hard seal (pre ICO) 1,500 ETH.
Soft cover (ICO) 12,500 ETH.
Hard cap (ICO) of 50,000 ETH.
Price per token when the problem:
equivalent to ETH 0.0035 to 0.005 ETH, depending on the date of purchase.
Payment method:
Ethereum (ETH)
WHY CHOOSE US?
We have 49 patented developments in the field of renewable energy
Our operational land has been operating since 2014 with computing power 9.6Ph by SHA256
Our team includes world-renowned scientists and professors
FUTURE ENERGY has been involved in crypto currency mining since 2014. We are currently based on our own land and utilize a voltage transmission line from the 110 kV substation. At present, we can increase capacity to 50 MW at a rate of $ 0.05 per 1 kW / hour. This will ensure the mining module continues during the period of development of our own renewable energy fields.
Since 2014, our team has grown to include a group of world-renowned scientists. We provide efficient, economical, clean and independent energy supply solutions for our mining modules. At present, 49 of our developments have been patented in the field of renewable energy sources and atomic energy sources for peaceful purposes, most of which have been actualized.
TIMELINE PROJECTION
FUTURE ENERGY The project is based on real developments that have been carried out.

OUR TEAM
The project team consists of highly qualified specialists including a world-renowned group of scientists and professors with academic degrees. Each team member has made great progress in his field.
The FUTURE ENERGY Project consists of the best specialists from various industries including Blockchain, science, construction, business, construction, IT, law, electrical installation specialists, commissioning and equipment maintenance.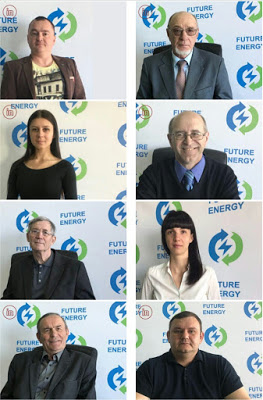 Andrey Kadochnikov: Founder
Launches 5 successful start-ups in the last 15 years
Sergey Scheklein: Chief Researcher / Head of Research
Doctor of Engineering Sciences, Professor, Head of the Department of Nuclear Power Generation and Renewable Energy Sources
Elizaveta Gulyakova: Public Relations and Marketing
Alexander Marakulin:
Expert Lawyer in the field of copyright and civil rights
Nemihin Yuri: Inventor of
Researchers from the Department of Nuclear Power Generation and Renewable Energy Sources
Olga Kolmogorova: Project manager
Electric network engineer and designer of ventilation systems
Alexander Popov: Inventor
Researchers from the Department of Nuclear Power and Renewable Energy Sources
Ilya Kochnev:
Department of Fuel and Energy Expert of the Ministry of Energy and Housing and Services
Complex, Rinat Farhushin: Blockchain Support
Denis Kurennov: Technical Specialist
Installation, commissioning, repairs, equipment adjustments
To find more relevant details from the Future Energy project, please follow a number of sources for the following references:
Website: https://icoenergy.org/
Whitepaper: https://icoenergy.org/docs/WP_eng.pdf
Bounty: https://bitcointalk.org/index.php?topic=5047602.0
ANN: https://bitcointalk.org/index.php?topic=5035072.0?utm_source=btct
Twitter: https://twitter.com/Future___energy
Facebook: https://facebook.com/FutureEnergyeng/
Telegram: https://t.me/futureenergygo
Author: