INVEST IN BROKERS – The Future of Your Investments
PRESENTATION
A storm has hit the investment market which we are not going to recover from. Crypto investment is that storm. With strict capital controls in place by most countries to control the flow of money and charge high taxes, cryptocurrency gained usage in circumventing capital controls and taxes, leading to an increase in demand. Cryptocurrency has been able to present an easy to use digital alternative to fiat currencies. Offering frictionless transactions and inflation control, investors have been prudent enough to add these currencies in their diversified portfolios as an asset, as the size of the market does not represent a systemic risk. Cryptocurrency employs the use of cryptography that assures high-security processes and verifies transactions personal to each user. Hence, counterfeiting and anonymous transactions are impossible to achieve.
While this revolution is gaining wide acceptance, Invest Platform, a system created for both experienced traders, amateurs or simply people who have no knowledge and time, and want to make money with the best traders on the cryptocurrency exchanges has arrived.
Check out this video presentation
ABOUT INVEST IN BROKERS
Invest Platform is a system created for both experienced traders, amateurs or simply people who have no knowledge and time, and want to make money with the best traders on the cryptocurrency exchanges. Because of our platform, each user increase the chances of multiplying their capital. An extensive social system allows you to follow experienced investors and invest in the same currency pair at the same time.
In 2014 Invest Platform opened a wallet and started investing into cryptocurrencies. They conducted a very deep market analysis before setting up their innovation. By identifying the challenges and pains that investors face they were able to give an answer that will solve these problems. The analysis showed the main reasons why amateur investors lose their money. First of all, they don't have enough knowledge and experience to make the right investments. Secondly, they don't have time to make a proper research. And finally, they don't have patience to persevere to their goal.
Surprisingly enough experienced traders also face problems. Mainly, cryptotraders do not have opportunities to sell their skills to financial institutions and thus capitalize on them. They have good ideas but are not able to monetize them by selling their experience and skills.
Invest Platform came up with a great idea that helps both experienced cryptotraders and newbies in this sphere. They offer their platform where experienced investors are able to share their strategy with other users. Beginners, in their turn, can choose to follow those traders that they are interested in and in this way they follow what this investor sells or buys and can make the same move.
The concept of Invest Platform is quite simple:
An experienced investor, who has a proven track-record, can choose to share his trading strategy with other users. Beginners (or experienced traders who are in need of a break) can then follow any trader that shares his strategy on our platform, simply by subscribing to that particular trader.
Both the experienced trader and the user who subscribed to the trader are linked through an API. This way any sell or buy order the experienced trader makes is automatically copied to your account, on the exchange of your choice.
The main advantages of using an API service is that you remain in full control over your funds, private keys and choice of exchange (e.g. Bittrex, Binance, GDAX, Poloniex, Bitifinex).
Our goal is to bring together beginning- and experienced traders in a win-win situation. Because of our platform, each user increases the opportunity to maximize their profits. The beginning trader does so by enjoying the skills and success of experienced traders; while experienced traders do so by having the ability to offer their paid services to a large audience.
What sets invest platform a part from the competition?
In contrast to competitive platforms offering similar services, our platform has several key advantages which we would like to highlight:
No hidden fees — Competitive systems are expensive and demand exuberant fees. The Invest Platform offers a free platform based service that brings both beginning and experienced traders together. Our platform is accessible through the staking of INV tokens and only charges 10% on the profits made by users following a trader of their preference.
Safety — Competitive systems require users to deposit money into their own wallets. This leaves users at risk of potential theft. Our platform has taken a different approach. By connecting our users through an API, you keep access to your money at all times. Not only will this save you valuable time from not having to send funds from and to wallets; more importantly, you will not be exposed to theft. As an additional safety measure we have limited the API intractability to only being able to open and close positions. Withdrawals will be blocked at the API level. Our platform itself will be secured by Google two-factor authentication, text-message authentication and IP whitelisting.
Why do beginning traders lose money?
They don't have the time to properly research their investments.
They don't have enough knowledge about technical analysis.
They don't have enough experience with cryptocurrency exchanges.
They don't have the right psychological mindset.
They don't have the patience
How it works?
Advantages
Verified Security
Verified user security through on-chain Know Your Customer (KYC) checks.
No Commissions
No commissions on our platform. All earnings go to users.
Subscription
The whole subscription cost goes to the Investor, through to which you also earn.
Safety
We do not keep users' funds, all funds stay on cryptocurrency exchange.
Everyone wins on our platform
Amateur
Earn by investing in the same positions as an experienced investor.
Gain valuable knowledge from experienced investors.
Be able to discuss and ask questions directly to an experienced investor in the chat.
Experienced
Share knowledge with the users who are subscribed.
Doesn't pay any commission!
Grow their earnings, status and following through our ranking system.
Why The Invest Platform Is Different?
Competitive systems are expensive and charge high fees. The Invest Platform does not charge any fees for the use of the platform or on any of the profits that our users might make.
Many other copy-trading systems require users to deposit money into the wallets of these companies.
This puts your funds at risk and out of your control. Our platform however, thanks to the connection with exchanges through the API, has no need for users to send their funds to our platform.
Our system is truly trustless and allows users to keep their funds on the exchange. Because of this, anyone who uses our platform will always be in full control of their funds.
Our platform is aimed at both experienced traders and new people who, despite attempts, lose their money on the crypto market or want to increase profits.
Invest (INV) Token Information
Invest token (INV) will serve as a means of staking and the main payment unit on our platform, essentially functioning as an internal currency. INV will be implemented as an ERC20 token on the Ethereum blockchain. The Ethereum blockchain has been chosen for this project due to its wide application and proven reputation as an industry standard for issuing non-standard digital resources.
INV Token will not:
Pay dividends or profits of any kind, including buyback.
Enable holders to vote on company matters.
Control the company or give/imply ownership in any way.
Token Sale Information
INV Token will:
Pre-sale : Pre-sale will start on 26th May and run until 15th July 2018
Public token sale : Public sale will start on 15th August and run until 30th September 2018
There will be a total of 210 million, of which 60% will be offered for sale at a base of 0.0002 ETH (website: https://investinbrokers.com)
Soft Cap : 4000 ETH ($1 500 000)
Hard Cap : 21429 ETH ($8 000 000)
Unsold tokens will be burned
The tokens will be allocated in the following manners:
Token Sale : 60%
Core Team : 20%
Reserve Fund : 13%
Advisor : 5%
Bounty : 2%
Token Sale Bonus System
It is possible to take advantage of the following bonuses during token sales :
INV Token will:
Total Supply : 210 million INV
Target Public Sale Amount : $15 million
Pre-sale Public-sale
Hard cap $5M $10M
Denomination ETH ETH
Participants KYC+Whitelist KYC
RoadMap
Meet The Amazing Team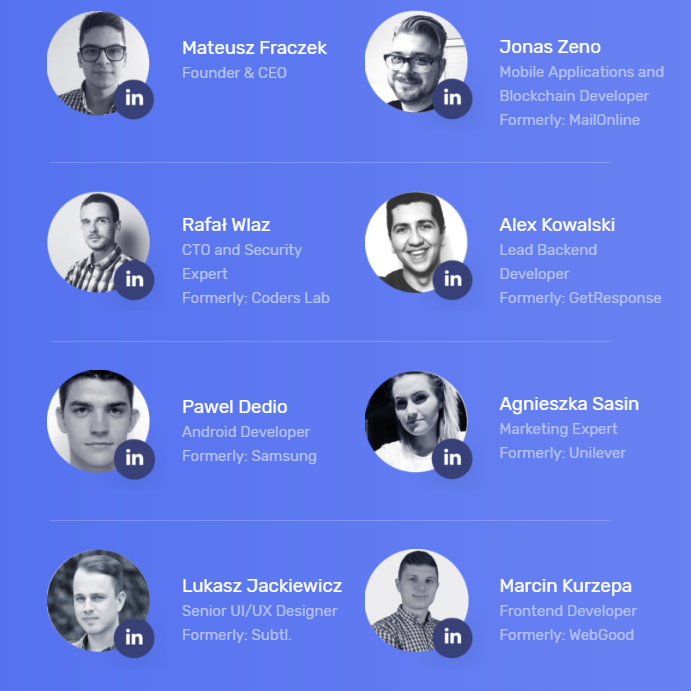 Mateusz Fraczek-Founder & CEO
Rafal Wlaz-CTO and Security Expert
Formerly: Coders Lab
Alex Kowalski-Lead Backend Developer
Formerly: GetResponse
Agnieszka Sasin-Marketing Expert
Formerly: Unilever
Jonas Zeno-Mobile Applications and Blockchain Developer
Formerly: MailOnline
Marcin Kurzepa-Frontend Developer
Formerly: WebGood
Pawel Dedio-Android Developer
Formerly: Samsung
Lukasz Jackiewicz-Senior UI/UX Designer
Formerly: Subtl.
The Advisors
Simon Cocking – Marketing Advisor
Jason Hung – Strategy Advisor
Adnan Javed – Blockchain Advisor
Andrew McGlan – Strategy Advisor
Anthony Ginsburg – Technical Advisor
Emma Adkins – Investor Relations Advisor
Rumen Slavchov – Marketing Advisor
Be a part of this incredible project. Download the whitepaper for the full scoop.
Till next time…
For more information, please visit:
WEBSITE: https://investinbrokers.com/
WHITE PAPER: https://investinbrokers.com/whitepaper.pdf
TWITTER: https://twitter.com/InvestInBrokers
FACEBOOK: https://www.facebook.com/investinbrokers/
TELEGRAM: https://t.me/investinbrokers
LINKEDIN: https://www.linkedin.com/company/invest-in-brokers/
MEDIUM: https://medium.com/@investinbrokers
Author: TheMichaelMatch
My BitcoinTalk Profile: https://bitcointalk.org/index.php?action=profile;u=1326035
Disclaimer: This article was published in terms of the bounty campaign. I am not a project team member or its representative but a supporter of this incredible project.