The technology that brought us the first transparent, secure, and decentralized currency through Bitcoin has opened the floodgates for incredibly innovative business solutions through smart contracts on networks such as the Ethereum Network. Through this, a large number of businesses have minted a growing group of people with significant wealth tied to cryptocurrencies.
However, as it stands, the process to translate the wealth accumulated in cryptocurrencies to real-life experiences for cryptocurrency owners to enjoy is, unfortunately, painfully inconvenient. The activities of purchasing, transferring, and exchanging cryptocurrencies to widely accepted "money" are complicated, slow, and unstable.
The real-world usability problems associated with cryptocurrencies have encouraged a number of companies to tackle this challenge. While many of the contenders in this space have approached it with a seemingly logical prepaid plastic card solution, their use cases are limited to just a few cryptocurrencies and acceptances are limited to just a small number of Merchants, thus, hampering wider adoption. Before I proceed lets take a look at the video beloq to have an insight on what IOU is all about.
IOU
IOU is a true P2P e-commerce loyalty platform on blockchain. IOU Peer-to-Peer (P2P) platform helps in providing new opportunities for each Merchant (Business Merchant) in the world with regard to loyalty system organization, interaction with consumers, investment attraction, and revenue growth by the means of issuing its own freely tradable IOUs (IOU Crypto-Obligations/ IOU-CO).
AIM
To empower blockchain Merchants and Consumers with decentralized and secure Peer-to-Peer technology driving customer satisfaction and loyalty through Merchant's trade-able IOUs.
VISION
To reinvents existing loyalty systems in order to provide more flexibility, control, and enhanced benefits for Merchants in order to guarantee the highest possible level of consumer satisfaction for the incurred marketing expenditures.
ADVANTAGES
FOR MERCHANTS
Loyalty and Customer Retention
Viral Marketing
Market Driven Flexibility
Merchants can receive current consumers' parameters and interests
Getting in contact with consumers
Receiving additional parameters of consumer profile
Barter functionality between merchants
FOR CONSUMERS
Trade IOUs with other consumers
Protection of anonymity
Opting out at any time of Merchant interaction
Possibility to personalize interaction with Merchants
HOW IOU WORKS
IOU offers complete transparency utilizing Blockchain for its Group Loyalty offers with clear visibility, security, speed of processing and traceability of transactions through the decentralized register of all sources. IOU is Offering Merchants and Consumers clear advantages over the traditional e-commerce environment making transactions Cost-Effective and Secure while building ultimate trust between Merchants and Consumers. Rating mechanism would boost a trust even further.
Cost-effectiveness of transactions and global reach of consumers beat the conventional digital payment methods as it removes the middlemen/payment processors that take a big cut. Not only consumers would feel secure and get significant savings but also, they could use their purchased IOUs as actual monetary assets which they will be able to trade with other consumers or sell on the exchange. This is a tremendous benefit of IOU Platform.
FOR MERCHANTS
IOU-Co Issuance
Online Store displaying various Merchant IOUs on range of categories
Mobile and browser integration for transfers of IOU offers
Marketing Campaign module allowing multi-media and social networking integration
Consumer Data analysis such as GPS and Buying Trends
Various permissions and roles based on Merchant status to reach consumers
Analytic Reports on sales and consumer interaction
Web Services with home grown or 3rd party applications
Rating Tools
Merchant would also have an option to Guarantee the Service and issue refunds of payments
P2P Exchange of IOU offers between Merchants and Consumers as well as among other Merchants
FOR CONSUMERS
Purchase IOU-Co offers from Merchants directly or on P2P IOU exchange
Exchanging IOU-Co offers with other Consumers
Unanimous messaging system to receive communications from Merchants of interest
Consumer Profile Management module allowing consumers to promote their interests and receiving special offers from Merchants
Rating functionality allowing Consumers to rate Merchants as well as other Consumers
Secure Repository of purchased and favorite IOU-Co Offers
TOKEN SALES AND ICO DETAILS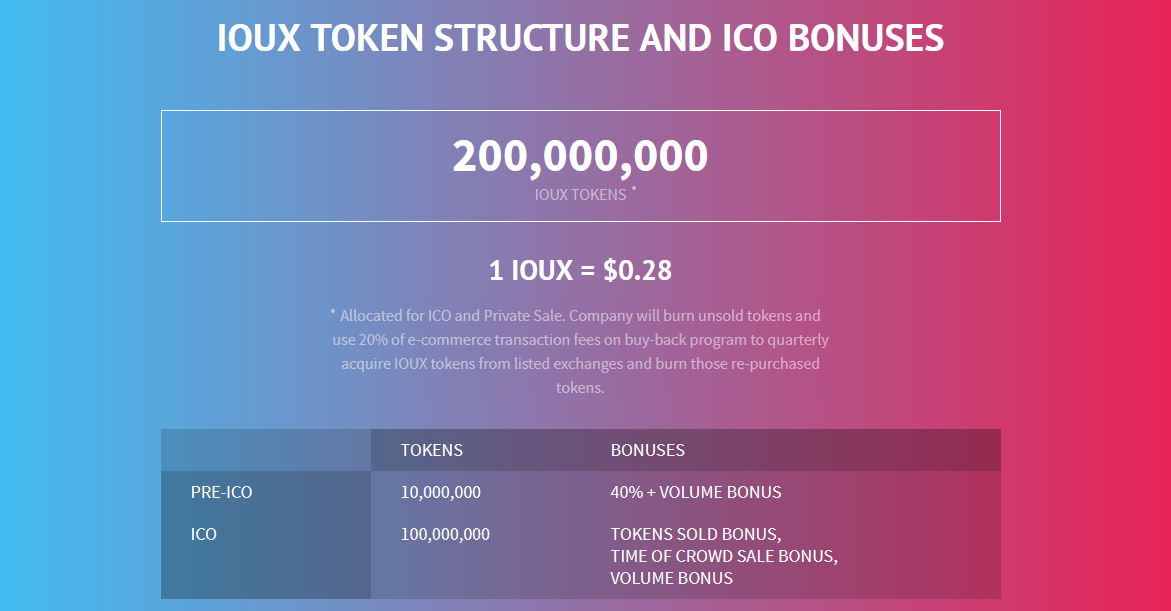 IOUX TOKEN STRUCTURE
200,000,000 IOUX TOKENS
1 IOUX = $0.28
PRE-ICO 10,000,00040% + VOLUME BONUS
ICO 100,000,000
Token sold bonus,
Time off crowd sale bonus,
Volume bonus
TOKEN DISTRIBUTION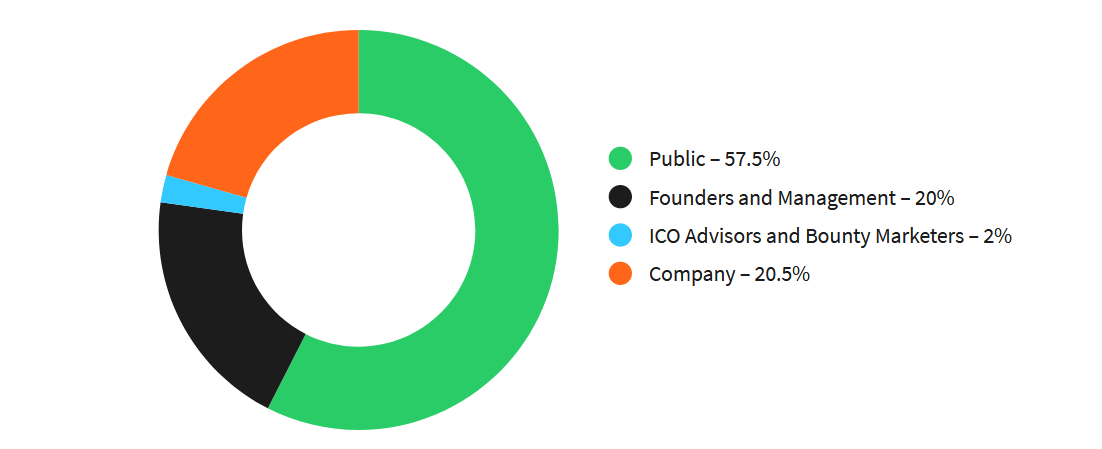 BUDGET ALLOCATION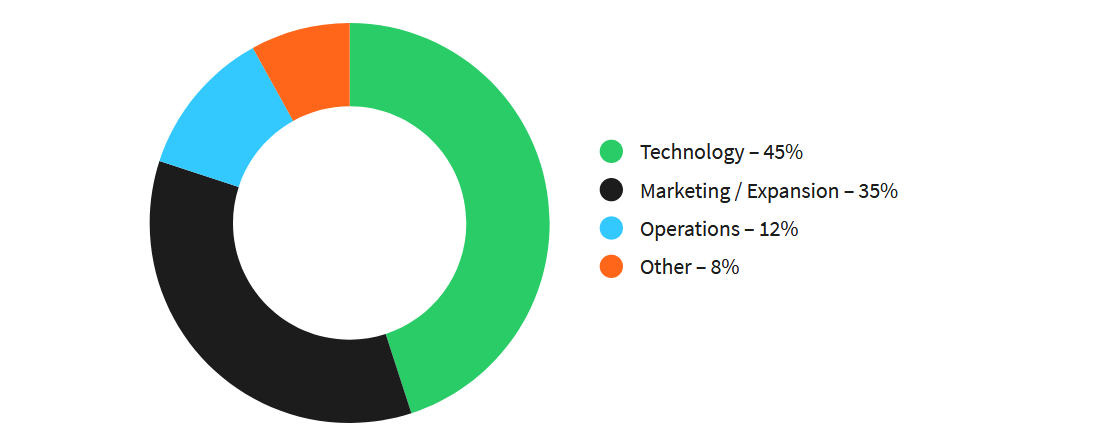 ROADMAP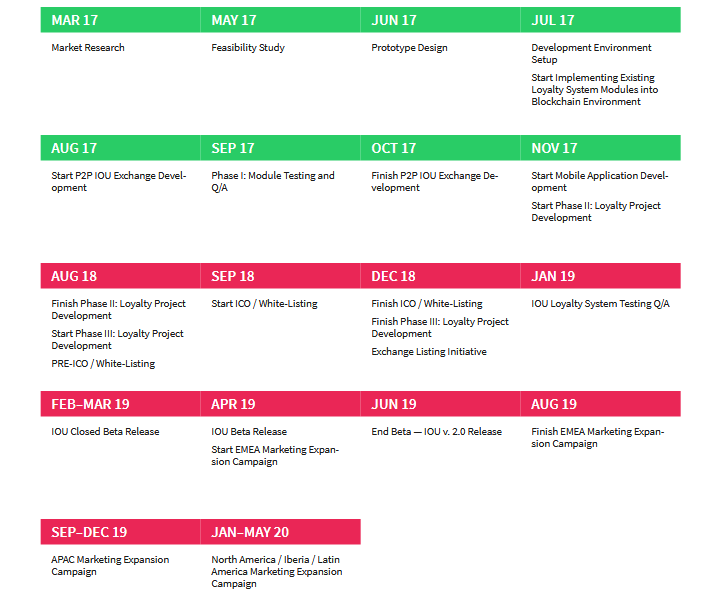 MEET THE GREAT MINDS BEHIND THIS PROJECT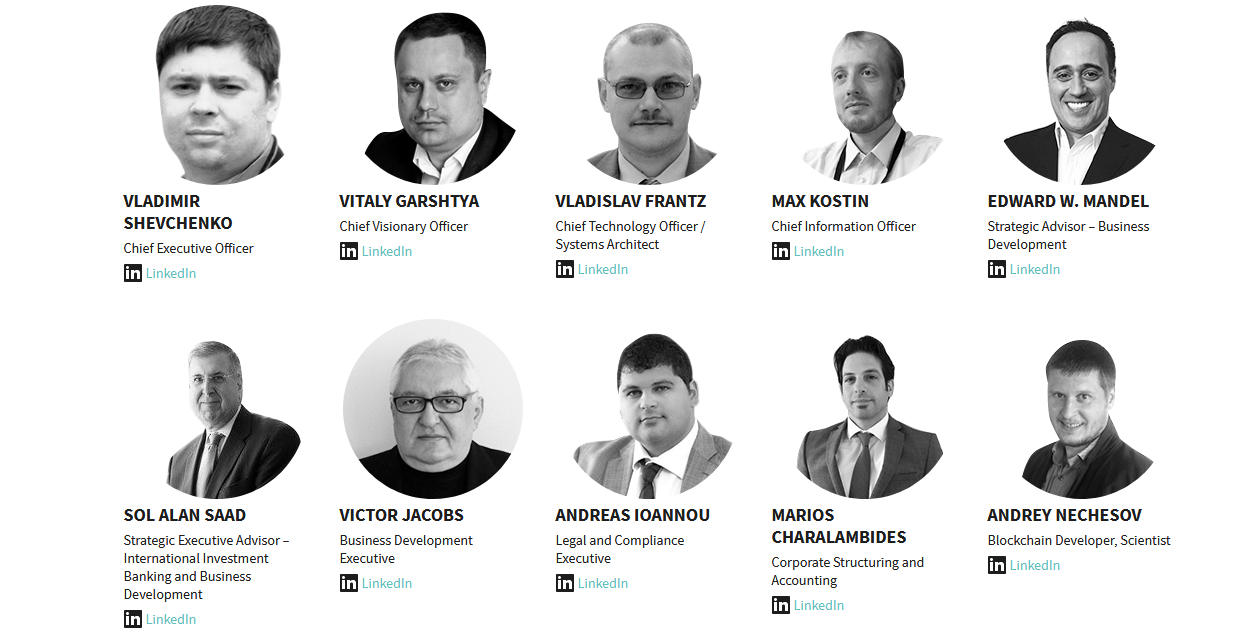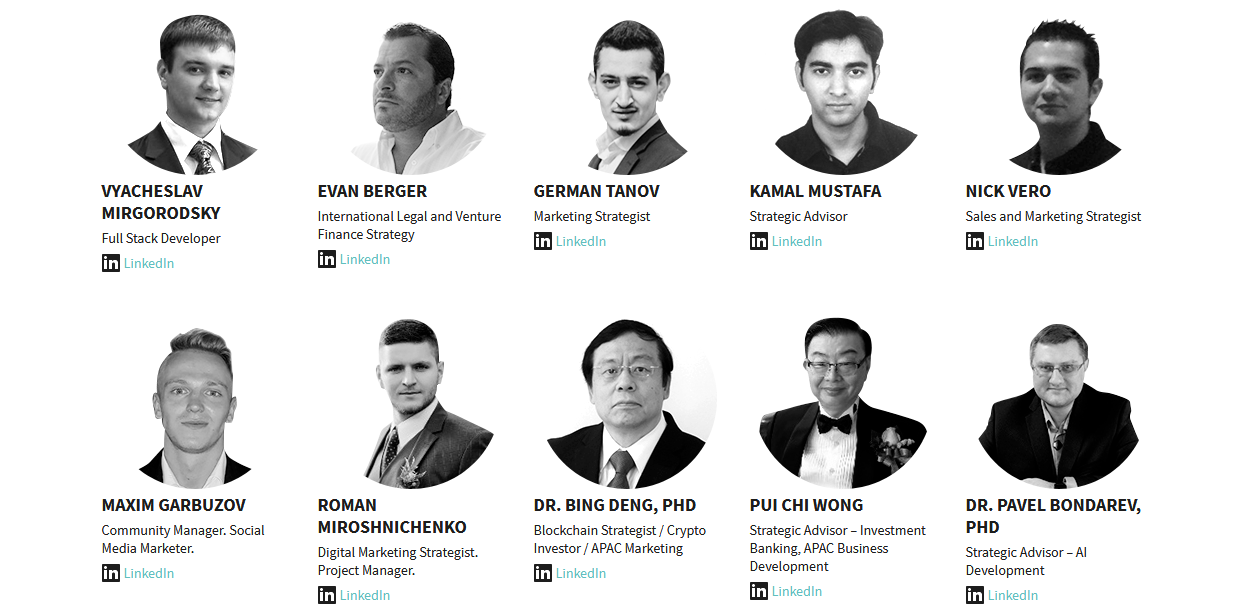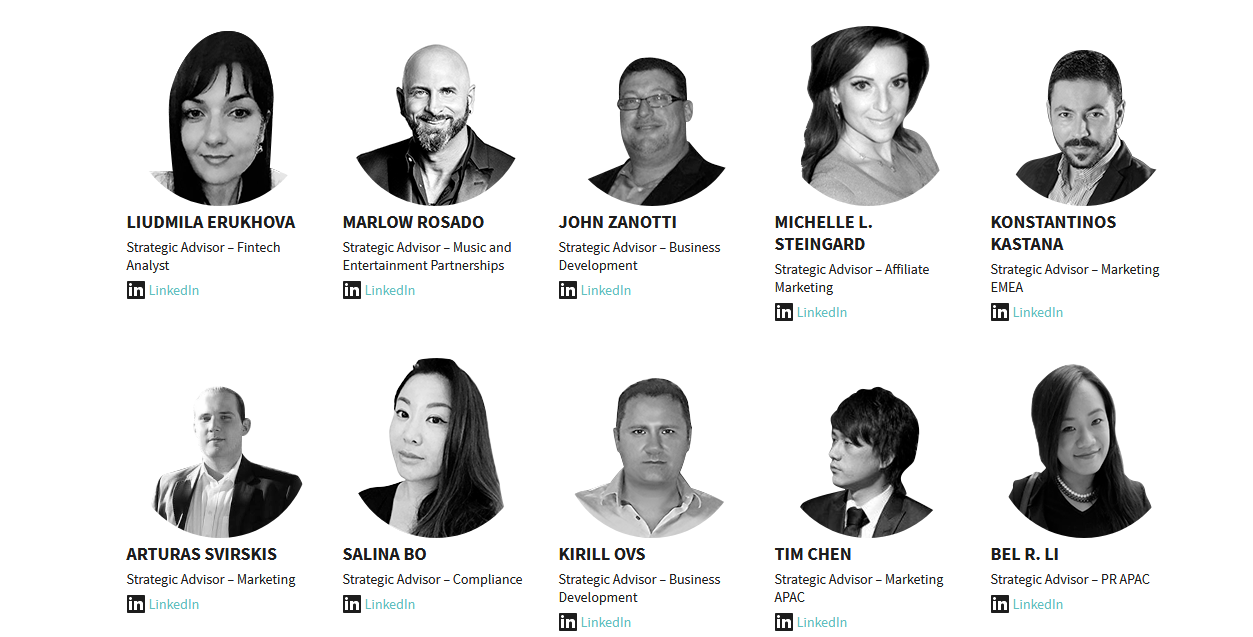 For more information, please visit:
Website: https://iou.io/
Whitepaper: https://iou.io/assets/pdf/whitepaper.pdf
ANN Tread: https://bitcointalk.org/index.php?topic=4845370
Bounty Tread: https://bitcointalk.org/index.php?topic=5001075.0
Telegram: http://t.me/IOUCommunity
Facebook: https://www.facebook.com/iouico/
Twitter: https://twitter.com/iouico
Medium: https://medium.com/@realIOU

Author: Seunola
MyBitcoinTalk profile: https://bitcointalk.org/index.php?action=profile;u=1925064
ETH Address: 0x3eb48CF7E0A5570540641DD8263cA40e307562e9