Is The BITBOSE More Beneficial Compared To The Traditional Banking?
What is BITBOSE Umbrella?
BITBOSE  umbrella contains of BITBOSE exchange, BITBOSE bank, BITBOSE smart portfolio. Consumers needs BOSE coin (like BOSE ERC20) in order to make the entry at BitBose smart platform. This token will enable them to participate in the trading pool. Furthermore, BITBOSE umbrella is listed as a bank by the British Law and regulation of the British common and corporate law. Any illegal money cannot be entered into BITBOSE  platform because of KYC/AML regulations.

1. BITBOSE Bank
One of the main characteristic of this bank is that they provide loan to the appropriate person. The loan manager sanction loan to the borrower after evaluating the person. That's why, this method causes less mistakes. BITBOSE  uses a technology which is called Al Bot which ensure verification while giving crypto-loan and taking savings/deposits. Before that BitBose needs to be registered by the England's jurisdictional law. After this registration they can conduct the usual banking functions.
2. BITBOSE Exchange
This is the exchange where the customers can trade their crypto-currencies. They can the access through the BOSE token which permit them to know more about market prices of the other currencies. From this, the customers can know about the best bid/ask price and can buy or sell accordingly.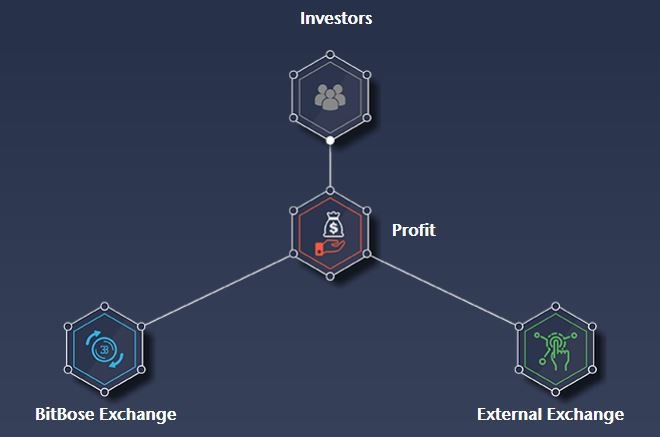 The FIAT currency is issued by the central bank and oppressed by the government. Sometimes government takes some steps to reduce the currency cost. Such as Chinese Renminbi is a Chinese currency and their govt. wants to decrease its price. So, the Chinese Govt. bought USD at the market price and reserve them so that it will increase the demand of USD so does the price. Eventually, it will reduce the cost of Chinese Renminbi. Furthermore, the holder can transfer currency unit (the store of value) to the issuer at the market place. The market price keeps on fluctuating because of the many reasons including the government interference.
3. BITBOSE Smart Portfolio
This platform provides the accessibility to the contributor to allocate an amount of BOSE tokens in their fund. This function occurs through Al Bot technology which is developed by the BITBOSE  team.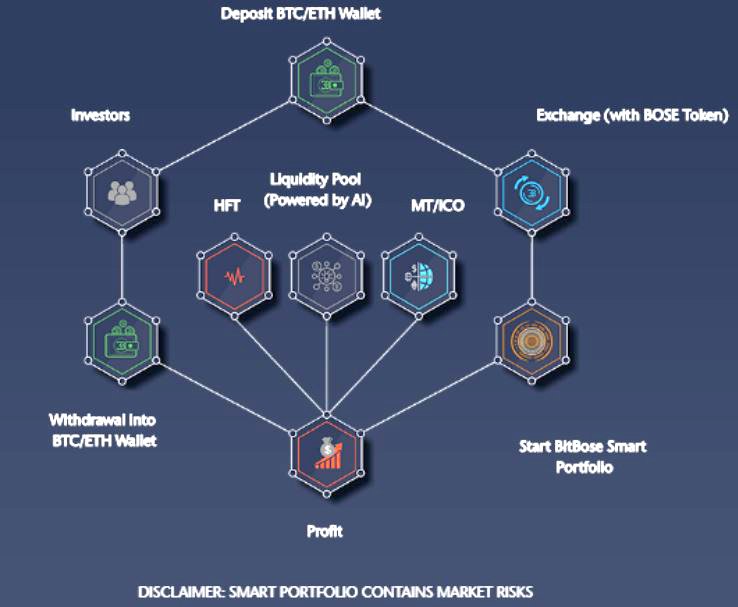 In the algorithm trading, smart portfolio conducts some highly liquid crypto currencies in high frequency (HFT) where the trade volume increases by the small increment of each trader's. Meanwhile, the BITBOSE  Bot (BBT) examine various crypto currency so that they can predict and trade according to the prediction.
khoatg11
0xf178cbD1FEf40851D8aE85e76438b870EEd3785C