ISKRA
New Children's Fund
The foundation's efforts are aimed at creating a new mechanism allowing for the use of cryptocurrency opportunities and developing efficient ways and methods for working with those in need.
The foundation's primary activity will be providing assistance in purchasing medical equipment and medicine for medical centers and hospitals around the world.
But the foundation must be decentralized!
Decentralized social projects and a secured currency are the keys to a healthy future.
Resources from the foundation cannot be used for purchasing weapons or for propaganda.
The foundation has one goal: Help children!
A modern way of a charity
Traditional methods of donating to charities using bank or credit cards, mobile payments, bank transfers, and cash deposits are far from riskless.
There is no guarantee that your contribution will actually
go toward the goal.
ISKRA allows us to maintain transparency in the foundation's activities.
When you purchase our tokens, your investment is protected
by the value of diamonds.
At the same time, you are effortlessly helping the foundation.
With ISKRA your contribution to the foundation is guaranteed and at the same time your investment is protected.
Schema of a project
We believe that we can call this path "ICO v3.0"
We want every project that goes into cryptocurrency to first set aside 10% of the coin or token bank to be transferred to social programs!
This is the only way that society can actually influence its future. Example: If the creator of Bitcoin had founded a social foundation and transferred 500,000 coins to it at the very beginning, then today that fund would have had $3.1 billion.
And people themselves would have been able to spend this money on social programs — independent of the government and bankers.
ISKRA is a real chance for our society to be a modern society with social accountability!
THE PROBLEM
Children need new methods for receiving help.
Lucem team saw a need to make a difference
in solving the social issue of children in need.
For charity, we can and should take advantage
of new technologies.
The Lucem team was the first to see
an opportunity to improve the fundraising
process using digital technology.
THE SOLUTION
Lucem of Hope Community
The foundation is a decentralized platform
where every user can propose a project.
You chose whom to help and how.
Lucem uses cryptocurrency with the goal
of donating it to a charity.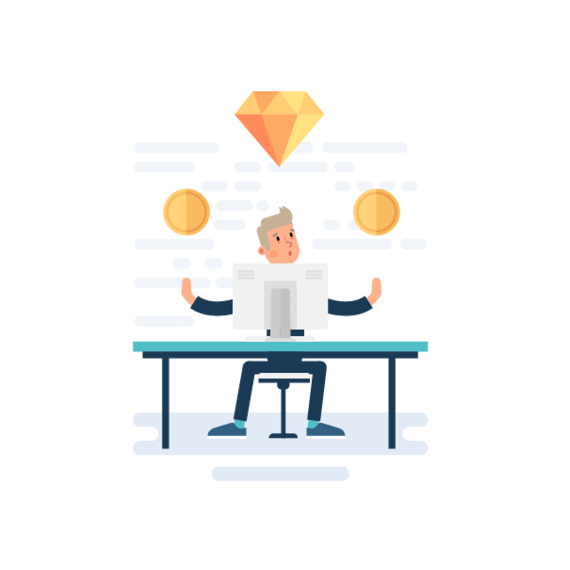 Diamonds
Nearly half of the world's diamonds are processed in Israel.
With ISKRA, you have the unique opportunity to invest in the
most reliable financial instrument.
Diamond prices are stable and even more resistant to disasters
than the price of gold!
ISKRA is not just an investment, it is also a bargain.
A bargain that you cannot get in store unless he has joined the
Lucem project.
This means that small businesses and novice traders will be able
to join the elite club of stockbrokers.
ISKRA does not just help children. It is also a profitable investment
tool for anonymous safekeeping of capital.
We want ISKRA not only to be secure
but also profitable!
The price of diamonds is disaster resistant
and is more stable than gold!
ISKRA gives you a unique opportunity to exchange it for diamonds at any time, based on the Rapaport Price List and GIA certification.
And that means that you will always have a pure price without middlemen: this will save you between 10 to 50% of the diamond's cost.
Today, only large companies on stock exchanges have the opportunity to trade using the Rapaport Price List. These are stock brokers.
Today, these are our partners and the list of them will expand to include the whole world!
What makes ISKRA so special?
Built on blockchain technology and using smart contracts,
ISKRA is one of the safest, most reliable, and most secure digital currencies of the future.
ISKRA was created as a cryptocurrency that allows you to create a financial base for a charitable foundation to help children around the world.
Based on our forecasts, we expect the value of ISKRA to continually grow.
Because of this, we believe that ISKRA is an ideal investment opportunity.

Our Team
Ideas generator
Since 2006 he is a CEO in the
IT-support company "APC-computers"
Since 2013 he has been engaged in consulting and integration of blockchain technologies in the Middle East.
Adviser
Since 2005 specialist in IT
outsourcing and technical solutions for
large businesses.
Software Engineer Adviser
Software Engineer with more than
decade experience of developing and designing complex systems.
Product Adviser
Experienced Qualified Person (batch releases), Certified Quality Auditor and Qualified Person Responsible for Pharmacovigilance. Skilled in Quality Assurance, Quality Auditing, cGMP, GDP, SOPs
Accountant Adviser
For 6 years, Julia has been taking a position of Head Accounts Management at big sales company.
Lawyer Adviser
Over 10 years of experience working with large financial and investment holdings.
Specializes in civil law, corporate law, securities markets and financial transactions.
She is a member of the Internal control and finance committee at the board of directors.
Language Adviser
Professional translator of Chinese, English, Russian language, with experience working
with an advertising agency and small business.
And also teaches the Chinese language for more than 5 years.
Adviser
More than a decade of experience in cybersecurity.
Code developer for a smart contract.
Technical support of Lucem-Project.
ISKRA bourse listing.
Adviser
PhD graduate in Economics.
Fields of interest are Political Economy, Economic Growth, Economic History, and Family Economics. Also interested in development and institutional aspects of growth.
INFORMATION
Whitepaper: http://bit.ly/iskra_wp
Website: https://iskra-coin.io/
Website: https://lucem.fund/
0x0e68cb986BD9Bfa6bFC2Ea8B16BDFA3Ec57C9D8E
Author: johnthedon
BitcoinTalk Profile Link: https://bitcointalk.org/index.php?action=profile;u=1860087