ITRUE PLATFORM:SELF SOVEREIGN BIOMETRIC IDENTITY FOR THE WEB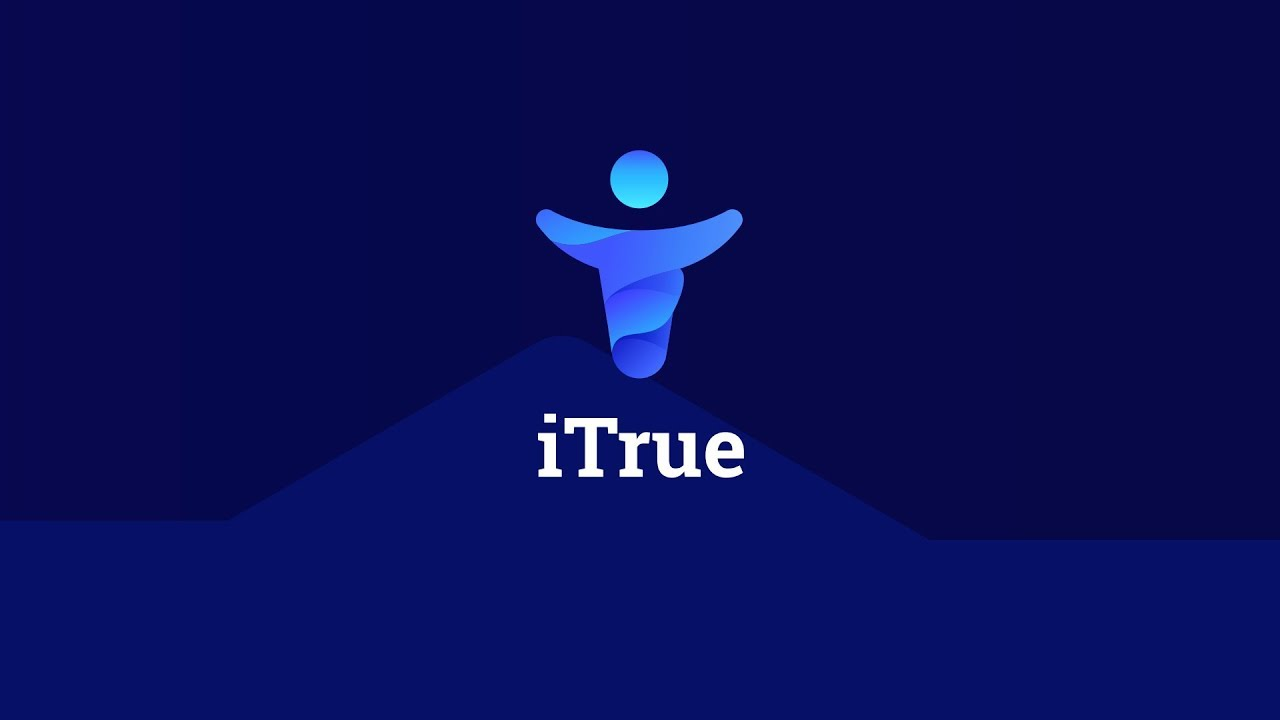 In the past, it was almost impossible to prove your identity to the rest of the world on a large scale. Today, with the emergence of major identity providers such as Facebook and Google, it has become much easier to verify identities with third parties around the world. Despite the progress, the existing identity management model has some fundamental shortcomings:
About iTrue Platform
Instant Access to Controlled Gains with device-free iTrue technologies
iTrue is a Blockchain-as-a-Service solution with a built-in authentication system with biometrics as its core microservice, enabling enterprises and developers to build secure, scalable and extensible applications. The iTrue token ecosystem rewards users for sharing their data, and businesses for participating in the data and app marketplaces. Our innovative stone storage solution ensures high speed and capacity without sacrificing security and privacy
The Issue
There is a growing demand for safe, efficient, and secure authentication systems, given the rise of online financial products and startup companies providing innovative digital services.
Services like cashless payment systems provide convenience and ease of transactions. Banks and fintechs are already exploring or implementing biometrics as a way to authenticate users.
Biometric technologies, however, do not give an assurance of secure and safe authentication on their own. User data can easily be compromised or misused with improper handling.
Users are therefore concerned about how businesses are using their data — fintechs and online services may be collecting, using, and selling personal data for their own profit.
Some Facts and FiguresMore than half of e-commerce cart abandonment is due to forgotten passwords(49%) or forgotten debit/credit card details (59%) underscoring the need to improve authentication measures.
49% of the users in the US are concerned about their biometric data being compromised, while 35% are worried about their bank having access to the information.
Facial recognition in surveillance is legal in Russia and other countries, but is considered a major privacy threat, especially if the security of the system is compromised.
In Shanghai and Beijing in China, facial recognition is being used not only by state security and surveillance, but also by private companies. Example: Fintech provider ANT Financial is utilizing biometric scanning even in public places like the subway.
iTrue is the Solution
The combination of blockchain and biometric technologies will enable businesses to improve authentication through biometrics and eventually build and market their own applications on the iTrue platform and ecosystem. Reducing transactional friction through biometric authentication helps improve the user experience and enhance platform security at the same time.
With iTrue, users have complete control over their confidential personal data, and biometric authentication enables secure and seamless access to digital assets and even physical facilities, like a car or house. Since iTrue gives notifications where users' data is being used, enterprises are able to integrate such privacy controls into their applications, thus helping businesses comply with the European GDPR regulations.
By implementing a blockchain approach, users and businesses are assured of a robust and scalable infrastructure wherein their records are secure and safe from data theft or misappropriation. Our solution is designed for high speed and capacity — overcoming the limitations of current blockchain tech.
What is the vision of iTrue?
To solve some of these issues, iTrue combines the block-chain and biometric technology to improve the quality of authentication and enhance the security of the platform. Thanks iTrue users have full control over their sensitive personal data, and biometric authentication provides secure and seamless access to digital assets and even physical objects, such as a car or house. Because iTrue provides notification that use user data, enterprises can integrate tools privacy control to their apps, thereby helping companies to comply with European rules of the GDPR. By adopting a blockchain-based approach, users and businesses are confident in a robust and scalable infrastructure where their records are safe and secure from data theft or misappropriation.
What is itrue delivery planning?
The vision of iTrue for decentralized identity is still at an early stage. In collaboration with other vendors, iTrue is actively working on the following initiatives to provide a new wave of decentralized protocols and identity management solutions:
Biometric authentication-a system that recognizes the eye iris, hand veins, and facial functions with real-time detection when authenticating users to access large enterprise systems.
Stone Storage-a unique data storage function, in which personal information is stored separately from the transaction record and can be divided into different levels and stages. This allows users to determine which information should be shared with which party, thus fully controlling sensitive information, but still enjoying the simplicity and convenience of biometric authentication.
API integration-a new API for interaction between machines and people that does not require gadgets and can be used by the public, including commercial companies and new startups. The platform includes an authorized block chain with high speed of operations, certain levels of access to confidential information and the ability to build both geo-dependent and geo-independent services.
· ID Verification (IDV) system that does not require data storage on personal devices. Simple KYC can be implemented through the platform iTrue. Users can go through the KYC procedure using their mobile phone, PC or an authorized partner terminal.
In a more practical way, rather than providing broad resolution to countless applications and services and having their identity data among numerous providers, iTrue wants to offer people a secure encrypted digital center where they can store their identity data and easily control access to it.
iTrue Token Ekosistemi
iTrue's service-based platform enables applications to integrate authentication regardless of passwords, gadgets, and plastic cards. The platform will not sell user data. Rather, it will enable users, customers, and developers to share and use data on the platform.
Developers will be able to create applications that benefit from micro services such as authentication. Users will be informed of each request for their data and will be rewarded with iTrue tokens when they participate in data sharing activities.
iTrue combines biometric identification and blocks to enhance the confidentiality of any process users create. iTrue Limited will develop an exceptional platform for an innovative approach to how companies create decentralized applications. The iTrue solution will be implemented as a blocking service with the built-in biometric data verification system. The decentralized platform will support user authentication for developers and businesses, the creation of new chain networks, and the ability to receive awards for users after an honest data exchange.

Jack Cheng, CEO of iTrue, said that the number of new companies offering online advanced services, such as digital financial products, has increased rapidly due to reliable systems and demand for efficient authentication. iTrue's core development team has created a comprehensive solution that addresses the gaps in how these companies use their customers' data. Combining biometric, block and advanced database technologies, iTrue can improve user authentication and privacy. In addition, developers will be able to create a wide range of decentralized applications directly in the ecosystem.
ITrue technical expert Anton Goroshankin stated that he discovered a way to solve the problems of modern block products with a strategy to unify the database and block chain. As a result, iTrue is a stable and scalable infrastructure where user data is protected against misuse or data theft. Other important advantages of this ecosystem are:
Fully Controlling Private Personal Information
Monitoring User Data
Ensuring Full Adaptation to the Privacy Policy
Integrate Privacy Control of Companies into Decentralized Applications.
The main objective of the project is; to create a global ecosystem that enables companies, developers, users, and customers to take advantage of data change efforts in a decentralized application market. With this platform, users can share data with other users, companies and data providers who need them. Each participant will receive awards with ITU tokens.
To ensure that each user has control over his or her private data, iTrue platform members will tell you how their data will be used and how they can win. In addition, the platform will comply with privacy rules and will inform users to give consent to each data request.
The iTrue system will support developers in creating solutions based on critical factors of users' privacy, security and security. Thanks to its innovative identification capabilities, users will not suffer from security when performing any operation with crypto coins. In addition to creating a decentralized solution that eliminates the use of any fraudulent programs, developers will enable you to perform your transactions quickly, efficiently and securely.
ICO and Token Information:
The token to be used within the scope of the project will be iTrue Token based on the ERC-20 standard. The ticker of the buckle will be the ITU. The total token number is 8 billion. 60% of them are reserved for token sale. Price is 1 ITU = 0.01 USD.
Soft Cap target of the project; $ 7.5 million; The Hard – Cap target is $ 40 million.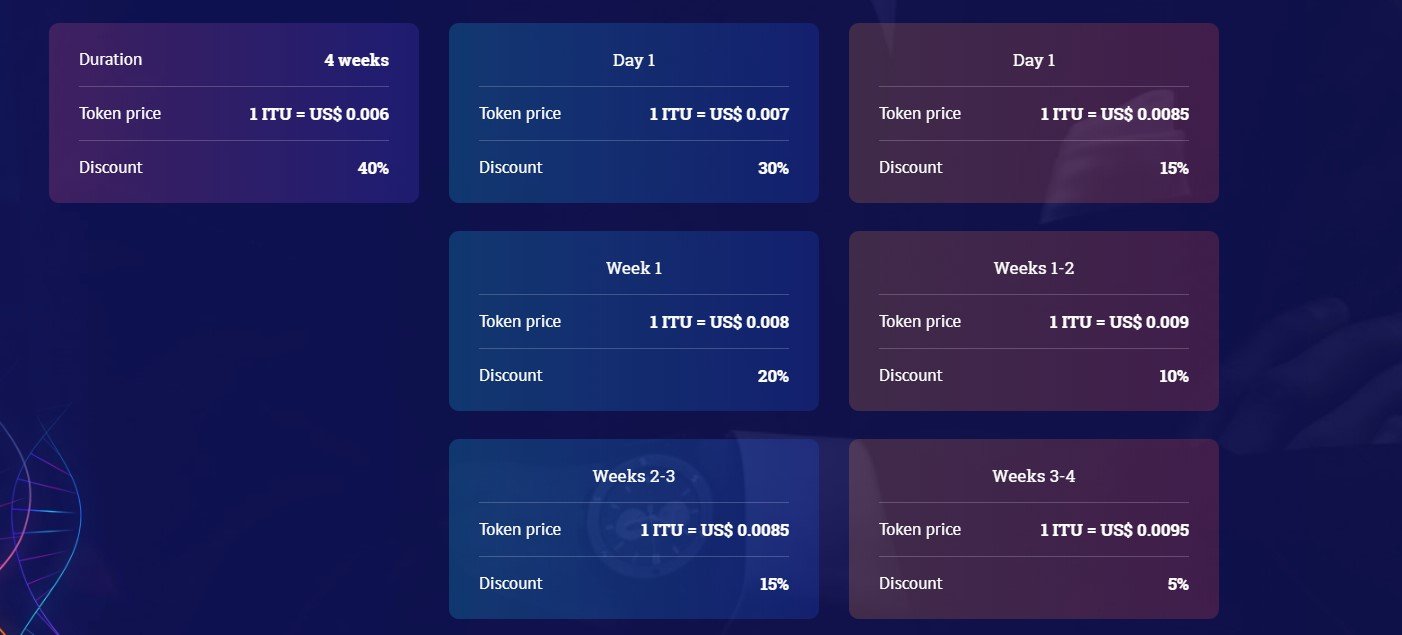 General evaluation:
The iTrue platform has already acknowledged that the biometric authentication service is integrated into the large commercial network of the European Trade Center and will become a true test of this technology. While operating in one of the largest entertainment and shopping centers in Russia, iTrue is expected to provide better security to Europe and increase user privacy.
iTrue is a Blockchain-as-a-Service solution with a built-in authentication system with biometrics as the core microservice, allowing businesses and developers to build secure, scalable and extensible applications. The inclusion of this kind of self-identification digitally is larger than any company or organization. However, iTrue is committed to working closely with the community to unlock a new generation of identity-based digital technologies.
Web site: https://itrue.io/
Technical document: https://itrue.io/files/iTrueWhitePaper.pdf
ANN Subject: https://bitcointalk.org/index.php?topic=4721365
Telegram: https://t.me/itrueio
Facebook: https://www.facebook.com/iTrue.io/
Twitter: https://twitter.com/Itrueio
Linkedin: https://www.linkedin.com/company/itrue/
Team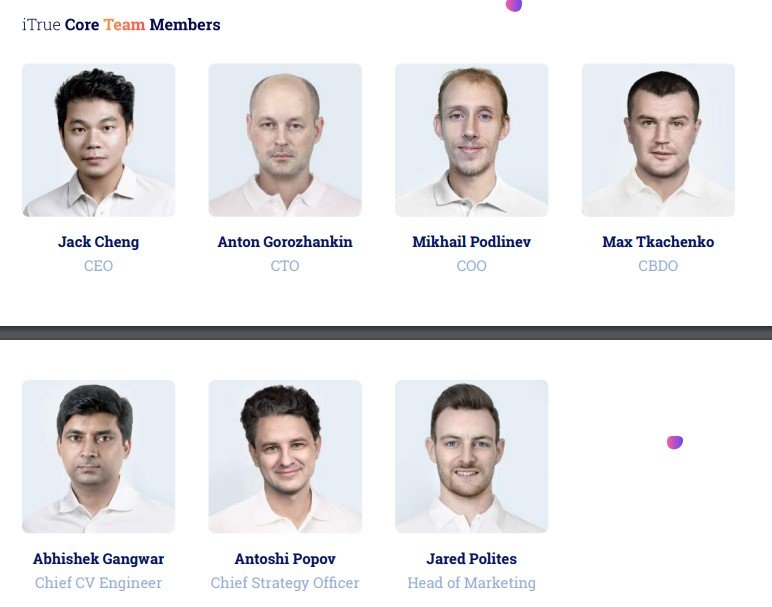 ===============================================================
Author:dhavid19
Bitcointalk Profile Link:https://bitcointalk.org/index.php?action=profile;u=1795848
Eth wallet address:0x2e0aE95a7871c8A38A513981904410d07DD96231