iTrue – Self-Sovereign Biometric Identity for Decentralized Web
Bitcoin accepted by many has gained legitimacy among millions together with Ethereum, It is centralized and seems to offer a one dimension approach to cryptocurrency market but not providing a comprehensive solution to the prevailing problems that blockchains and cryptocurrencies face (especially relating to Biometric Identity) .
Together, Bitcoin and Ethereum have proven that blockchain technology, decentralized systems, and global collaborative communities can work. But, at the same time, vast improvements and innovations are needed to meet the true promise of blockchain technology in this regard.
iTrue wants to give users control of their own data back from big tech firms. Your Face Pass is the key to your data.
Business and individual users can earn rewards for participating in the data economy and decentralized app marketplace.

Features
As a platform, iTrue provides an ecosystem wherein businesses and developers can authenticate their users, build their own blockchain network, and earn tokens from data exchange. Users can use the platform to conveniently and securely get authenticated, control how their data is used, and earn by sharing their personal data in a controlled manner.
Unprecedented Privacy Control : Biometric access means never having to memorize a password again, and never having to rely on a gadget like a smartphone or credit card. iTrue gives users full control and ownership of their data, which also enables businesses to build solutions and apps that comply with privacy regulations like GDPR.
Opportunities to Build and Scale : The iTrue Blockchain-as-a-Service provides building blocks that enable developers to more quickly design and deploy enterprise or consumer applications with turing completeness. This enables businesses to gain access to both turnkey solutions and developer-customized applications. iTrue's new Stone Storage technology ensures speed, security, and accessibility by combining the benefits of blockchain and database.
Income and Rewards from Data Sharing Economy : iTrue is built around the ITU token economy, wherein users, businesses, developers, and data managers can earn income and rewards from secure and private sharing of information. To ensure privacy, all data sharing will still require user permission and notification.
Why is iTrue here?
iTrue is here to address the growing demand for safe, efficient, and secure authentication systems, which is brought about by the rise of online financial products and innovative digital services like cashless payment systems.
Banks and fintechs are already exploring or implementing biometrics as a way to authenticate users and to reduce the risk of security breaches. Biometric technologies, however, do not give an assurance of secure and safe authentication on their own.
User data can easily be compromised or misused with improper handling. Users are thus concerned about how businesses are potentially collecting, using and profiting from their personal data.
Meanwhile, enterprises need a solution to de-risk their handling of data. Considering that storing data on-premises or on insecure centralized locations, any breach thereof can be detrimental to a business' image.
iTrue, therefore, aims to address the following needs:
A convenient and secure way for users to get authenticated;
Enhanced user privacy, in line with regulations like the GDPR;
A way for both businesses and users to benefit from exchange of data;
A way for businesses to build their own blockchain networks with built-in security, privacy, and speedy performance.
What makes us special?
Our main focus is to make the best product and to accomplish our mission of empowering each individual to have control over their personal data, how it is used, and how to profit from it. Thus, we believe it is not in good taste to comment on other projects unless absolutely necessary.
Team

Token Details
Token name: iTrue (ITU)
Nominal price: 1 ITU = US$ 0,01
Total amount of released tokens: 8 billion ITU
All the unsold tokens: will be burnt by the smart contract
Token type: ERC20
Total soft cap – 7,500,000 USD
Total hard cap – 40, 000,000 USD
Payment accept – Ethereum
Minimum investment – 100 USD
Price of a single ITU – 0.01 USD
Pre-ICO cost of 1 ITU – 0.006 USD
Bonus- it is available to the users and anyone can participate in it
Token Distribution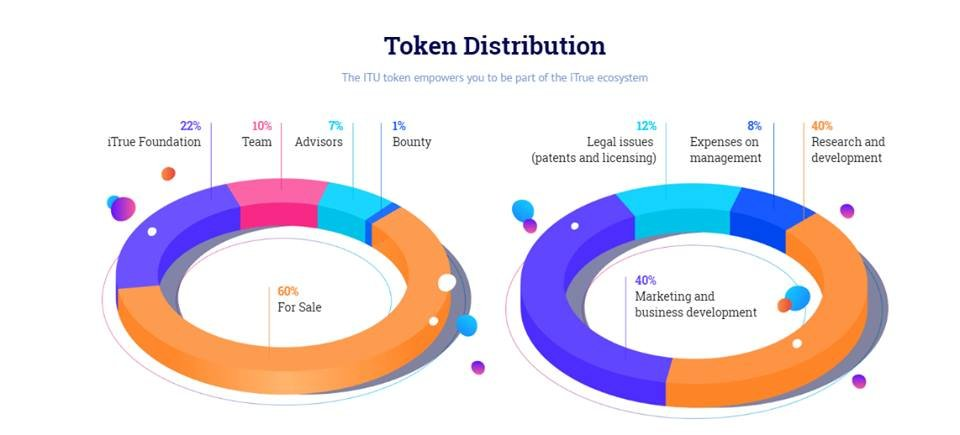 Roadmap
Q2 – Q4 2017
Identification of competitors and market analysis
Q4 2017 – Q2 2018
Development of technical specifications, project architecture and a system of automated human face recognition
Q1 – Q2 2018
Development of Stone storage: Fast and scalable like DB, immutable and transparent like blockchain
Q2 – Q3 2018
Development of APIs to connect microservices with Stone storage
July 2018
iTrue company registration in Hong Kong
GDPR took effect. iTrue architecture and its microservices are already designed in accordance with GDPR requirements
August 2018
iTrue subsidiaries registration in India and Lebanon
Filing form D 506 exemption notice for submission to SEC, opening the token sale for US accredited investors
Q3 2018
Development of mobile applications (iOS, Android) enabling the insertion of personal data to the blockchain network and face recognition for access to personal data
Token Sale
Q3 – Q4 2018
Expansion to the Arab Maghreb Union, India and the CIS. Launch of 20 pilot projects in banking, insurance, surveillance, ecommerce industries
Opening iTrue community for third party developers; Opening the platform for third party microservices developers so they can build own microservices to expand iTrue platform functionality and community
Q3 2018 – Q1 2019
Development of a payment system and an IDV system to verify citizens of India, Bangladesh, Russia, Lebanon and Qatar
Q4 2018
Launch of the platform for Privacy Control and Data Sharing between Users and Clients. Users will be able to control their privacy and get tokens for its controlled data distribution to Clients
Q1 2019
Development of 5 additional microservices to make personal life and business processes easier and safer, available for integration to the projects of iTrue platform third party developers
Launch the platform for third party developers of applications so they can use iTrue and third party developers microservices by building enterprise/consumer apps and getting tokens on selling apps to Business and Users
Q2 2019
Launch of a fully-functional platform enabling Web 3.0 projects and DApps
Q1 – Q2 2019
Expansion to the countries of ASEAN. Launch of 50 pilot projects in banking, insurance, surveillance, ecommerce industries
Q2 – Q4 2019
Development of 20 additional micro services to solve day to day issues of Business and Users
Development of an IDV system to verify citizens of the China, Thailand and Indonesia
Conclusion
Data is the currency of the New Economy. Be part of the data revolution and control how your data is shared. You can read more on the below links:
Website Link : https://itrue.io
Whitepaper Link : https://itrue.io/files/iTrueWhitePaper.pdf
ANN Thread : https://bitcointalk.org/index.php?topic=4721365
Facebook Link : https://www.facebook.com/iTrue.io
Twitter Link : https://twitter.com/Itrueio
Telegram Link : https://t.me/itrueio
BITCOINTALK USERNAME : funkyies
BITCOINTALK PROFILE: https://bitcointalk.org/index.php?action=profile;u=1971452
Ethereum Address:0x54956f187b9E58065489d502d5c30C1C6726B3Ff