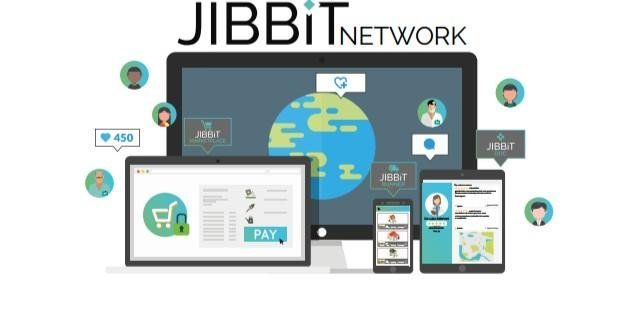 Welcome to the JIBBIT platform. Cannabis is a psychoactive drug from the Cannabis plant intended for medical or recreational use. Many people want this to be legalized to use as a medicinal plant because according to some doctors researches they have discovered that this plant can be a cure on some diseases and sickness just like Epilepsy/Seizures, Alzheimer's Disease, Multiple Sclerosis, Cancer, Schizoprenia, Type 2 Diabetes, Asthma, Hepatitis C, Asthma, Erectile Dysfunction and Arthritis. As of today they still do their researches on cannabis to know more if there are still some diseases that it can cure. But some countries are not favorable on legalizing it even it could be use as a medicine.
Jibbit creates an ecosystem network to connect the worldwide cannabis community with the crypto world (200m +). A world to make the cannabis market completely independent of the financial system and its influences. By making use of the Blockchain technology, we demonstrate the value of this revolutionary movement of the crypto-community and how we can make the world a little better. Be there today to help making the crypto world accessible to the masses. Give the power back to the people.
One-dimensional promises are made at each step, and this is what consumers expect in a multi-billion marketplace. That is exactly why the company is creating this system, Jibbit is not just a token, it is an eco-system that does not yet exist in the market. For many people, cannabis is more than just a stimulant or a narcotic, it's a drug at the same time. Trust and reliability are the basic things required when the company talks about dealing with patients. This trust should be guaranteed by a system that keeps the data encrypted in the blockchain and is not modifiable. At the same time, it should be possible to inspect and verify the encrypted transactions as needed, so that no suspicion or doubt arises.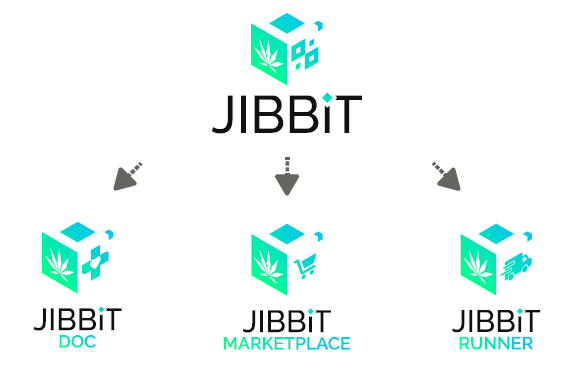 The JIBBiT ecosystem uses blockchain technology to execute transparent, anonymous and safe payment transactions for all the parties involved in the ecosystem.
The JIBBiT ecosystem primarily consists of 3 core elements: –
JIBBiT Marketplace – It is the core structure of the JIBBiTecosystem. It is the marketplace for cannabis accessories. Patients, consumers and growers can use JIBBiT Markeplace for shopping cannabis accessories.a
JIBBiT Doc – It is the portal and interface for patients, doctors and pharmacies. The 1st platform solution will be made available in Germany.
JIBBiT Runner – It is the cannabis delivery service for delivery of THC containing cannabis products. It aims to become the next UBER for cryptocurrency based delivery of marijuna.
THE GOAL OF JIBBIT
Jibit's main goal is to associate the fast developing cannabis industry with the crypto world; it is also to make the advantages of blockchain technology available. Jibbit tends to make payments with cryptocurrencies on an overall basis, which seems appropriate for everyday use. Moreover, Jibbit is presently working together with accomplices on further blockchain based solutions in the area of healthcare and payment, fundamentally to advance the utilization of cryptocurrencies.
One of the exceptional developments in the medical system will be exclusively on the blockchain based solution for forgery-proof therapeutic prescriptions. The blockchain tends to give the technological devices for us to make a Jibbit ecosystem. In this system, suppliers, producers, and consumers can locate each other. Each and every exchange is stored and encrypted in the blockchain, and is open to everybody as at when required. However, it is almost impossible to have any falsification or adjustment of the blockchain's stored data.
PROBLEMS JIBBIT HOPES TO SOLVE
Need for payment options with cryptocurrencies for cannabis and accessories
Strong growth in the no. of cases of prescription counterfeits
High transaction costs of banks and other payment service providers
Too long transfer time affecting the delivery
Non-offering of anonymous transactions with banks
Need for simple, faster and safer procurement of legal cannabis
SOLUTIONS JIBBIT OFFERS
JIBBiT ecosystem promotes and allows payment with cryptocurrencies
Prescriptions are secure and tamper proof by deploying solutions based on blockchain technology
Significantly low transaction costs due to blockchain technology
Significantly faster and safer transactions
Transparent transaction execution with fully verifiable ledger
JibbitRunner allows ordering and delivery of legal recreational cannabis in a simpler and faster way
TOKEN DETAILS
Name : Jibbit Token
Ticker : JIB
Type :Utility Token
Technologies : Ethereum / ERC-20
Dezimal : 16
Token Total : 700.000.000
Token for Sale : 420.000.000
Price per Jibbit Token : $0,05 USD
Softcap : $1.000.000 USD
Hardcap : $18.000.000 USD
TOKEN DISTRIBUTION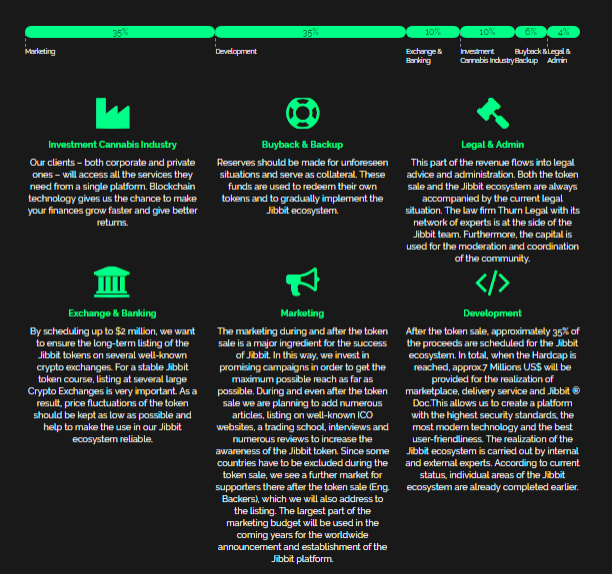 ROADMAP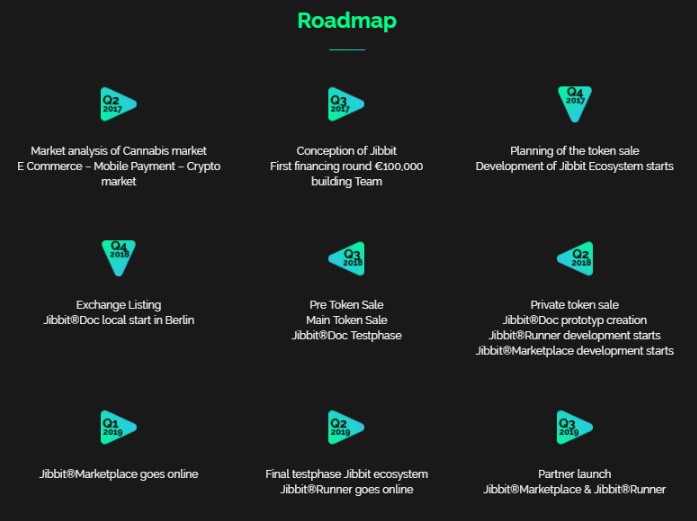 SUMMARY
The JIBBiT project is one of the most conceptualized projects which strives to develop blockchain based ecosystem for the Cannabis industry operating in a legalized way. It aims to bring decentralization and anonymity and build an cryptocurrency led ecosystem for the Cannabis industry.
It targets to bring the next 200 million people into the world of cryptocurrencies.
For more information about this great project kindly click on the links below;
Website : https://jibbit.io
Whitepaper : https://jibbit.io/Whitepaper.pdf
Facebook : https://web.facebook.com/Jibbit-1196046843831431
Twitter : https://twitter.com/jibbitico/
Reddit : https://www.reddit.com/user/jibbitico
Bitcointalk : https://bitcointalk.org/index.php?topic=4315020
AUTHORED BY:
Bitcointalk Username: Kcokoo2
https://bitcointalk.org/index.php?action=profile;u=2270442
Eth Address: 0xE9a3c6d8e79901243e5D1ADEC46d11F27E4E61d9