Joy token
Joy token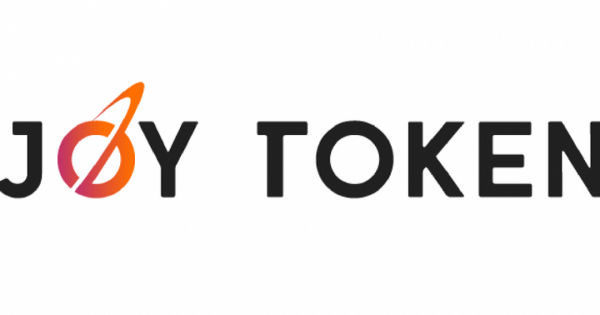 Gaming's technology offers a novel solution to connect small developers,software houses, large casinos and players. It creates a gaming ecosystem that both empowers players and helps developers and casinos reduce risk.
The lack of trust and transparency is a concern with the online gambling industry. Players tend to use reputable casinos instead of smaller sites, even if they offer more "interesting games", because players naturally gravitate to casino brands that they trust. Joy Gaming's technology is a transparent blockchain-based system, which will help improve trust in the gaming industry. Joy Gaming's technology enables users to play in a transparent and code- governed environment. This allows players and developers to have confidence in the fairness of the games. Through an innovative RNG generator, players will have peace of mind that the games they play are fair and safe. Developers, casinos and businesses bene t from an ecosystem that provides liquidity sharing and fair compensation. By connecting developers and casinos, we aim for an optimal solution where all participants in Joy Gaming benefit.
The existing Gaming ecosystem is largely reputation driven — a reputation built up by increased advertising. To acquire and retain players, casinos are forced to spend large amounts in order to build trust and reputation through brand awareness. In addition, large casinos control game development. Players are forced to trust these casinos because a lack of transparency means that players can't track their wagers and thus can't assess the legitimacy of each bet.
Smaller developers also suffer because they are paid a small percentage of the games revenue and face difficulties when publishing a new game, such as: lack of immediate income and access to the large gaming platforms.
The Joy Gaming solution
Joy Gaming's solution is blockchain-based and it allows developers to create games that are run on its backend through a smart contract, rather than directly on the blockchain. As all the results are recorded within the blockchain, there is significantly lower fraud. Thus players can verify that developers are running games exactly as described on the blockchain. Further, game developers and software houses can connect and integrate with liquidity providers, such as casinos, to provide access directly to their games. Both the casinos and the developers bene t from the additional revenue and increased game innovation. The lack of reputation of any specific site can be offset by the fact that rules and underlying infrastructure of the games are recorded on the blockchain (in addition to the approval system before games are allowed to go live on the Joy Gaming network).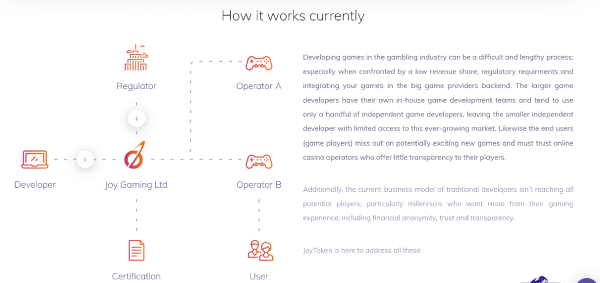 Our vision
Smarter Games for Smarter Players
JoyToken is committed to deliver smarter games to existing and new casino players by giving innovative and creative games developers easy access to operators in our one stop solution. JoyToken delivers this in four easy steps:
Game integration and hosting is simple with our own tried and tested game development system.
Payments go straight to developers' bank accounts in the form of JoyTokens.
All relevant regulatory and compliance requirements will be taken care by us.
Instant access to market via our own online casino site; PlayCosmo Casino which is licensed in the UK, Malta and Curacao and allows developers to test their games before general release to other operator's casino websites.
All this is done using JoyToken, a new and unique Cryptocurrency that will enable developers to pay and be paid for their games, while also enabling end users (players) to play Joy Gaming games on PlayCosmo and ultimately many other sites. And naturally JoyToken will benefit from Blockchain technology and thus transparency. This last point is the most exciting as this has not been done before and will open up a new market of potential players, who want Trust, Anonymity and total Transparency; all of which is delivered through Blockchain Technology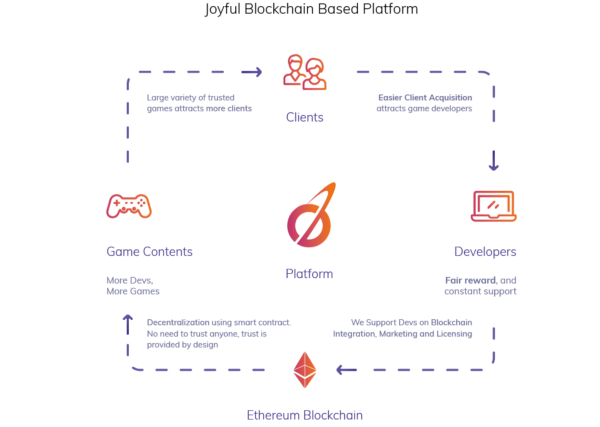 In addition to user benefits, developers bene t from the large liquidity pool and additional reputation provided by operating on the Joy Gaming network. Developers will be able to easily "prove" the games that the user plays because it is transparent and on the blockchain. The developer will connect to casinos and collect commissions from the games being played, while knowing they have a robust audit trail. Developers are crucial in the Gaming industry. We at Joy Gaming understand them and will work to provide the best experience in terms of fair reward, full support on the marketing process, and greater capacity of players.
To ensure the success of games, Joy Gaming provides support to the developers within the Joy Gaming ecosystem.
Support to developers is provided on:
Client acquisition by providing Marketing and direct access our client base
Compliance from a legal and licensing perspective
Blockchain integration
Developers only need to worry about the game development, Joytokens will do the rest.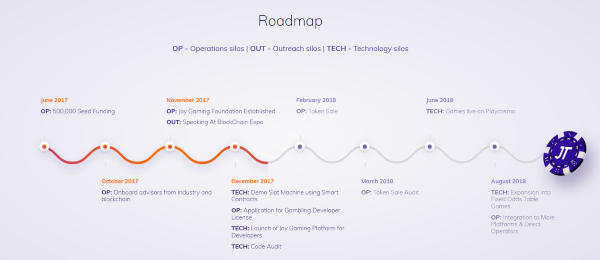 Cryptocurrency accepted: ETH, BTC, Wire transfer
Hard-cap: JoyToken sale has a hard-cap of 46 340 000 USD.
Soft-cap: JoyToken sale has a soft-cap of 1 000 000 USD. If the total amount raised is below the soft-cap, the offering is considered failed.
Timescale: Starting approximately on 27th of February 2018 and lasting for up to 31 days or before all the tokens are distributed.
Oversubscription: When JoyToken offering raises more than 46 340 000 USD, the token sale will be closed immediately. There is a chance of oversubscription. In such an event, the exceeding amount of fund will be returned within 15 days after the close of the token sale. Please note that no interest will be paid in such case.
Failure: If the token sale does not hit the soft-cap, then it will be considered a failed token sale. The offering will be terminated and any funds sent will be returned within 15 days after the close of the token sale. Please note that no interest will be paid in such case.
Other risks: The sale of the tokens involves a number of other risks that are explained in the Private Placement Memorandum (PPM) that accompanies the token sale documents. Those risks include, without limitation, the SEC's current position that similar tokens were considered securities and required registration or an exemption, potential loss of value in the tokens, inability to resell the tokens, failure to develop the Joy Gaming network, and viability of technology risks. The reader is urged to read the PPM for a fuller explanation of the risks and to obtain proper counsel before proceeding with any investment.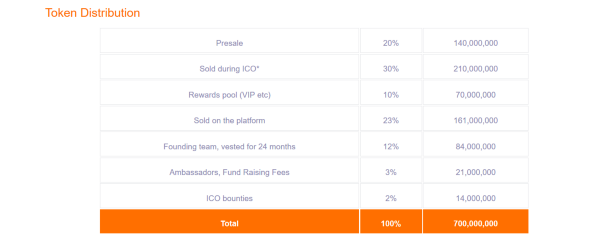 TEAM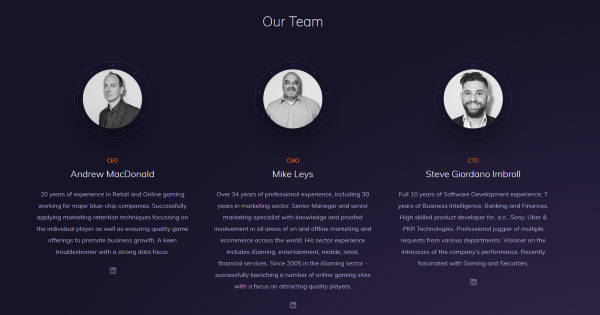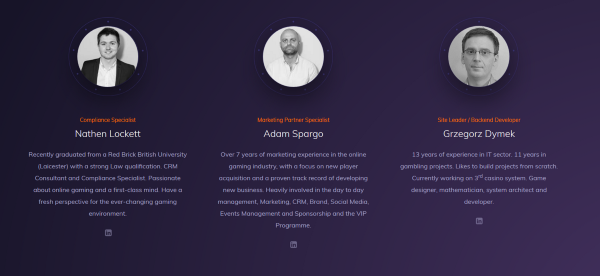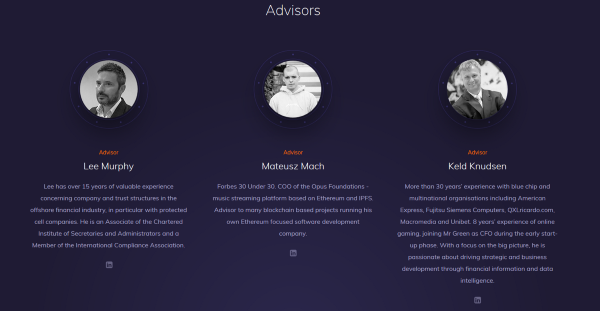 For more information please visit: