KONIOS: THE SAFEST CRYPTOCURRENCY-CASH EXCHANGE PLATFORM IN THE WORLD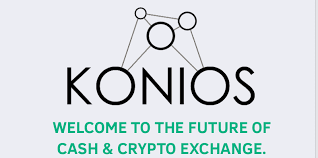 Cryptocurrencies have proven to be profitable since their inception in 2007/08. They came with numerous advantages and benefits as compared to traditional money, which has led to a constant increase in their adoption as well as a market capitalization value that runs into billions of dollars at the moment. Even more, it is now possible to exchange cryptocurrencies for fiat money via bank transfer or online exchanges. We are indeed in glorious times as the previously centralized financial system is fast becoming obsolete. However, more can be done in terms of cryptocurrency adoption. It is thought that the rate of adoption isn't yet where it should be. Laymen find it complex to gain access into the cryptocurrency space, coupled with the exhausting registration processes. Also, the seemingly hidden charges in cryptocurrency transactions alongside the unsafe disclosure of personal data is just a lot to worry about. These are clear issues that need to be remedied to make cryptocurrency even more inclusive and, as such the Konios platform has been set up. The Konios platform, a secure exchange for fiat and cryptocurrencies, is based on blockchain technology and was birthed in 2017 by an innovative team of professionals. The Konios platform is registered with high security protocol that ensures transparency. The platform is, of course, decentralized meaning that it can function at optimum levels. Also, the KONIOS platform has plans to implement a Face-to-Face (F2F) method of exchange so as to eliminate intermediaries in transaction processes. Please, feel free to visit the KONIOS whitepaper https://drive.google.com/file/d/1Nf6o1WJooXwv8KCe6vxxqoqmQFpIcMY1/view for more information on this project.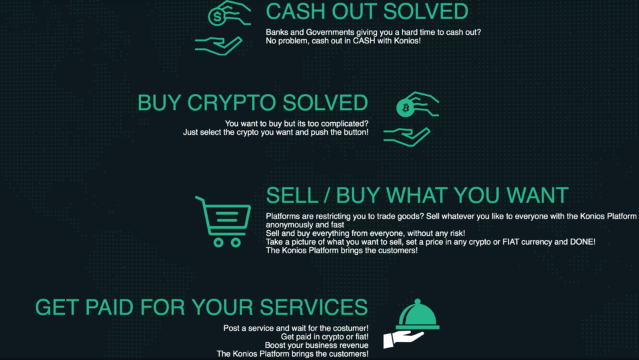 THE KONIOS TOKEN (KON)
The Konios token (KON) is a utility token that is based on the Ethereum blockchain. The Konios ICO begins on the 1st of July 2018 and will last for a period of 90 days or until the hard cap is achieved. KON tokens have a total supply of tokens is 5 billion. The accepted currencies in the ICO are Ethereum, Bitcoin, Fiat (USD, EUR, CHF, RMB, KRW). Methods of payment are through the following methods: wallet to wallet and bank wire.
ICO DETAILS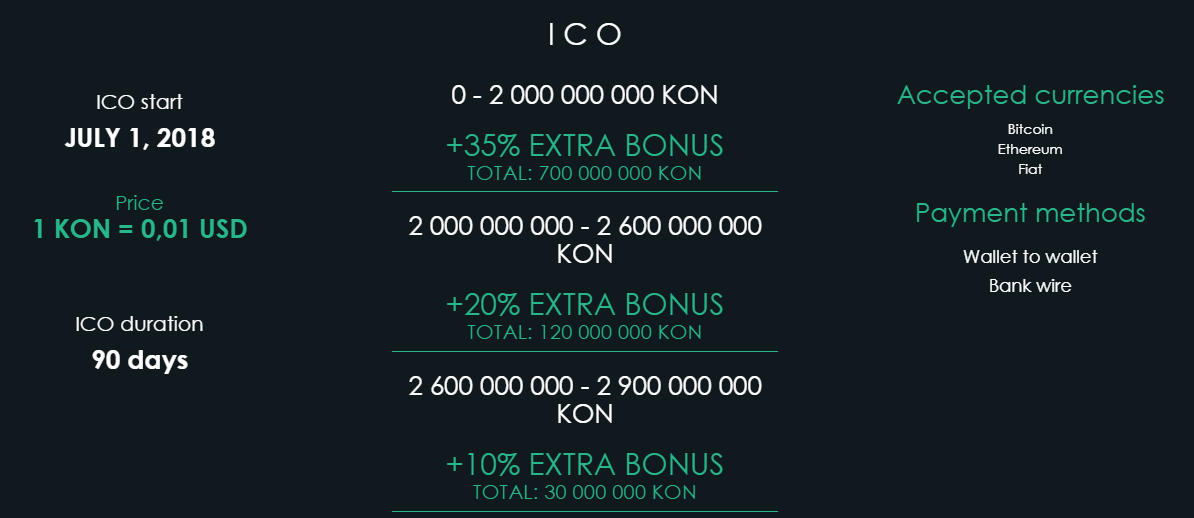 ICO start: 1st July, 2018
ICO duration: 90 days
Price: 1 KON = 0.01 USD
Accepted currencies: Bitcoin, Ethereum, Fiat
Payment methods: Wallet to wallet, Bank wire
Bonus details: 0 – 2,000,000,000 KON (35% extra bonus)
2,000,000,000 – 2,600,000,000 KON (20% extra bonus)
2,600,000,000 – 2,900,000,000 KON (10% extra bonus)
KON TOKEN DISTRIBUTION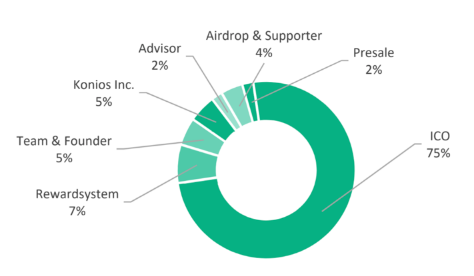 4% – Airdrop & Supporter
2% – Presale
2% – Advisor
75% – ICO
7% – Reward System
5% – Team & Founder
5% – Konios Inc.
FUND USE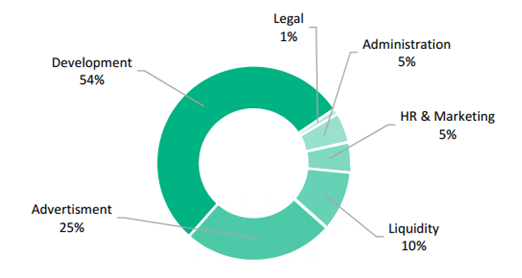 5% – HR & Marketing
5% – Administration
1% – Legal
54% – Development
25% – Advertisement
10% – Liquidity
KONIOS ROADMAP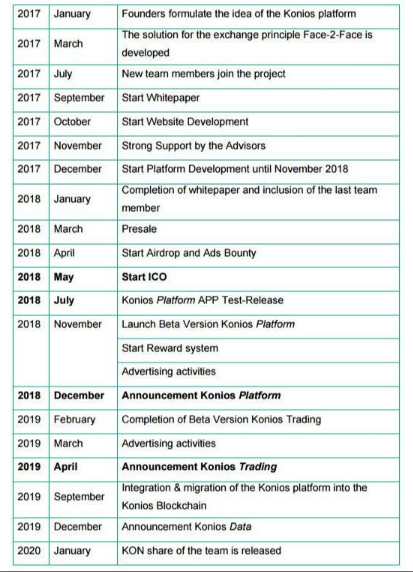 2017
January – Develop and formulate the idea of the KONIOS platform.
March – Develop the solutions of the exchange principle of Face-to-Face (F2F) operations platform.
July – In the Projects, join new team members.
September – Develop and launch the Whitepaper for all.
October – Develop the main website in the web world.
November – This Platform gets strong support from the Advisors.
December – Development starts over the platform until November 2018.
2018
January – For the last team member Completion of whitepaper and inclusion are developing.
March – Develop the Android app and develop the Ads bounty program.
May – Launching the Initial Coin Offering (ICO) operations on the market: Release the KONIOS app over this platform.
November – KONIOS platform launch the beta version for the people, also start the reward program for the people as well as the advertising activities.
December – Announcement for the KONIOS platform
2019
February – KONIOS develop the beta versions of the treading operations.
March – Launching the advertising activities
April – Announcement for the KONIOS platform
September – KONIOS Blockchain technology integrated and migrated the KONIOS platform operations.
December – Announcement for the KONIOS platform
2020
January – Release the KNO token for the team.
KONIOS TEAM
Patrik Krasnic – Founder, CEO
Mikel Krasniqi – Founder, CTO
Mike Russell – Konios platform Developer
Marko Zorko – Konios platform visualization
Kushtrim Gojani – Konios Platform Algorithms & Calculations
Ivana Ljubic – Konios platform patents and advertising
Jeremy Sun – Konios platform China & Government Relations
Patrick Dobler de Souza – Chief Marketing
Vera Neidl – Financial and investment consultant
Harro Uwe Hieninger – Konios Plattform Logic & Auditorium
Waldemar Nickel – Konios platform network specialist
Cihan Demir – Konios platform Software Developer
David Tackett – Konios platform Software Developer
Konios has come to make cryptocurrency adoption and transactions much improved. The lingering issues within the cryptocurrency ecosystem will be put to rest through the aid of the Konios platform. I, therefore, urge everyone to participate in its ICO event and share in its uniqueness.
Please feel free to click on any of the following links should you require more information or want to connect with other unique participants across the globe:
Website: https://konios.com/
Whitepaper Link: https://konios.com/#whitepaper-sec
ANN Thread: https://bitcointalk.org/index.php?topic=3128951
Telegram Group: https://t.me/koniosofficial
Facebook: https://www.facebook.com/konios.social/
Twitter: https://twitter.com/KoniosOfficial
Published by: charleyles
Bitcointalk URL: https://bitcointalk.org/index.php?action=profile;u=1344011
Ethereum wallet: 0x69C516900e939e97C7c60Ca59bdaF15295556838