KONIOS: THE WORLD'S MOST SECURE CASH & CRYPTO PLATFORM

It's no secret that cryptocurrency is a pretty specific industry. We aren't even talking about the ongoing struggles between the fiat and digital worlds. Today we are experiencing what happened with personal computers in the early 80's or with internet technologies in the 90's,  crypto became the "Terra incognita" of the digital community. Today, its world gets gradually populated with new places and players, such as startups and new blockchain ideas.
The Konios platform offers the safest exchange platform for cash & crypto currencies worldwide. The first phase of the Konious project is dedicated to bringing as many people as possible into the crypto boat. The added value for the crypto community from many new users means stability and confidence in the technology. This natural supply into the still young system enables healthy growth and strengthens the foundation of the crypto movement. Our transformation to decentralization not only enables direct communication between people, but also the technological connection of machines and means of payment. The numerous and still rapidly growing number of cryptocurrencies are strongly influenced positively in this adjustment. Access to the areas in which the underlying technology specializes can develop and establish itself independently of the top 5. The Konios platform lays the foundation stone. We also include the current figures in the comparison to show the potential for the Konios platform.
The users are the heart of the platform. The value of an idea is determined by the interest of its users. The reward system integrated in the platform rewards users for their activities. The user contribution individually increases platform security. This contribution is also taken into account in the reward system. The ecosystem of Konios is designed in such a way that the platform developes its own dynamic of progress, which is forced by the reward system. The users not only receive a secure platform but are also rewarded for their loyalty and participation.
In addition to the possibility for natural persons, Konios also offers verified companies the opportunity to participate in the Konios platform. The companies, i.e. the bodies authorized to sign, must be fully verified. With such F2F transactions, security steps can be omitted due to verification, and costs can be saved for the company. In addidtion, verified companies can act as a secure checkpoint for other F2F transactions and receive KON-Tokens as reimbursement.
TOKEN SALE DETAILS
Total Token in the ICO: 3,750,000,000 KON
Name: Konios Token
Symbol: KON
Price: $0.01
Max: 5 billion
Accepted Currencies: BTC, ETH
1st Lot: 2,000,000,000 KON
2nd Lot: 600,000,000 KON
3rd Lot: 300,000,000 KON
Start: July 1, 2018
Duration: 90 Days
Premature End: Yes, upon reaching USD 29 Mio (Hardcap)
Activation date of the token: After the ICO
TOKEN DISTRIBUTION
ICO – 75%
Presale – 2%
Airdrop & Supporter – 5%
Advisor – 2%
Konios Inc. – 4%
Team & Founder – 5%
Reward system – 7%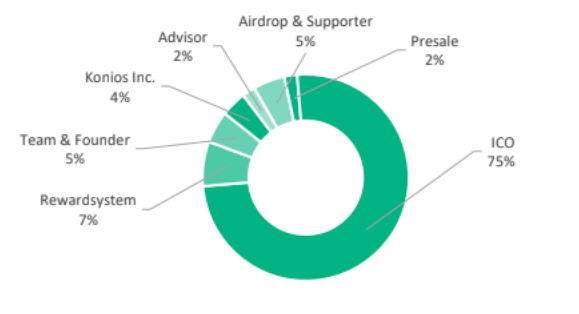 FUNDS ALLOCATION
Advertisement – 25%
Development – 54%
Legal – 1%
Administration – 5%
HR & Marketing – 5%
Liquidity – 10%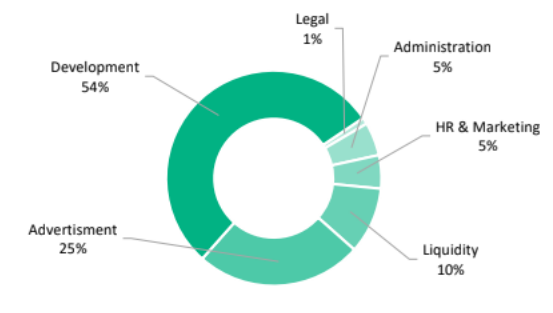 ROADMAP
2017 January: Founders formulate the idea of the Konios platform
2017 March: The solution for the exchange principle Face-2-Face is developed
2017 July: New team members join the project
2017 September: Start Whitepaper
2017 October: Start Website Development
2017 November: Strong Support by the Advisors
2017 December: Start Platform Development until November 2018
2018 January: Completion of whitepaper and inclusion of the last team member
2018 March: Presale
2018 April: Start Airdrop and Ads Bounty
2018 May: Start ICO
2018 July: Konios Platform APP Test-Release
2018 November:
• Launch Beta Version Konios Trading
• Start Reward system
• Advertising activities
2018 December: Announcement Konios Platform
2019 February: Completion of Beta Version Konios Trading
2019 March: Advertising activities
2019 April: Announcement Konios Trading
2019 September: Integration & migration of the Knios platform into the Konios Blockchain
2019 December: Announcement Konios Data
2020 January: KON share of the team is released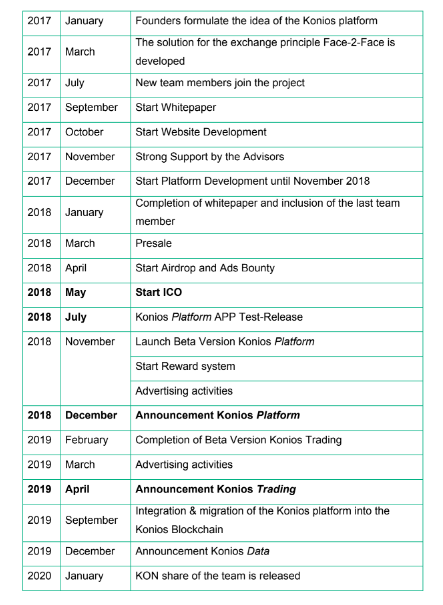 TEAM
Mikel Krasniqi – Co-Founder, CTO
Patrik Krasnic – Co-Founder, CEO
Patrick Dobler de Souza – CMO
Vera Neidl – Finance and Investment Consultant
Cihan Demir – Konios Platform Developer
Uwe Harro Hieninger – Konios Platform Logic & Audit
David Tackett – Konios Platform Developer
Mike Russell – Konios Platform Developer
Waldemar Nickel – Konios Platform network specialist
Kushtrim Gojani – Konios Platform Algorithm & Calculations
Jeremy Sun – Konios Platform China & Government Relations
Marko Zorko – Konios Platform visualization
Ivana Ljubica – Konios Platform Patent and Advertisement
ADVISOR
Jürg Bühlmann – Attorney
Heldge Kiessler – International payment transactions
Michael Ricks – Fintech & Cybersecurity Advisor
Mischa Hampe – Investors and strategy consultant
Gabriel Salicunaj – "Don't be Evil" Advisor
For more details on this project, please feel free to click on any of the following links:
Website: https://konios.com/
Whitepaper: https://drive.google.com/file/d/1Nf6o1WJooXwv8KCe6vxxqoqmQFpIcMY1/view
Bitcointalk: https://bitcointalk.org/index.php?topic=3128951
Steemit: https://steemit.com/@konios
Reddit: https://www.reddit.com/user/konios_inc/
Medium: https://medium.com/@konios
Facebook: https://www.facebook.com/konios.social/
Telegram: https://t.me/koniosofficial
Youtube: https://www.youtube.com/channel/UC59K4VVzTI86HWMdrXMZj9g
Published by: tszone
Bitcointalk URL: https://bitcointalk.org/index.php?action=profile;u=1742409
Ethereum wallet address: 0x684c9d1c004AB2023E1d3ae9aEb902B514B703d1