Kross Coin – Universal APP Monetization Platform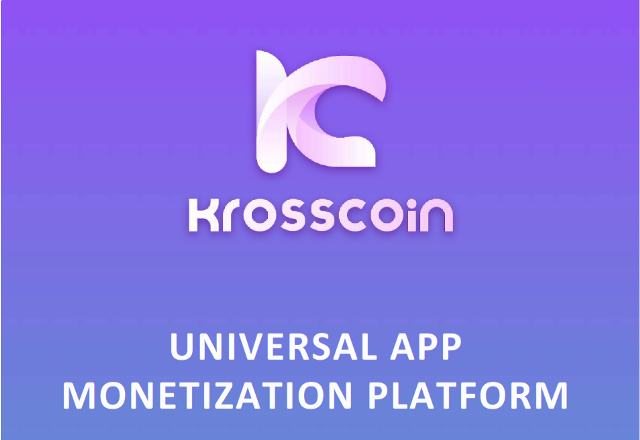 Krosscoin is a platform that build apps and also a framework that enables monetization using the Ethereum decentralized blockchain.
KSS introduces a consumption-based token framework that allows application developers to monetize any functional component, in any application, running on any platform. A consumption-based monetization model removes the adoption obstacles inherent in one-time fee and subscription licensing, thus freeing the developer to focus on application functionality. With KSS, monetization increases alongside usage, incentivizing application developers to create a compelling user experience.
An API interface allows for rapid integration of monetization, while payment gateways and banking relationships are unnecessary as users pay for application usage with KSS tokens, while developers are paid in KSS tokens. Our first apps utilizing the Krosscoin Platform is the patent pending Pipdroid app family. Pipdroid provides mobile execution and management of cloud-based (crypto) trading bots.
Our goal is to create the largest decentralized app and products monetization ecosystem in the world, running on KSS. These are the products and systems that will be in place in the near future as we also develop partnerships with developers and companies relevant to our purpose. The Krosscoin Ecosystem scope is limitless and will cover several industries including Fintech, AI, Messaging and social, Lending, Decentralized music creation and distribution, Decentralized e-commerce and freelance platforms, Media.
Features
• Ethereum Blockchain – The distribution of KSS is by Ethereum wallet as ERC20 tokens after the conclusion of each stage of the ITO e.g. Pre-ITO participants always receive their tokens before stage 1 participants.
• Cross Platform; Android, IOS – A KSS monetization that will be running on both Android and IOS.
• Consumption-based Monetization: KSS API allows an application to process consumption or usage fee in KSS.
• Multiple Mobile App Releases – Vinekross Corp released several applications that generate revenue which has been integrated with KSS by Pre-Vinekross Corp. More applications are applications pre-integrated with Krosscoin.
• 100 Million ExRCCirculating Supply – Distribution is as follows: 5% presale, 35% ICO, 25% future project development, 25% founders/ devs/ helpers, and 10% reward.
• Multi-Platform Ecosystem – Apps are allowed exchange value with other apps, merchants etc.
• Decentralized Instant Access – Developers can easily make transactions by sending and receiving KSS tokens as transactions occur in the KSS Ethereum blockchain.
• Proof of Community – Krosscoin is simply a utility token which can be exchanged for mobile app usage. Proof of Community means ownership of KSS.
Road Map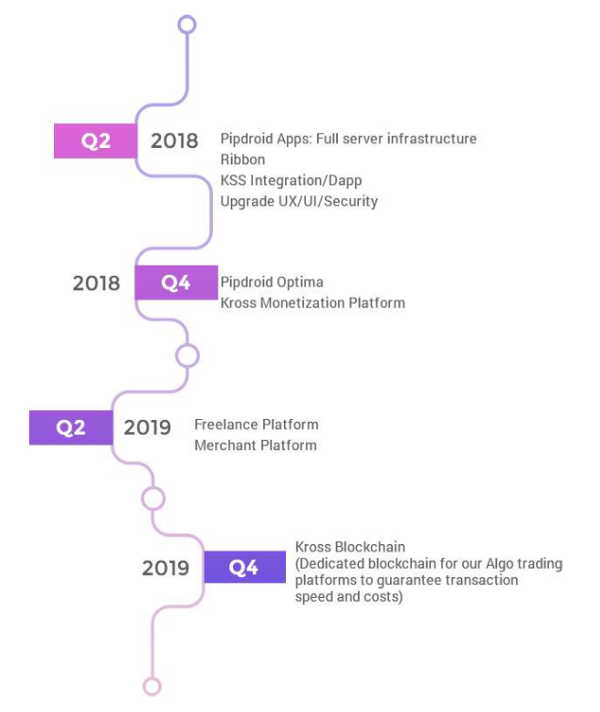 Be a part of this incredible project. Download the whitepaper for the full scoop.
Till next time…
For more information about the project please visit the links below:
Website: https://www.krosscoin.io/
Whitepaper:https://www.krosscoin.io/wp-content/uploads/2018/02/Krosscoin_WP_v1.3.pdf
Twitter: https://twitter.com/krosscoin_team
Facebook: https://www.facebook.com/krosscoin/
Telegram: https://t.me/krosscoin_KSS
Medium: https://medium.com/@krosscoin_team
Author: JigaMola
Bitcointalk profile: https://bitcointalk.org/index.php?action=profile;u=1847143