KRYLL Automated Crypto Trading Strategies

Modern cryptography is heavily based on mathematical theory and computer science practice,cryptographic algorithms are designed around computational hardness assumptions,making such algorithms hard to break in practice by any adversary.It is theoretically possible to break such a system,but it is infeasible to do so by any known practical means.These schemes are therefore termed computationally secure,theoretical advances,improvements in integer factorization algorithms,and faster computing technology require these solutions to be continually adapted.There exist information theoretically secure schemes that probably cannot be broken even with unlimited computing power an example is the one time pad but these schemes are more difficult to implement than the best theoretically breakable but computationally secure mechanisms.
The Kryll project is held by Cryptense S.A.S,a company registered in France. Cryptense S.A.S is a Blockchain company based in the European technology park of Sophia Antipolis in the south of France.Funded by 3 crypto-enthusiasts,Cryptense embraces the opportunities and challenges offered by the blockchain revolution.The company has activities around three main pillars cryptocurrency mining & optimisation,Blockchain contribution expertise & consulting, and development of automated crypto trading tools.
Kryll.io is the ultimate platform for cryptocurrency traders looking to use the most advanced trading tools and strategies,as well as benefit from the community's hive-mind to get the best returns within cryptocurrency markets.The platform provides intuitive ways to create your own trading strategies that can be set to execute automatically.Through a What You See Is What You Trade interface you can design trading strategies making use of the industry's most powerful tools and safely test them with backtesting and sandboxing.
Once your tools prove their worth you can set them to live trade on your behalf, taking the right positions at the right time,as if you were following the markets 24/7. On Kryll.io you can also rent out your very own winning strategies to help fellow traders be more successful.You will be rewarded with passive income for sharing your strategies.Website https://kryll.io/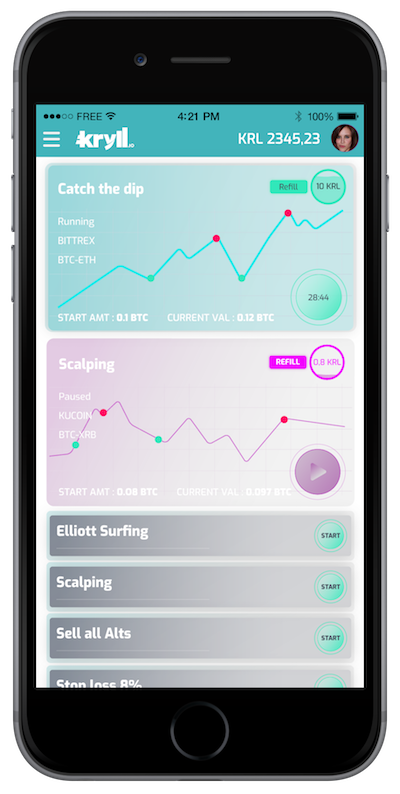 Once you connect your mobile companion app to the platform,you will be able to access your dashboard,get push notifications regarding your strategy runs as well as stay connected in a much lower-key manner with your crypto trading status.It'll be a pretty good feeling to get notified about a position that's been taken automagically and then sold,instead of an alarming signal pushing you to quickly catch the opportunity on your favorite exchange website.Moreover the mobile application will introduce further interactions with the strategies you designed or selected,thus giving you complete control over your trades right in the palm of your hand.
Start Date : Feb 7st 2018 12:00 UTC
End Date : March 20th 2018 12:00 UTC
Token Name : KRL
Max Supply : 220 000 000
Price : 0.2 USD KRL
Minimum Contribution : 100 USD
Further Token Issuance No tokens to be issued after the sale,
unsold tokens will not be generated
Hard cap : 29M USD
Accepted currencies : BTC,BCH,ETH,LTC,ZEC and DASH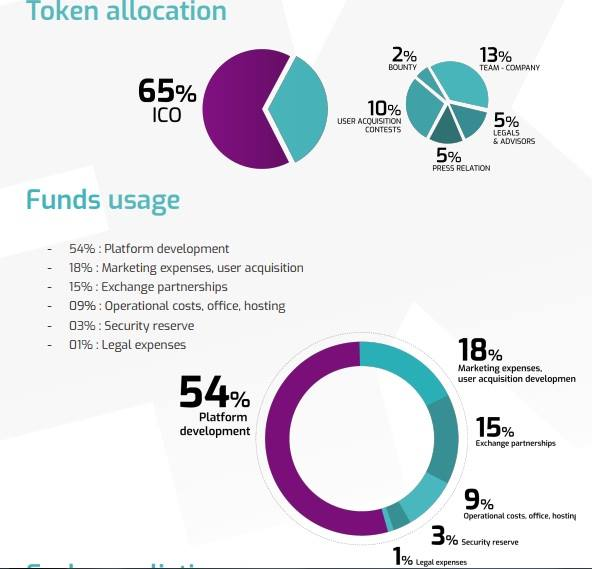 Project RoadMap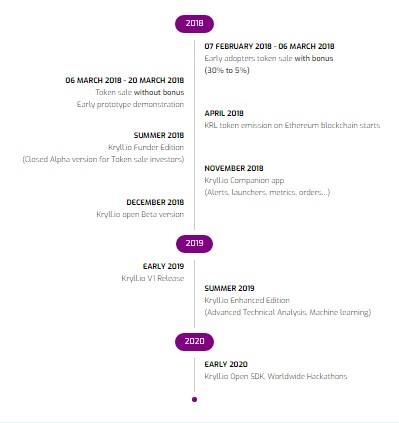 Blog Article & Videos Campaign
Write a good article, review, or blog post about Kryll in your words; Post that on your website or blog.
Article writing instructions:
The article/review/blog post must have at least 500 words.
Your text must be original. Copy and stealing other contents bring to disqualification.
The audience for the posted article must be crypto related or match a use for KRL or promote the Token sale to a suitable audience.
Website must have a genuine audience. New websites will not be accepted.
Article/review/blog post must contain link to the Kryll website, Kryll telegram group and Kryll official twitter/facebook.
Writers should familiarize themselves with the official white papers to ensure accurate depiction of Kryll's uses.

Video instructions:
Describe Kryll and it's features
Video must be in good resolution
Video must be minimum 2 minutes.
You can upload them on Youtube, Dailymotion or others.
You will receive rewards based on the quality and the audience of Article/Video.
Inform us about your Article/Videos here: https://goo.gl/forms/pERct0epHiipzCRu2
---
Telegram Campaign
Instructions:
Apply to join the campaign here: https://goo.gl/forms/hnXn8L9mn0HIr1HH2
Telegram Join link : https://t.me/kryll_io
No spam or foul language against other members or about the project.
Discussion about the bounty is strictly prohibited.
Stay till the end of the Token sale to get the bounty.
---
Signature Campaign
Instructions:
We are looking for the active Bitcointalk users. All members need to post at least 15 posts a week until the end of ICO to be eligible
for the reward.
Posts in this thread will not count.
No negative Trust.
No multiple Signatures.
Posts in following Discussion Boards will not be counted:
Politics and Society, Off-topic, Archival, Auctions, Lending, Beginners and help.
No Spam, Abuse or Insults.
Terms and conditions:
Only for Junior members and above.
Make at least 15 posts each week during the week.
Posts in alternate cryptocurrencies section are required.
The posts should be spread for full week not for just 1-2 days otherwise your stake will be 0 for the week.
Posts in any bounty thread will not counted.
Spam is strictly prohibited. Users found spamming will be immediately and permanently disqualified, reported to the moderators, and banned
from any other bounty campaign.
My BitcoinTalk Profile:https://bitcointalk.org/index.php?action=profile;u=1070755