KRYLL Automated Crypto Trading Strategies

Modern cryptography is heavily based on mathematical theory and computer science practice,cryptographic algorithms are designed around computational hardness assumptions,making such algorithms hard to break in practice by any adversary.It is theoretically possible to break such a system,but it is infeasible to do so by any known practical means.These schemes are therefore termed computationally secure,theoretical advances,improvements in integer factorization algorithms,and faster computing technology require these solutions to be continually adapted.There exist information theoretically secure schemes that probably cannot be broken even with unlimited computing power an example is the one time pad but these schemes are more difficult to implement than the best theoretically breakable but computationally secure mechanisms.
The Kryll project is held by Cryptense S.A.S,a company registered in France. Cryptense S.A.S is a Blockchain company based in the European technology park of Sophia Antipolis in the south of France.Funded by 3 crypto-enthusiasts,Cryptense embraces the opportunities and challenges offered by the blockchain revolution.The company has activities around three main pillars cryptocurrency mining & optimisation,Blockchain contribution expertise & consulting, and development of automated crypto trading tools.
Kryll.io is the ultimate platform for cryptocurrency traders looking to use the most advanced trading tools and strategies,as well as benefit from the community's hive-mind to get the best returns within cryptocurrency markets.The platform provides intuitive ways to create your own trading strategies that can be set to execute automatically.Through a What You See Is What You Trade interface you can design trading strategies making use of the industry's most powerful tools and safely test them with backtesting and sandboxing.
Once your tools prove their worth you can set them to live trade on your behalf, taking the right positions at the right time,as if you were following the markets 24/7. On Kryll.io you can also rent out your very own winning strategies to help fellow traders be more successful.You will be rewarded with passive income for sharing your strategies.Website https://kryll.io/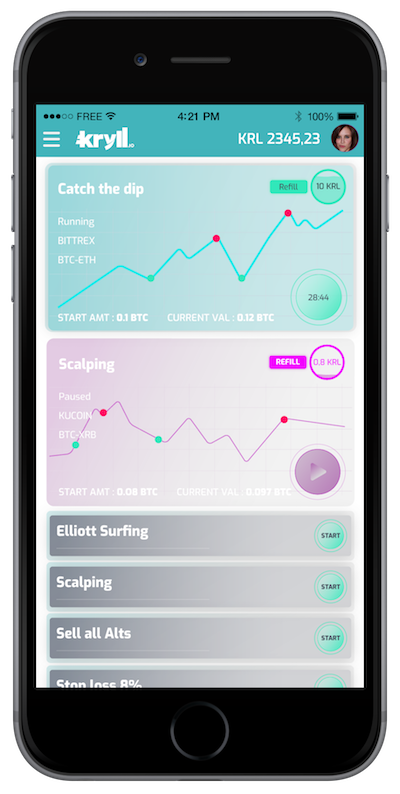 Once you connect your mobile companion app to the platform,you will be able to access your dashboard,get push notifications regarding your strategy runs as well as stay connected in a much lower-key manner with your crypto trading status.It'll be a pretty good feeling to get notified about a position that's been taken automagically and then sold,instead of an alarming signal pushing you to quickly catch the opportunity on your favorite exchange website.Moreover the mobile application will introduce further interactions with the strategies you designed or selected,thus giving you complete control over your trades right in the palm of your hand.
The Kryll platform will provide a very visual experience for creating new strategies. There are going to be five main blocks that can be utilized to come up with a strategy. These blocks can be used to define parameters for your strategy. The first block is market trends. This will include technical data studies, trend analysis, and modeling. Some of the trend analysis features are price change and volume. Technical data studies include things like support and resistance, channel identification, and demand zone detection. The modeling feature is used for market prediction learning. The second block is trading actions. This is for including buy and sell actions. The third block is called signals. These are market trading signals that can be provided from professional traders. The fourth block will be operators. This is used to organize your strategy with things like "if" or "and" statements. For example, if bitcoin is up, and shows a positive signal, then buy bitcoin. The last block is the notification block. This lets you stay informed about the current status of you strategy.
After a strategy is compiled, you will have the ability to see how it would have performed over the previous six months of data. The other option for testing is a sandbox. This lets you see how it would perform in real time with actual current market data. There is going to be a mobile phone app which will allow access to your account and provide notifications of your strategy. This is great for having control of your trading at all times.
In order to connect to various exchanges, the Kryll platform will be connected via API. This allows you to choose from a wide range of exchanges, and pick the one you like best. Currently, the planned supported exchanges include poloniex, bitfinex, bittrex, gdax, cryptopia, bitstamp, kraken, binance, and yobit. Cryptocurrencies are available for trading twenty four hours a day. Your strategy can run nonstop in you would like. In order to read more about the project, there are a number of links listed below.
My BitcoinTalk Profile:https://bitcointalk.org/index.php?action=profile;u=1428205