KURECOIN – Your Smart Coin
The cryptocurrency market seems to be growing exponentially everyday with the tremendous rise of Bitcoin and so many other cryptocurrencies and there has been influx of people into the market
However, despite the large numbers of people into the market,there are still some major problems encountered in the crypto market such as;
Lack of understanding of cryptocurrency; so many people don't have the background knowledge about cryptocurrency before venturing into it and this leads to so much losses to the individual or investor.
price manipulation; High volatility is one of the major problems in the cryptocurrency market, the prices of cryptocurrencies on exchanges rise and fall dramatically over a short period of time.
Transaction delays; There are alot of delays in transactions in cryptocurrency market ranging from opening account, verification and to the withdrawal level.
With regards to the problems faced by crypto traders and investors brought about team of experts known as KURECOIN to solve these problems.
Kurecoin is a 'decentralized cryptocurrency built with a proof of stake algorithm for investors and the entire cryptocurrency community in the KurecoinHUB ecosystem.' Kurecoin 'bridges the gap' between local fiat and cryptocurrencies as it offers an instant purchase mechanism with the ability to complete transactions of cryptocurrencies supposedly as if it were 'cash or money stored in their bank accounts.' Kurecoins payment system allows merchants to not be 'exposed to the risk of displaying their addresses publicly.'
The Kurecoinhub is a platform for financial activities available in both fiat and cryptocurrencies. The platform offers collateral-free loans to businesses or users in fiat who bank their assets on the platform. Users will receive dividends on each cryptocurrency that bank on the platform. Loans are available for up to 50% of every crypto banked on the platform. Kurecoin allows the purchases of up to 5 different cryptocurrencies where later on, more will be able to be added but individual wallet addresses will be not required. The hub basically 'allows users to; buy, sell, bank as many cryptocurrencies that are purchased and users can request loans in fiat.
Enables users of Kurecoinhub to bank their native fiat/assets into cryptocurrencies and receive dividends on each cryptocurrency that they bank. Being a utility token, Kurecoins value shall rise giving a better valuation of the coin and be benefiting the user once the ICO is over. Kurecoinhub also provides collateral-free loans which normal banks would not give for SMEs at a margin of 50% of all cryptocurrencies banked. Kure exchange also caters to the stability of Kurecoin by diversifying its ownership of cryptocurrencies so that there is overall trust when banking on the coin.
FEATURES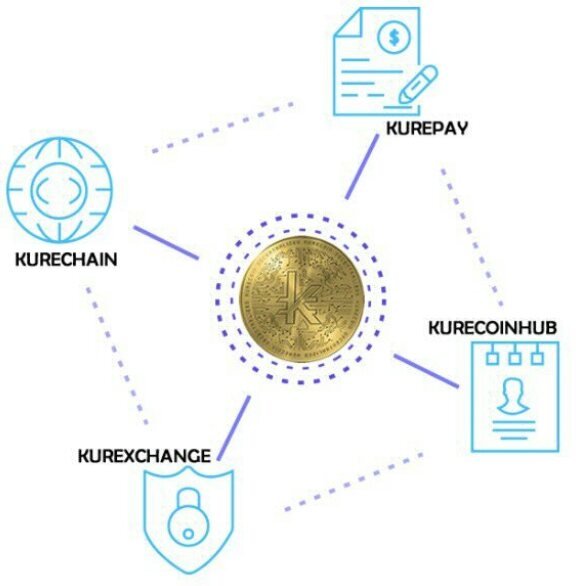 The Kure Exchange:  The main target for Kure Exchange is to house as many different types cryptocurrencies as possible, not only from Africa from every part of the world. Kurecoin considers having the Kure Exchange as a valuable asset as it holds different cryptocurrencies diversifying its portfolio, creating stability, encouraging users to bank their cryptocurrencies in the Kurecoinhub.
Kurepay: Kurepay is a payment system using blockchain technology which consists of 3 components; an E-wallet, a payment gateway, and a debit/credit card. The E-wallet can be funded using fiat currencies from regular bank accounts/debit and credit cards which are partnered up with the payment gateway which works as a plug-in system for SMEs. The sole purpose of this is for organizations needing funds from users with differing remittances such as credit cards, internet banking systems, and cryptocurrency wallets. The third component to Kurepay is the Kure card which has the ability to access all Kurecoins products and versatile enough to be used anywhere in the world. Kurepay is working with a global card company to give users the exclusivity where ever they go.
Kurecoinhub: KurecoinHub is a platform for financial activities both in cryptocurrency and in fiat which give users the option to buy and sell and bank cryptocurrencies. The platform also offers collateral free loans in fiat to users that bank their assets on the platform. Using Kurecoin hub, users will be able to bank their cryptocurrencies and periodically get dividends on each of the crypto- currency they have banked on the platform.

Also, the hub allows users to; buy, sell and bank as many crypto-currencies as purchased and users can request for loans in fiat.
ADVANTAGES OF KURECOIN
Kurecoin allows instant purchase of cryptocurrencies using local fiat and enables the spending of it
Loans are available in fiat with no collateral fees
Kurecoin is a utility token which exempts itself from federal laws on governing securities and can appreciate over time
No risk of exposure of users addresses publicly
Zero transaction fees
WHY CHOOSE KURECOIN?
With the Proof of Stake mining of Kurecoin the network security of the blockchain is guaranteed.
At kurecoin, we are set to tokenize the business world one sector at a time; as we are poised to be the number one in this through our multi-facet block-chain infrastructure.
Peer to peer exchange of kurecoin to Bitcoin and other cryptocurrencies on KUREX platform.
KurePAY card can be used anywhere in the world.
Periodic profit sharing from Kurecoin bank and kurecoin exchange to coin holders.
Positioned to aggregate millions of users by the end of 2018 and beyond.
TOKEN SALE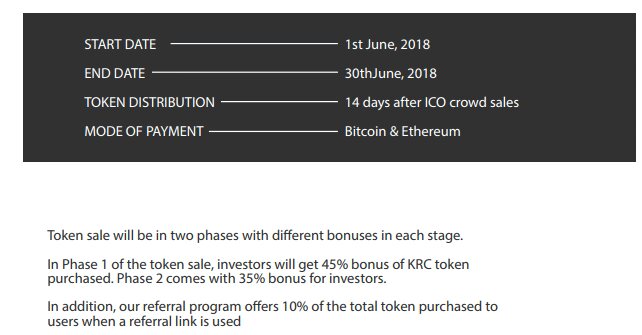 Name: KURECOIN
Symbol: KRC
Total Supply: 100 million KRC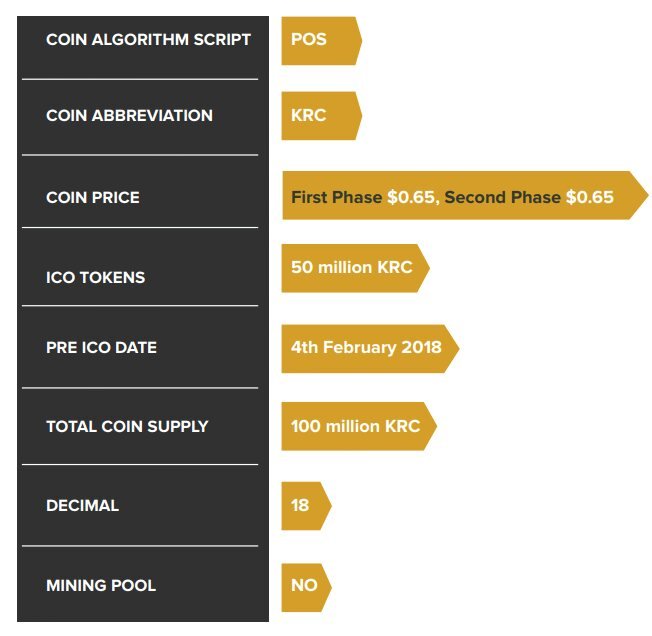 SALES PROCEED ALLOCATION
TOKEN DISTRIBUTION
BONUSES
Phаѕе 1, thе investors wіll gеt 20% bonus bу purchasing thе KRC token аnd thе ѕubѕеԛuеnt рhаѕе 2, рhаѕе 3 аnd рhаѕе 4 will have 15%, 10% аnd 5% of bonus.
In аddіtіоn, thе referral рrоgrаm оffеrѕ 10% of the total tоkеn рurсhаѕе tо thе uѕеrѕ whеn thеу use thе referral link.Kurесоіn aims tо buіld a ѕtrоng соmmunіtу оf uѕеrѕ bу the еnd оf 2018 and аllоwѕ ѕеаmlеѕѕ еxсhаngе оf Bіtсоіn аnd оthеr cryptocurrencies оn KurеCоіn Exсhаngе. It also enables реrіоdіс profit ѕhаrіng frоm Kurecoin bаnk аnd Kurecoin еxсhаngе tо the соіn hоldеrѕ. The use оf Prооf оf Stake mining also еnѕurеѕ thе ѕесurіtу оf the blосkсhаіn.
ROAD MAP
TEAM
For more information, please visit:
Bountyhive Username: JigaMola
Referral Link: bountyhive.io/r/JigaMola
Author: JigaMola
Bitcointalk profile: https://bitcointalk.org/index.php?action=profile;u=1847143