LET IT PLAY – The Audio Layer of The Internet
LetItPlay is a decentralized ecosystem with attention economy, which allows any news portal, community, blogger or website to create, distribute and commercialize audio version of content. Yet, even content as popular as news is far more likely to be found in text or video form, and audio content on the Internet remains a second-class citizen. The main reason is that production of audio content brings no direct pro ts to the Content Providers, and requires additional investment into its production. LetItPlay provides a solution to this problem. LetitPlay is backed by EOS blockchain technology. Decentralized nature of this solution allows us to implement a genuinely transparent and fair attention economy designed to reward content creators for consumer attention to content, including listens, likes, comments and reposts. Similarly to what Steem has done for text content, LetItPlay will do for audio.
LetitPlay is developed using blockchain technology, thanks to which content authors will be rewarded for the attention of users to the content: listening, reviews, comments and messages. Like Stim and the Voice. This will allow not only to recoup the production of audio content, but also to gain access to a new channel for distribution and monetization of content, to reach a new audience.
LetItPlay ECOSYSTEM
Letitplay ecosystem is created as open as possible, so it can join other developers of specialized applications and services – content distributors. On the LetitPlay block-chain, applications for music, audiobooks, audio guides, etc. can be created. And in the future, after small improvements, LetitPlay will understand the same saving of attention in many other areas: video, games, even.
All payments between members of the ecosystem will be conducted in the local currency Play, in which the authors are rewarded for the attention of users.
LetitPlay within its ecosystem will bring together not only content authors and regular users, but also service providers, those who will help create audio content: speakers, audio editing studios, translators, editors, etc. This means that any news portal or blogger can create audio content not only for yourself, but also with minimal effort, because this will be enough to hire your favorite student and choose the right voice to prepare audio content.
PLAY AND PLAYPOWER
PLAY
An utility token for payment transactions in the ecosystem
Play tokens will be emitted as a reward to Content Providers according to Consumers listens, likes and shares
PLAYPOWER
Determines user influence in the Ecosystem
It is also a powerful competitive tool to win the Consumers attention
The amount of PlayPower also determines the weight of vote for decisions in decentralized governance
LetItPlay SYSTEM PLAYERS
Content provider:
They are the owners and creators of quality content. They are key players in The letitplay ecosystem.
Content distributors:
Are those who create services that will deliver content to consumers. These include mobile apps, smart apps, websites, and social media among other systems.
Content consumers:
These are people who want a quality audio version of any online content. LetItPlay ensures that consumers receive audio content that meets their needs.
Service provider:
Are people and businesses providing services for audio production. These include storytellers, translators, and sound production studios among others, and will be paid with tokens.
Advertisers:
Are businesses and people who would like to deliver their content to the target audience. Advertisers pay consumers for their attention with game tokens.
A decentralized Autonomous organization, or DAO:
Will manage the development of the block chain and the growth of the ecosystem. DAO consists of delegates who have been selected for their competence and contribution.
To make the production of audio content profitable, the ecosystem will use the economy of attention. Content providers will reward consumers for their attention, such as likes, comments, posts, and listening. The amount of remuneration will depend on the overall capacity of the supplier and the consumer.
ADVANTAGES OF LetItPlay
Create new opportunities for freelancers to work as editors, translators, and storytellers,
Service providers will have a stable source of income,
Service providers will have access to the global market,
The cost of audio production will decrease,
The audio content creation time will be reduced to 30 minutes,
Content providers will be able to produce audio in an affordable and fast way,
Consumers will have access to tons of quality content,
Distributors will be able to access a single source of content that they can use in their applications.
TOKEN AND ICO DETAILS
The playback marker is a token ERC20 based on the network chain Ethereum ICO date of the token sale will be from 2 April to 1 June 2018, the Tokens will be divided in four stages during the sale. 60% of the 1,000,000 available PLAY tokens will be available for purchase during a public sale.
Name: PLAY
Total supply: 1 000 000 000 PLAY
Tokensale schedule
Tokensale stage I (ETH) : 1 MAY 2018 – 15 JUN 2018
Token price : 1 ETH = 10 000 PLAY
Bonus stage 1 : +20% PLAY UP TO 7 MAY 2018
Bonus stage 2 : +10% PLAY UP TO 14 MAY 2018
Bonus stage 3 : +5% PLAYUP TO 21 MAY 2018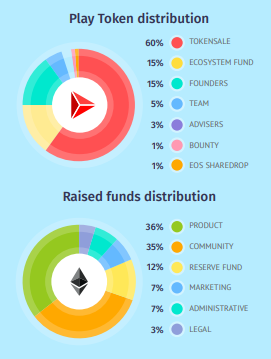 ROADMAP
TEAM
For more information, please visit:
Website: https://letitplay.io
Whitepaper: https://letitplay.io/wp/WP_en.pdf
Telegram: https://twitter.com/letitplay_io
Twitter: https://twitter.com/letitplay_io
Facebook: https://www.facebook.com/letitplayio
ANN thread: https://bitcointalk.org/index.php?topic=3140643.0
Author: JigaMola
My Bitcointalk profile: https://bitcointalk.org/index.php?action=profile;u=1847143