LIPCHAIN – The Decentralized Ecosystem Providing Surfers With Sponsors, Unofficial Competitions and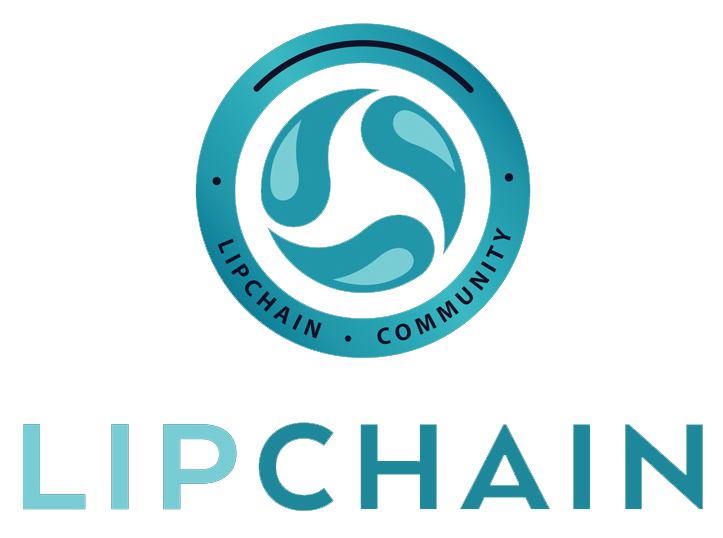 INTRODUCTION
Since the emergence of blockchain technology in 2008 when Satoshi Nakamoto introduced bitcoin, there have been rigorous efforts to apply the blockchain to several aspects of the global business process, Blockchain technology has been described as having the potential to disrupt many industries with a low-cost transaction, immutability, and enhanced security. In the years that have followed, many other blockchain implementations have been developed with each one exhibiting unique features tailored to specific use-cases.
Blockchain has made it possible to issue just about any asset via a distributed ledger framework. With the aid of cryptocurrency tokens, these assets can be given economic value in order to initiate and validate several transactional processes. Several on-chain protocols have been developed by a number of startups and established companies alike in order to create blockchain-based solutions.
As more technological advancements are uncovered, Lipchain, a platform that will create a decentralized social network dedicated to surfing which will allow users to be paid for the content, they will publish on the app through a sponsoring system secured via smart contract came on board.
Find below a video presentation on LIPCHAIN:
LIPCHAIN AND IT'S PLAFORM
LIPCHAIN is a decentralized Ecosystem which will unite the Global surfers community and also provide them with sponsors,unofficial competitions, year-round training habitat most importantly, the best possible conditions to practice Surfing.
Lip chain is a platform that will create a decentralized social network dedicated to surfing which will allow users to be paid for the content, they will publish on the app through a sponsoring system secured via smart contract. Lip chain App, relatives will be able to create pictures and videos and earn money that can be shared with the filmed athlete. Their app will also allow the organization for video contests which will pave way for reward for the best surfer. Apparently, this will bring public recognition to many more athletes than official championships do. At the long run, in the future those public celebrity will be able to earn special rewards tied to Lip wave resort and ecological surfing equipment.
Additionally, LIPCHAIN can be reinforced by a broader network for the best surfers in each competition to choose champions monthly and receive tokens because of their articles or blog posts from sponsors. LIPCHAIN token holders (LIPS) access surfing items and price cut services. Consequently, outline LIPCHAIN is usually a decentralized ecosystem that offers surfers with sponsors, competitions, and open learning circumstances throughout the year.
THE PROBLEMS
Lack of funding for beginner to improve themselves up to professional level and high prices for surfing training can be solved by posting videos and photos at the LIPCHAIN network and by earning tokens.
Access difficulties in championship participation can be solved by competitions in this community.
Limited availability of reaching target audience will be solved by uniting surfing community.
The pollution of oceans will be decreased thanks to cleaning programs sponsored by LIPCHAIN. The sponsorship will be equal to 5% of videos sponsorship income at LIPCHAIN.
THE SOLUTIONS
LIPCHAIN has decided to launch a Decentralized Social Network dedicated to surfirng, which will allow users to get pain by publishing contents such as images and video clips on the App, through a sponsoring system secured via smart contract and maintaining control over their contents. Through this decentralized social network the athlete can also publish contents dedicated to the sponsor(s). Through the LIPCHAIN App, frinds and family can earn from publishing video clips and pictures about the Athlete.
Cleaning Seas and Oceans: The LIPCHAIN team aims to participate in safeguarding the seas and oceans with more efficient ways to help already existing Foundations. This can be achieved by cleaning beaches, Educating people on better ways of disposing plastics, Reduce plastic bottle consumption, Improving plastic bottles Eco-design.
HOW LIPCHAIN WORKS
LIPCHAIN is a decentralized ecosystem that tries to address these problems and provide viewers with sponsors, unofficial prize draws, and year-round training. LIPCHAIN also gives a program where viewers can earn tokens for taking part and employing their most desired sport while surrounding to the intent of cleaner oceans.The community will also offer client with access to the global surfing and sailing community and the necessary tools need to selecting an athlete for sponsorship and providing the sponsor with smart contracts for securing the package.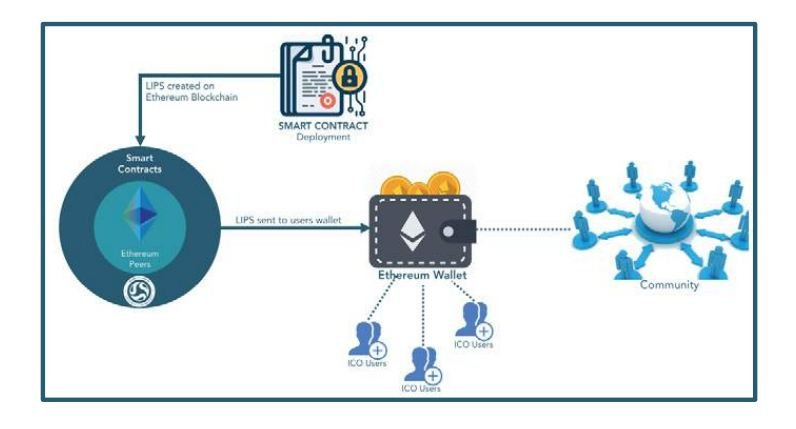 LIPCHAIN APP
The stage will build up an app especially suited for users and sailors, included with a decentralized community system. The Network allows browsers to content their clips and photos and end up being rewarded employing bridal party. The amount of bridal party received is determined by the society reviews of the training video or photographs. Surfers can as well gain bridal party by taking part in prize draws structured within the request.Additionally, the relatives,family, and friends, of the surfer can movie the surfer during competition and training and make money, which is sharable with the film surfer.
LIPWAVE Pool area Centre
The pool will present all year surrounding Olympic preparation conditions for the surfers as the pool will be made to generate influence every 6 to 8 second for more than 1000 surfers per time. The pool area will allow browsers to reach the professional level ten times more rapidly. In the possible future, an environmental hotel will end up being developed around the pool area.
LIPCHAIN WALLET
The LIPCHAIN wallet allows customers to experience high level of user interface, which means this wallet experience will be completely different from any other available wallets. It is a highly secured wallet embodied with all Ethereum wallet security features. It will also support functionalities such as :
Transferability
Users can send and receive Lipschain tokens (LIPS) to/from any valid Ethereum wallet.
No Charge
No Ethereum will be charged during the transfer of LIPS, only transaction fee (gas) will be required.
Transparency
This functionality enables users to check the status of their transactions over the Ethereum wallet.
Ease of use
The LIPCHAIN wallet has a user-friendly interface
WALLET SECURITY
In order to ensure maximum security and control, The LIPCHAIN team has decided to develop a Multimodal biometric authentication which will be used in the wallet and App. Features of multimodal biometrics includes:
Face Recognition
Iris Recognition
Fingerprint Recognition
Gait
Voice Recognition
Signature Recognition
Token Sale and ICO Details
LIPS tokens are utility tokens of LIPCHAIN network and at the same time they give an opportunity to buy discounted surfing products at LIPCHAIN or book LIPWAVE pool. LIPS can be stored in any Ethereum wallet supporting ERC20 tokens (MyEtherWallet, Mist, MetaMask etc.)
Token Details
Ticker Name: LIPS
Token standard: ERC20
Total Supply: 1,000,000,000 LIPS
Tokens for Sale: 210,000,000 LIPS
Bonus Tokens: 125,000,000 LIPS
Price: 1 LIPS = 0.1 USD
Soft Cap: 3,000,000 USD
Hard Cap: 20,000,000 USD
Minimal purchase: 50 USD
Country of the project: Portugal
Distribution of Tokens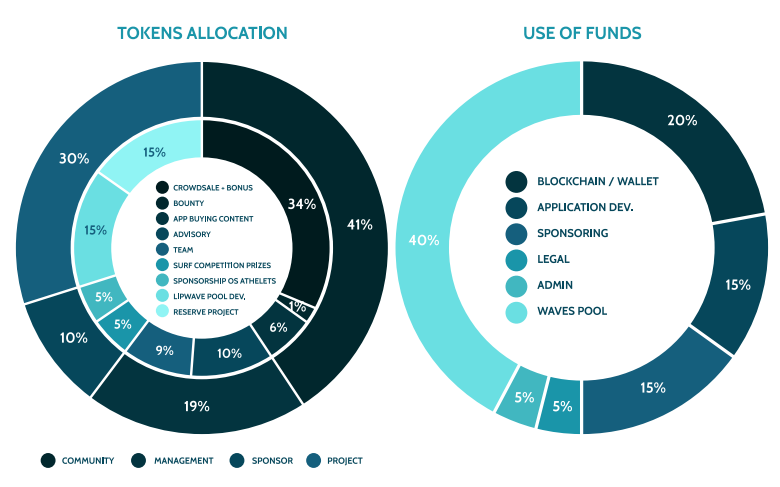 ICO Details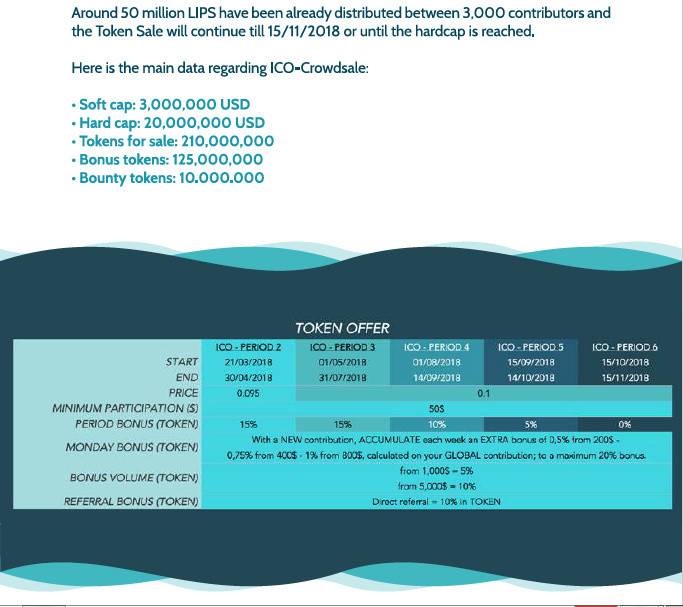 ICO-Period 3 with 15% bonus: 01/05/2018 – 31/07/2018
ICO-Period 4 with 10% bonus: 01/08/2018 -14/09/2018
ICO-Period 5 with 5% bonus: 15/09/2018 – 14/10/2018
ICO-Period 6 without bonus: 15/10/2018 -15/11/2018
ROADMAP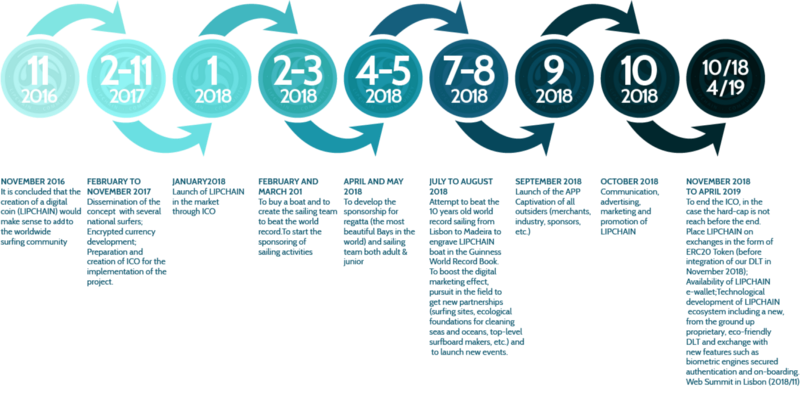 [x] 15.11.2016 – Сreation of a digital coin (LIPCHAIN).
[x] 26.02.2017 – Dissemination of the concept with several national surfers.
[x] 16.04.2017 – Encrypted currency development.
[x] 05.11.2017 – Preparation and creation of ICO for the implementation of the project.
[x] 14.01.2018 – Launch of LIPCHAIN in the market through ICO.
[x] 25.02.2018 – To buy a boat and to create the sailing team to beat the world record.
[x] 22.04.2018 – To develop the sponsorship for regatta and sailing team.
[ ] 16.07.2018 – Attempt to beat the 10 years old world record sailing from Lisbon.
[ ] 10.09.2018 – Launch of the APP Captivation of all outsiders.
[ ] 07.10.2018 – Communication, advertising, marketing and promotion of LIPCHAIN.
Amazingly, Lipchain Developers have completed 7 of 10 Roadmap. This is what makes ICO Lipchain compulsory to follow.
MEET THE AMAZING TEAM



NOTE: This article is just a guide to prospective clients, investors and every person scorching for a slice of this amazing project,
You can get more information about these project with huge potential by following the link below:
Website: https://www.lipchain.io
Whitepaper: https://www.lipchain.io/assets/pdf/white_paper.pdf
ANN Thread: https://bitcointalk.org/index.php?topic=4507111.msg40579212
Twitter: https://twitter.com/lipchain
Facebook: https://www.facebook.com/LipChain-1754237891332927/
Medium: https://medium.com/lipchain
Linkedin: https://www.linkedin.com/company/lipchain/
Telegram: https://t.me/LipChain
Reddit: https://old.reddit.com/user/LipChain
GitLab: https://gitlab.com/yadav.pankaj/lipchain-ico
PUBLISHER
bayo88
BITCOINTALK PROFILE: https://bitcointalk.org/index.php?action=profile;u=2407711