Today, let us all learn and experience together all about Liquid8 . If you don't know anything about them, don't run away, that's why I'm here, to change that within the next few minutes. Before I begin, I just want to quickly mention that I will be including LINKS so that YOU can do your own research or whatever you feel you need. I feel it's best to have all of the information in one place, in an organised manner, rather than dotted about the page making what you want hard to find or confusing. All these links will be put at the BOTTOM of this page to keep things easy. So,let us understand and get an objective view about Liquid8 project.
Liquid8 is a decentralized peer-to-peer multi-functional platform, which enables the global tokenization of assets for exchange and loan between community members.
Liquid8 makes real-world assets accessible and affordable to all, by leveraging the unique properties of Blockchain. We're building a gateway to connect startups, consumers and financial service providers, via a decentralized peer-to-peer ecosystem – and you can be part of the revolution.
Advantages
Simple : We make the tokenization process user-friendly and accessible, for experienced and new users alike
Efficient : Making use of Smart Contracts to eliminate intermediary costs and inefficient administration.
Security : Our robust cybersecurity measures including biometric IDs, bug-bounty program
Transparent : The tamper-evident architecture of blockchain is immutable and publicly available in real time.
Compliant : Adhere to local and international 'Know Your Customer' & 'Anti-Money Laundering' regulations.
Global Assets. Digitized on Blockchain
Liquid8 uses Smart Contracts and Blockchain Technology to put the world's assets on Blockchain.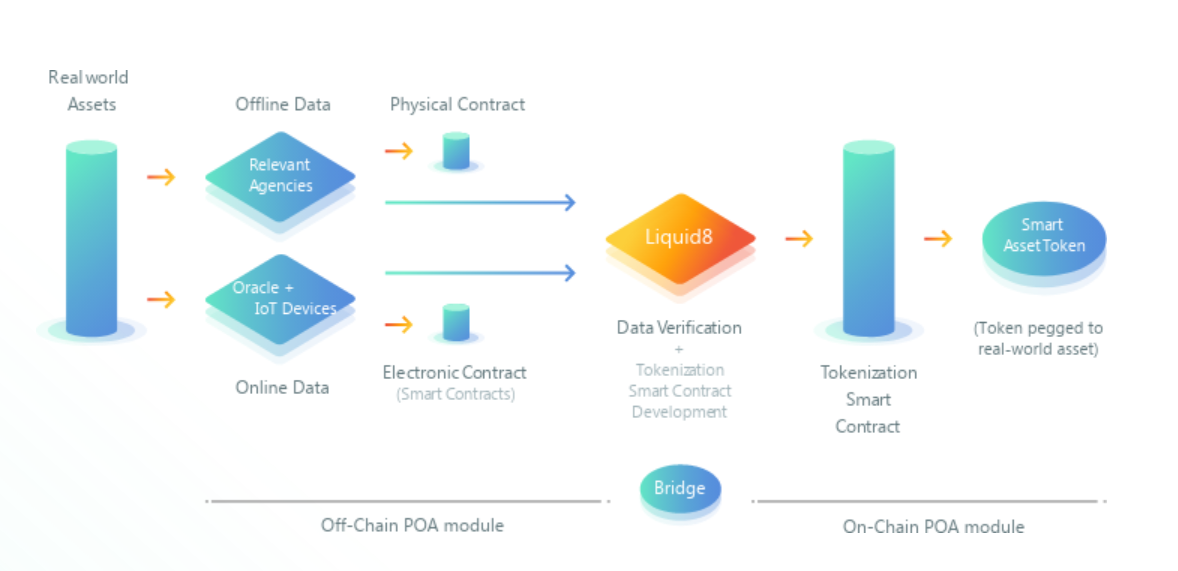 HOW IT WORKS
Step 1 : Asset owner/Liquid8 community places request for a real-world asset to be tokenized.
Step 2 : Off-chain proof-of-asset protocol will be implemented.
Step 3 : If the real-world asset has been approved for tokenization, an electronic agreement will be delivered to the token issuer,
Step 4 : If the token issuer agrees to the terms and conditions of the electronic agreement, on-chain proof-of-asset protocol will be
Step 5 : Participants will then be able to purchase the tokenized asset according to their risk appetite …
Liquid8 platform's features:
Multi Asset Wallet 1
Manage and store your crypto assets and tokenized assets directly on our intuitively designed Multi-Asset Wallet.
P2P Social Exchange 2
Connecting trading parties in any location within an efficient, secure, transparent and fair environment, allowing crypto-to-fiat or crypto-to-crypto transactions with any preferred payment method.
P2P Instant Exchange 3
Instant exchange protocol developed with proven technologies to enable smart price-optimizing, liquidity access and instant conversion between crypto assets within the Multi-Asset Wallet.
P2P Globalized Lending 4
a revolutionary decentralized lending platform that connects fiat-based lending with crypto-based lending via the utilization of Blockchain technology and Smart Contracts.
Token Sale Details
Softcap: $3 Million
Target: $30 Million
Hardcap: $35 Million
Total Token Supply: 700 Million Tokens.
Token for Public Sale: 50% (350 Million Tokens)
Private/Pre-Sale Bonus Token: 15% (105 Million Tokens
Token Price: $0.10
Note: All unsold tokens will be burned.
Distribution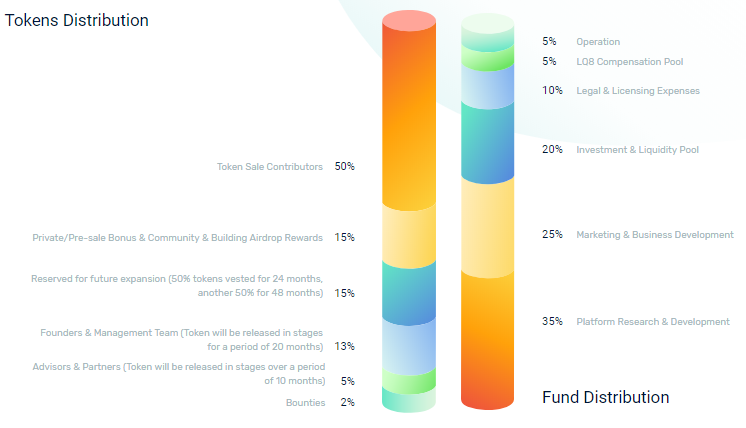 ROADMAP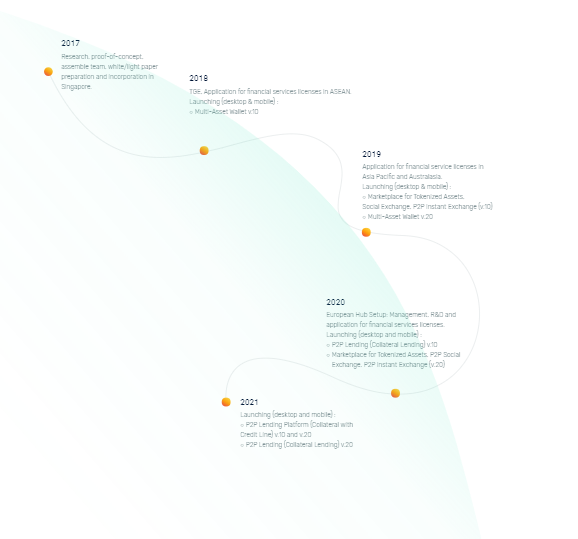 USEFUL LINKS:
WEBSITE: https://lq8.io/
WHITEPAPER: https://lq8.io/assets/docs/whitepaper_4.pdf
FACEBOOK : https://www.facebook.com/LQ8io-Liquid8-152207538972474/
TWITTER: https://twitter.com/LQ8_Liquid8
TELEGRAM: http://t.me/lq8en
Author : funkyies
BITCOINTALK PROFILE: https://bitcointalk.org/index.php?action=profile;u=1971452