LITENETT PLATFORM: social network decentralized payment system.
Litenett platform is a new European social network created for an audience of hundreds of millions users with a decentralized payment system powered by Blockchain technology. The project allows users to get numerous services like social networking, music and videos in one application with great speed and efficiency. Litenett supports more than 30 languages and it is available on all devices, thus making it accessible by any person all across the world. Litenett platform utilize blockchain technology for its entire audience and also cryptocurrencies and smart contracts for carrying out transactions on the network in a secure and transparent manner.
Litenett has also launched an all-in-one app which allows users to manage content, create groups and small blogs on which other users can post comments. It also provides private chat features and entertainment like music and movies. The messenger in particular enables both private and group communication including video and audio communication. A multi-currency crypto-wallet is available for users to store their crypto-tokens and use these tokens to make payments. The use of blockchain technology makes these functionalities extremely secure and transparent, and eliminates the need for an intermediary.
UNIQUE FEATURES
The app contains a various functional and allows the user to manage content, create groups and microblogs.
You can see all the posts and comments in your blog or group.
Private messages, group chats and channels.
You can listen to music and write posts, chat with friends, shop or transfer money to friends.
Section "Favorites" will help you to save the necessary pages, groups, channels, songs, albums, cinemas, etc.
Events line, your comments and answers.
Friends and subscribers – all in one app.
1.  Social network
– Friends, chats, blogs and microblogs
– Personal Pages and Income on subscribers
– Games, messenger and user encouragement
– Online Shop
2.  Music Portal
– Music online, purchase and download
– Playlists creating
– Opportunity to share with friends
– Radio and podcasts
– Groups, artists releases and music catalogue
3.   Video and Movie Portal
– Video download, blogs creating
– Earnings on Views
– Cinemas
– Films schedule programs
– Tickets booking system and purchase
– Movies online
4.   Payment system
– Payment system on Blockchain
– Thousands of transactions per second
– Separate Dashboard
– Secure wallet
– Low transaction fees.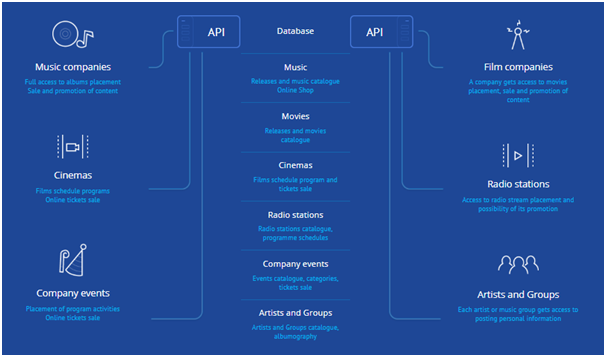 TOKEN DETAILS
Litenetcoin Token is a means of payment within the portal. Users receive Token rewards for managing of groups, blogs, etc. Users receive Token rewards for viewing ads. It is possible to pay for advertising with Token by getting a big discount. Token can be transferred and exchanged between users. It is possible to perform service payment or pay for services only with Token. Users can exchange Tokens, received as a reward for viewing ads, for managing groups, and other social activities, for fiat money and withdraw them to their own account. Advertisers buy tokens when paying for advertising. Portal buys tokens from other token holders to pay a reward. Any transactions inside the platform are possible only with token. Tokens are accepted as payment for various services, for exchange for Euro or USD.
Litenetcoin token can not be classified as a tradable financial asset because it does not entitle Token holders to receive profit, or to own part of the company or part of the project. Litenetcoin Token is absolutely legal, as well as gift card in a shop. Litenetcoin is a product token.
ICO DETAILS
The platform is tokenized with the tokens known as LNC tokens. The LNC tokens have a market value of 1 LNC = 0.6 USD as the pre-ICO sale price and 1 LNC = 0.7 USD as the actual ICO sale price. The token is based on the standardized Ethereum wallet and the minimum investment that can be made is 0.5 ETH. The amount of investment required for the soft launch of the project is about 1,500,000 USD and the hard capital required for the dreamlike project to turn in a reality is 30,000,000 USD. The pre-ICO sale starts in early October 2018.
TOKEN DISTRIBUTION
– 80% Token Buyers
– 10% Reserve
– 4% Founders
– 3% Rewards, Bounty: Early Supporters
– 3% Team
MEET THE KNOWLEDGEABLE TEAM
– Alexej Karpov: CEO – Lead Engineer & Founder
– Valdemar Degner: Analyst and marketer
– Elena Degner: Financial Analyst and Advisor
– Lilia Bauer: Content manager & contacts with customers
– Roman Romanchenko: Lead developer & Engineer
– Vladimir Dzyubanov: Lead developer & Project developer
– Alexey Seleznev: Web Designer & Project developer
– Albina Chernozhukova: Frontend developer
– Vitali Karpov: Java developer & system administrator

ROADMAP TO SUCCESS
– 2013
Q1
Start of work on the project
– 2014
Q3
The main music portal MVP is launched
Q4
Testing and working on errors
Changing the project structure
Designing a social network
Start of developing new functionality
– 2016
Q3
Dashboards for users and companies are launched
Q4
Development of portal mobile version
– 2017
Q1
Testing and launching functionality for companies – content management
Q2
Designing mobile application for Android and iOS
Q3
Testing and elaborating mobile version
Ability to upload and send photos, videos and music
Q4
Launching and testing chat, correcting bugs
Testing functionality of groups creating
Launching functionality of user verification
Developing "Marketplace" functionality and ability to create an online shop
– 2018
Q1
Start of work on ICO implementation
Preparation and implementation of Pre-ICO
Preparation and implementation of ICO
Q2
Increase in personnel
Extesive work on all sections of portal
Work on monetization system (encouraging users through advertising)
Launching and testing all languages
Designing payment system and creating a next-generation Blockchain
Q3
Developing of automatic advertising system
Testing of a new database
Testing of creating an online shop functionality
Launching and testing Friends section
Combining of all sections and testing of platform
Working on bugs and correcting errors
Testing of mobile application for Android and iOS
Q4
Launching of social network Litenett
Launching of mobile application for Android and iOS
Work on improving platform functionality
Testing of cryptocurrency wallet
Testing of payment system
Extensive marketing campaign
– 2019
Q1
Network scaling for millions of users
Launching of a new Blockchain and platform transition to new payment system
Obtaining of banking license for legal financial transactions in cryptomarket
Exchanging of tokens for new digital cryptocurrency
Integrating of new digital coins with stock exchanges.
Kind Regards, ensure to join this incredible project.
FOR MORE DETAILS, CLICK/FOLLOW THE LINKS BELOW:
Website: http://www.litenett.com/
Whitepaper: http://www.litenett.com/whitepaper.pdf
Telegram: http://t.me/litenettcom
Facebook: https://www.facebook.com/litenettcom/
Twitter: https://twitter.com/litenettcom
Author: Martilda
Profile link: https://bitcointalk.org/index.php?action=profile;u=1887582
Eth address: 0xd0D5d98857192B3931c831b7B809D47CD830da32