LUCRE -GAMBLING THAT IS GOOD FOR YOU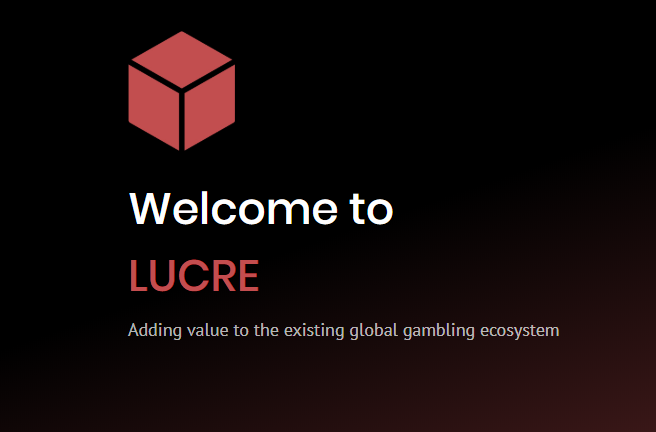 Lucre is an Ethereum-based blockchain company that creates a decentralized, autonomous, cashless, transparent and secure payment solution and ecosystem for the global gambling industry. It also tackles user KYC processes, making the Lucre wallet and app, not only a safe, decentralized, single hub for player bankrolls, but also a single-login solution for all partner casinos across the globe. Going a step further, Lucre also brings the security and capability of Blockchain to hardware, merging with technology made popular by FinTech, and brings that to casinos cages, table games, player bands, rings, and everything else tomorrow's IoT can deliver.
The Vision
The vision is to make this the long-awaited, sought-after, safe, quick, cashless, decentralized, currency of choice and a single source global KYC solution for most, if not all, casinos, sportsbooks and card rooms.
The Aim
Lucre aims to completely revolutionize the gambling industry. Lucre is a gateway to decentralized, secure, and fast online gaming, powered by the possibilities of Blockchain technology.
About LUCRE Global
Lucre will leverage today's Ethereum-based Blockchain technology to be future-ready and build further operational efficiencies in the gaming industry of tomorrow. We will provide gaming establishments and sports books with a transparent, secure system for (i) Identity Management through a single KYC and (ii) a cashless/online payment system.
Financial transactions like cash-ins and cash-outs will be taken online through the Lucre website/App, converted to Lucre tokens or LCRX – giving the user an option to grow his/her money as the value of LCRX appreciates with further adoption and use within the ecosystem.Lucre will give gaming/gambling establishments as well as their patrons access to an ETH-based, cashless payment system in an auditable, transparent and secure way on Lucre's distributed ledger. In addition, (iii) our platform will also aggregate betting odds from multiple Sports Books to provide users a range of betting options allowing them to place wagers from the Lucre platform.
All this will be built on a permissioned Blockchain, for immutable Identity Data Management, digital tokens for payments, incentives and fees in the ecosystem. The system will moreover allow other software specialists to build applications on top the existing system to complement and improve the user experience. This current build will not be hindered by any of these additions.During phase 2 of operations, Lucre will also bring security and capability of the Blockchain to hardware, merging with technology made popular by Fintech, in to casino cages, table games, player bands and rings, and everything tomorrow's IoT can deliver. Lucre will offer a turnkey service to assist in easy implementation by partner Casinos and Sports Books with the least impact upon existing operations. The Lucre platform is built to address the various pain points experienced by gaming establishments, sports books, and end users/patrons.
They are not seeking to re-invent an already well-oiled system, but simply adding a layer of convenience, transparency and safety to it, in the interest of the establishments and patrons. Flexibility and security are incredible advantages that will come with the use of a decentralized system such as Lucre. In addition, the Blockchain enables independent, decentralized transactions, giving the users control and freedom over their finances.
The Marketing Strategy
Lucre's marketing strategy involves creating a product that not only markets itself, but that merchants will market to users because of the features that benefit them, and users to merchants because of the ease of access and convenience it offers them. Lucre's ongoing business strategy involves building assets like peer-to-peer betting websites (a first), peer-topeer staking and prop betting capabilities (a first), to propagate the use and distribution of LCRX. Lucre will also earn from advertising through the Lucre application/wallet.Lucre would effectively be the only tokenized product that can bridge the gap between blockchain online vs existing industry on-ground. Potential future features would be able to let users of blockchain networks and cryptocurrency be able to seamlessly shift between platforms and use cases with perfect ease. Lucre, in effect, would take a step towards uniting the scattered, global blockchain and cryptocurrency communities – on a global scale.
Blockchain Technology via Mobile Phone
Lucre harnesses the power of Blockchain technology to create a completely transparent, yet speedy payment process when accessing casinos, sports books and card rooms, both online and offline. It also tackles user KYC processes, making the Lucre wallet and app, not only a safe, decentralized, single hub for player bankrolls, but also a single-login solution for all partner casinos, online and offline, across the globe.
Allowing users to transact at casinos across the world with nothing but their mobile phones. Access, create accounts, and transfer funds to and from online sports books using the single KYC process Lucre creates, while simultaneously taking a step towards cleaning up the global issues with KYC legitimacy and firming up and following global anti-money laundering and legal guidelines.

The LUCRE Ecosystem
Wallet
Gateway NFC and QR Gateway KYCelle Transactions P2P The game is locked Money management lock Multi-currency support Secure and protected.
Applications
Paris Gateway for Desktops, Tablets, and Mobile Meters Real Time Comparison Real-Time Betting P2P Betting Custom Slip Creation Commitment Promo Merchants Lucre Enabled.
Services
Merchant Whitelabeling Location-Based Advertising Concierge Service Merchant Customer Service AML / ATF Membership Agency Profile Merchant Aggregation Support News and Real-Time Updates Strategic Push Notifications.
ADVANTAGES TO USERS
Secure and decentralized wallet/bankroll solution
Improving exchange rate on idle bankroll
Focus on convenience of access and use of funds globally
ADVANTAGES TO MERCHANTS
An additional revenue stream that appreciates
Eliminates the need for large amounts of cash
Secure KYC, targeted advertising and customer service
ADVANTAGES TO INVESTORS
A dynamic, transaction-heavy currency
Exponential levels of sustainable, long-term growth
Excellent ROI for pre-ICO and ICO tokens
Token Sale and ICO Details
Lucre tokens, or LCRX, are the native ERC223 tokens created by Lucre for use within the Lucre ecosystem as well as for transactions between holders and any partner casinos, sports books and card rooms.
Lucre is capping supply at 360 Million ERC-223 LCRX. Of this, 75% is targeted for distribution and sale prior to exchange launch. Unsold tokens will be burned. Of the retained tokens, the Lucre team and resources will work off of an LCRX payment model so as to ensure dedication to the project in the long term. This includes reverse vesting and sell-off periods. This limits dumping of LCRX, adversely affecting value, while ensuring the longevity of the primary team and employees.
![alt text](0_1543704279666_upload-aaecd503-3095-445b-98c9-7ec61ef00b70
Token Details
Token symbol: LCRX
Token sale date: October 1st, 2018 – December 31st, 2018,
Accepted payment methods: ETH, BTC, LTC
Total taken supply: 360,000,000 LCRX
Soft cap: 4,000,000 USD
Hard cap: 40,000,000 USD
Token Sales
MAX POWER – 360,000,000
MAX FOR SALE – 259,000,000
TYPE OF TOKEN – ERC223
MINIMUM OBJECTIVE – USD 4 MILLION
HARDCAP – 40 MILLION USD
VALUE TOKEN – 1 LCRX = 0.25 USD
TOKENS NOT SOLD – DESTROYED
RoadMap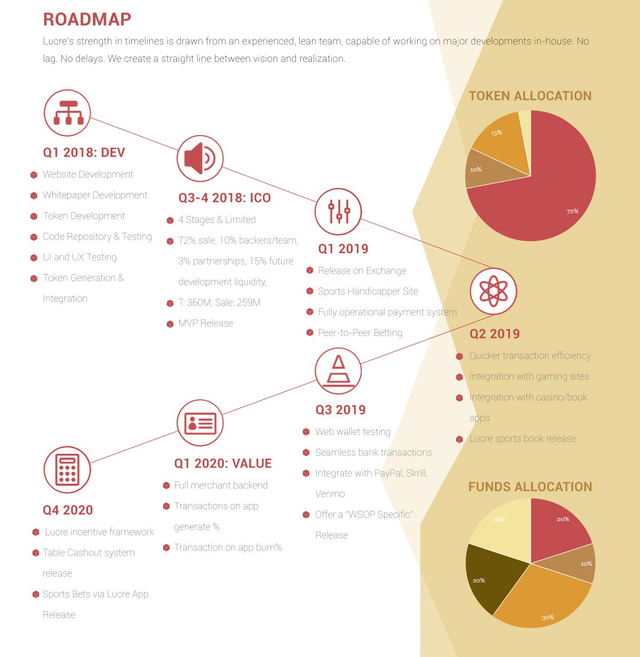 Team Members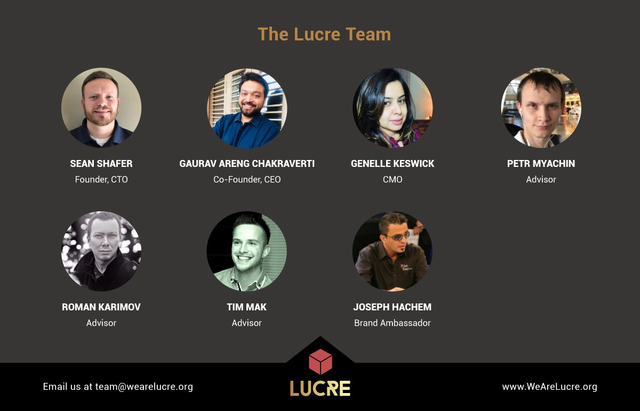 Gaurav Areng Chakraverti: Co-Founder, CEO
Ayan Sen: CIO
Prem Panicker: Head of Communications
Mario Vaz: Business & Investment Advisor
Pushparaj Malpe: Senior Visual Designer
Sharath Kowligi: Advisor – Gaming (EU)
Petr Myachin: Advisor
Roman Karimov: Advisor
Tim Mak: Advisor
Joseph Hachem: Brand Ambassador
For more information, please visit:
fatimahzahra
0xE0A253242eA5275282AE14724D833a49368Af8cA