Halo everyone, do you like music….
yeah me too. In here i will tell you a project blockchain base usic streaming platform for artists and listeners. This project will change our view about music, the name of this project is MAESTRO


https://maestroproject.io/What is MAESTRO…
Maestro solve a problem that plagues the music industry today namely, the unfair structure of the industry itself. Maestro aims to create a transparent industry through decentralization with blockchain technology. By leaving out the "middlemen" from the process, consumers will be able to use streaming services at considerably more reasonable prices.
Maestro is primarily composed of two parts: "Symphony," the streaming service, and "Ensemble," the crowdfunding center. Artists can raise funds for their project prior to production through Ensemble. After completing the project, they can then distribute their creations and generate revenue through Symphony.
Maestro will become the new paradigm for the music industry. We at Maestro will provide an environment that allows for unhampered creation as well as an ecosystem that fairly divides rights of songs.
MAESTRO System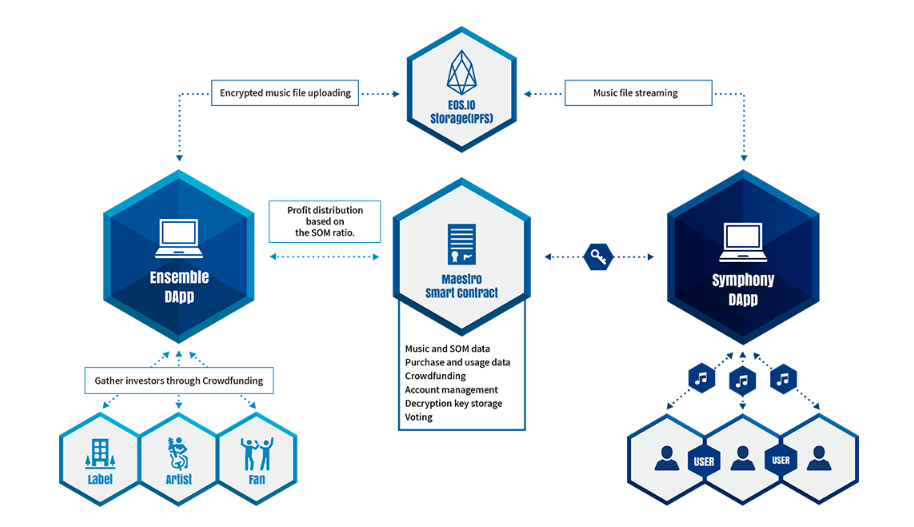 Customers



Only pay for the amount listened to
Payment based on actual consumption
Lower fee compared to other services
Investment opportunities
Artists



No worries regarding raising production costs
Fair profits for artists
Music production costs raised through funding
Rights secured for creative works
MAESTRO GOAL
Implement blockchain technology for an efficient, future-oriented music service platform.
Maestro will implement blockchain technology and use it to progressively develop a decentralized application best suited for the music industry
Provide a conducive environment for creating music.
Maestro will resolve the most urgent problem of the music industry: the unfair distribution of capital. This problem must be addressed in order to attract and secure a larger user base, including artists.
Create an environment in which small to medium-scale production companies and emerging artists can reduce their financial burden and retain their rights over their work.
Despite the proliferation of the music market, most of the revenue continues to be monopolized by major production companies. This monopoly results in a vicious cycle in which smaller production companies lack the funds to create high-quality content, and continue to have great difficulty in attracting consumers. Maestro will help the creative activity of smaller production companies and emerging artists by fairly allocating the industry's capital.
Help produce high-quality music by implementing the Lean Process.
The Lean Process, which focuses on optimizing processes to create the most value out of least resources, first began in the manufacturing industry, but has spread widely to other fields since its introduction. The music industry is no exception. Efficient communication between creator and consumer that begins at the production stage helps create high-quality content.
Allow consumers freedom of choice and create new investment opportunities.
Maestro will provide all consumers with opportunities to invest in established, emerging, and yet-to-debut artists. Investors will be guaranteed a fair share of the profits, even if the artists later sell their copyright and distribution rights.
Provide opportunities for consumers to actively cooperate with artists in promoting projects and to participate in the creative process.
Consumers who fund projects through Maestro have an incentive to become their "marketers" and actively participate for the success of their investment. They will become reliable supporters for artists and production companies.
Provide decentralized, secure services for all customers.
Maestro may hold service construction as its immediate objective, but in the long term, Maestro's ultimate goal is service decentralization. We aim to eventually establish a robust structure that distributes all revenue fairly among artists and project token holders.
Blockchain-Based 'Music Streaming + Funding' Platform
Maestro is a blockchain-based platform that is largely comprised of two parts: the crowdfunding service that handles the attraction, investment, allocation, and balancing of accounts for funding, and the streaming service that handles the distribution of music.
Maestro Service 'Acquisition Fee: 0%'
All profits distributed to token holders
Transparent service profit structure
Artists can set the allocation ratio
Crowdfunding System for Artists
Construction of a production cost funding environment for artists
Expands investment opportunities for regular consumers
Win-win solution for artists and investors
Fair Music Streaming Service for Consumers
Decentralized streaming service with no middlemen
A fair payment structure based on actual consumption
Lower costs compared to other streaming services
Maestro Token Sale
Token Name :
Maestro Token
Token Symbol :
MAE
Price :
1 ETH = 10,000 MAE
Tokens for sale :
*Unsold tokens will be burned.
620,000,000 MAE
Token Allocation

Conclusion
This is just my personal review about the project, and i think this project is good if you want to invest in crypto, i recomended it this project to invest, if you want to know more about them please visit this link below.
Information Bellow:
Website : https://maestroproject.io/
Author: timbohbejat
BttProfilLink: https://bitcointalk.org/index.php?action=profile;u=1975791
EthAddress: 0x3f10edee7DAB775B92D5E947f44cE9923A44872b