MEDIA Protocol-Revolutionary Content Sharing Platform
About the project:
Media protocol is a platform developed to ensure that content creators are protected. It seeks to eliminate middlemen and being able to compensate/reward content creators directly. MEDIA Protocol is a smart project that founds an ecosystem that allows content creators to be compensated for their work without the middle-men taking part in collection of private data. The platform also allows the software developers and programmers to generate their own decentralized apps.
The MEDIA protocol platform aims at motivating the consumption of content using MEDIA tokens. The company achieves these by turning a random URL ta blockchain wallet where funds can be circulated to consumers on the basis of how they frequent they interact with the content URL. Eventually, these process generates a new audience economy which is achieved through a joint effort of each user's contribution to the achievement of these pieces of content in their network.
Why MEDIA Protocol:
MEDIA Protocol is an open and transparent platform that was designed to make sure that content creators are protected, rewarded/compensated directly without the need to have middlemen. Let us consider a case scenario about John who is a regular person fascinated by technological advancements and regularly reads articles on latest technological advancements. Currently, John finds all information he requires on Google, YouTube and maybe Facebook but in future John will be able to use any app that integrates MEDIA Protocol to read and write tech content, receive rewards for all the activities that are of advantage to the content creator. John interacts with content written in these ways; MEDIA Protocol sends her consumption rewards in form of MEDIA tokens for her participation in reading their content. John can in turn use the tokens he earns to convince his preferred publishers or else use the funds to pay for his other subscriptions.
When a situation arises, that a publisher makes great content and wants to distribute it to people like John, then the publisher will publish their content on their web then he will post the content's URL to a social network. After this is done, then the publisher will fund the platforms to boost the post while being optimistic that John will click on that link.
The MEDIA Protocol platform creates a direct channel to motivate the content consumers to view its information and also log their content interactions on the blockchain. What is important is that these John does not have to let the publishers know his Personal Identity. John gets paid for consuming content online while the publisher receives transparent information about how its content is performing.
The Advantages of Media Protocol:
The potential success of the blockchain based platform is going to depend on the number of creators that they can get signed up, but there are a number of different advantages that should make it easier to convince them to join the platform. Clearly, their ability to draw people in is key even though it could be a difficult thing to do at the outset until they are more established.
First, the content creator has greater control over who gets access to their content. Next, as payments are made via the blockchain this does mean that transactions are processed faster, at a lower fee, and also they cross international borders since only the cryptocurrency from Media Protocol will be used.
Other content solutions charge too much, so the creator ends up missing out on a substantial amount of money but that problem is solved thanks to the blockchain. This then means they could charge less for access and still get more money in the process which has to be a major selling point for all sides.
MEDIA Protocol's Technology: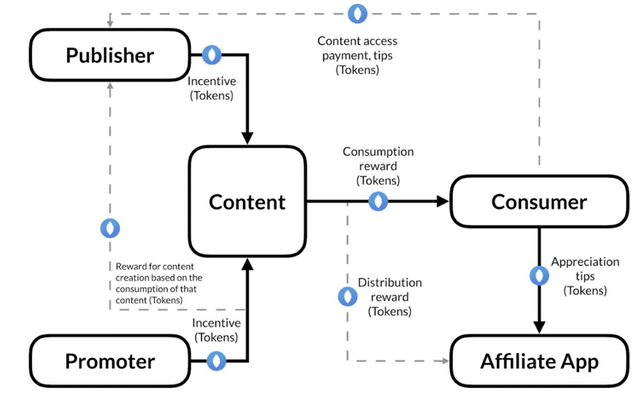 The MEDIA Protocol platform depends on their key technology which is basically a software development kit that was initially created to enable the software developers and programmers to come up with their own decentralized applications that in turn used to share media including videos, music and/ or text.
The generators of content can directly publish their work and earn profits from consumers who use their content and these is achieved if they setup a subscription feature from advertisers who gain exposure by means of the traffic they generate. The consumers can also earn tokens just for their participation as a reward for their job of distributing information across various social networks .They may alternatively earn these tokens from the advertisers who decide to pay for their attention.
The MEDIA Protocol platform has a Content Recommendation Server whose purpose is to integrate the team's existing ability with Artificial Intelligence to connect users with content that they require.
The company's platform is said to be an Open Source making it simper for the users and participants in the ecosystem to analyze the code and validate its stability.
Team: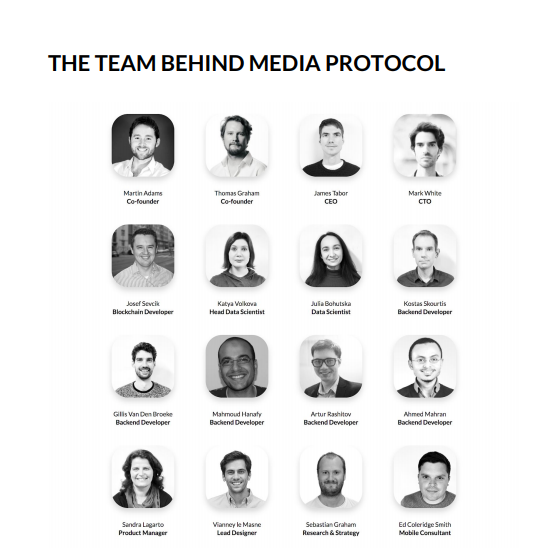 Roadmap: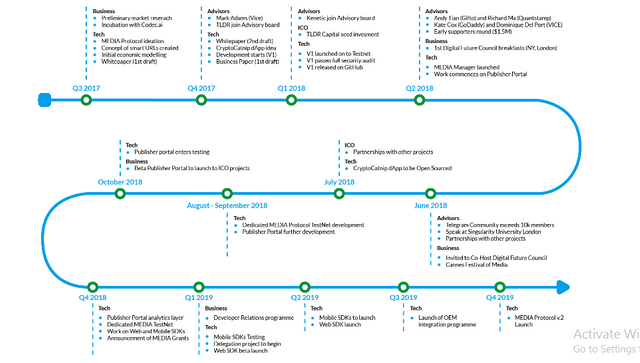 Join them on social media:
Website: https://www.mediaprotocol.org/
Whitepaper: https://www.mediaprotocol.org/papers/whitepaper.pdf
Bitcointalk ANN Thread: https://bitcointalk.org/index.php?topic=3396313.new#new
Telegram: https://t.me/Media_Protocol_Community
Facebook: https://fb.me/MEDIAprotocol
Twitter: https://twitter.com/MEDIA_Protocol
Blog: https://medium.com/@mediaprotocolsm
Author: https://bitcointalk.org/index.php?action=profile;u=2230394
ETH: 0x5B1a8AB6b02a0e3151E70a1C91B013e73D8A6046