MEFY
MEFY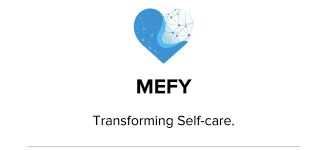 Welcome my dear friends. Today is a day off, which means I have prepared a lot of interesting projects for you.
MEFY is a platform that will allow users to monitor their health through MeMe Edge Device, record health parameters, medical consultants and doctors around the world, receive medicines, etc.
The mefy token will enable the system to address current cross-border payment issues, data availability, and payment risk on demand, including areas with the highest level of healthcare quality.
MEFY is a decentralized global health care network built on the Ethereum blockchain and smart contracts. The MEFY platform is designed to disrupt and replace traditional health models by providing people with easy access to checking their health parameters, the ability to share real-time health reports with doctors anywhere in the world for advice and second opinions.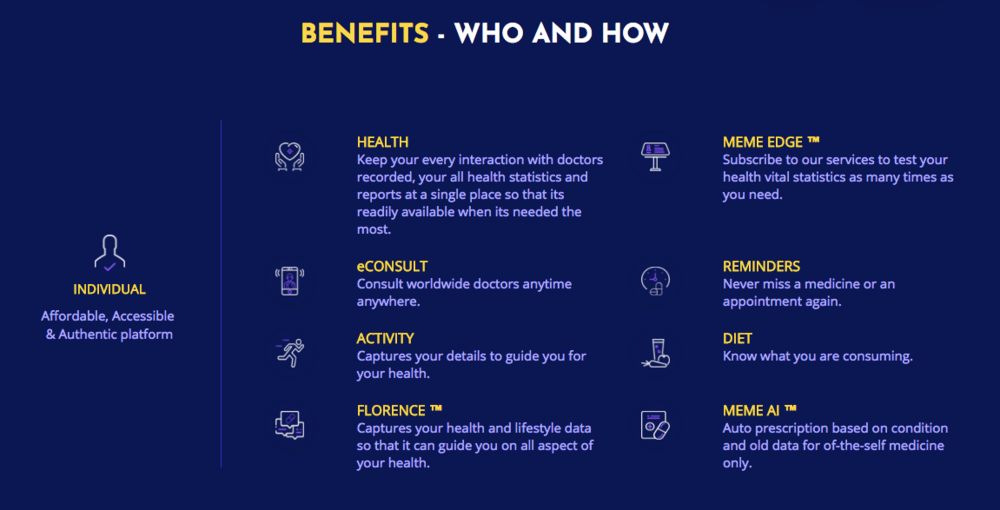 Mefy tokens will serve as the primary means of payment within the system, although other types of fiat or cryptocurrency will be accepted and used depending on the country and the legality of the cryptocurrency.
MeFy Network is an Association of healthcare professionals and people who are looking for easily accessible medicine worldwide. The individuals who purchase MEFY tokens and the healthcare workers who accept them become members of the MeFy network and receive affordable, authentic, distributed, high-quality healthcare. General information

Token: MEFY
Platform: Ethereum
Standard: ERC20
Quantity: 200,000,000 MEFY
Price: 1 MEFY = $ 0.30
Payment:
ETH, BTC, XMV
Soft cap: 10,000,000 USD
Hard cap: 35,000,000 USD
PreICO
Quantity: 50,000,000 MEFY
Beginning: 04.06.2018
Completion:
Bonus:
Fifteen%
ICO
Quantity: 118,100,000 MEFY
Start: to be announced later
Completion:
Bonus:
Bashir Johansson
Lead Blockchain Developer with skills in C++, Solidity, Hyperledger
Bala Murali Krishna
Cyber Security professional
Sana Najeeb
Asst. Product Manager, Blockchain Developer
Rohit Agarwal
Developer, Blockchain & Smart Contracts
Brij Kishor Singh
IOT & the Blockchain Developer
Ronald Certain
Blockchain Advisor, Cybersecurity Specialist
Jeyson Támara
Advisor Blockchain Math, Theoretical Physicist and Mathematician. Coach of World Olympics in theoretical Physics and Astrophysics. PhD Candidate
Sanjay Sinha
Founder & CEO of MeMe Information Technology & MeFy Pty Ltd., The Blockchain and Smart Contract Expert, Health Advisor and Researcher
Kaushik Kumar
Co-Founder MeFy Pty Ltd., Marketing & Business Development
Alfred Certain
CEO at Gecko Health Coach, ICO, Advisor, Business Coach
Mark Haynes
ICO Advisor
Nandan Mishra
Health Advisor
Advisers
MBBS, MD Medicine
MBBS, MD-Emergency Medicine
Dr. Ashraf Jamal
MBBS, M. D. Dermatology
Dr. Zahid Hussain
MBBS, MS-Anatomy
Dr. Danish Malick
MBBS, M. D. Surgery
MBBS, General Physician
Dr. Zafar Alam
MBBS, MD-Pediatrics
October 2014 The idea
June 2015 Beginning
October 2015 Development
June 2016 Company registration
August 2017 Team building and strengthening
March 2018 Meme app Pilot launches its first EDGE clinic and web app for doctors
Q1 2018 The functionality of the APP (Econsult, assignments, reports, EDGE, honey. cards, immunization, treatment, notification) EDGE functionality (temperature, blood pressure, glucometer, SPO2)
Q2 2018 EDGE functionality (ECG, body position, spirometer, GRS, snoring, EMG)
The functionality of the app (reminders, bot, blockchain)
MeMe pharmacy functionality (account, inventory management, ARAB, GST, reporting)
Q3 2018 Application functionality (automatic recipe, activity, diet, location, reminder, bot)
EDGE functionality (CBC, thyroid, LFT, cholesterol / lipid data, heart and kidneys)
Q4 2018 The functionality of the application (machine learning)
MeMe pharmacology functionality (supply chain)
Functionality EDGE (full blood test, antibody test, electrolytes, urine test, tides, Hepa A, Hepa B, CT Scan)
Q1 2019 The functionality of the app (localization, machine learning)
Q4 2019 Hospital management
More info in:
Author: https://bitcointalk.org/index.php?action=profile;u=1953448