MenaPay – Crypto Payment Service for the MENA Region

Introduction
MenaPay is the first Blockchain based payment gateway in the Middle East and North African (MENA) Region. Basically, they are replacing the traditional payment methods with the help of blockchain technology which is backed by cryptocurrency. They are providing more secure and transparent payment gateway where to enable every transaction from daily life. They are also providing new standard services in the crypto market which is beyond the regular incentives for users and investors. The services are P2P Transactions, P2M Peer to Merchant Payments, M2F Merchant to Foundation and Green Mining.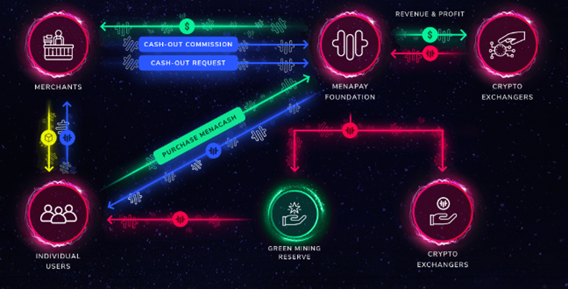 Problem
The main problem is in the traditional payment system which requires too many intermediaries. The customers and merchants must go through the bank process in the traditional method of payment where sometimes charging fee is higher and it takes a lot of time to complete the payment process. As per the, Middle East and Africa region, they are not using regular banking tools because of having poor banking system and they have also break into the multiple currencies. Other problem is where cryptocurrencies cannot be used in daily life transactions because of their price fluctuations.
Solution
The solution where MenaPay is come up with their blockchain based payment gateway. They are eliminating intermediaries by connecting customers directly with the merchants for a frictionless and trustworthy transactions. MenaPay are providing 100% Islamic, digital solution with the help of blockchain technology to create single currency to be used in everyday transactions. They also provide solution with easy-to-use desktop and mobile wallets with Arabic user interfaces.
The Team
Tolga Odoglu – MD – He's having 17 years of experience in Investments, Portfolio Management and Finance. He did BA in Economics from Marmara University. He's also having working experience in such fields like Asset Management, Trading Market and Analytics.
Ilkar Cikrikcili – CMO – He completed his graduation with Computer Engineering from Middle East Technical University and MBA from Beykent University. He's having experience of working in IT, Software, Web Development, Business Analytics, Project Management and Blockchain Technology. He's a former Managing Director of GKFX which is UK based and FCA regulated online Forex Trading Company. Previously, he worked with Vodafone as a Software Specialist.
Tuna Orbay – CTO – He completed his graduation from Middle East Technical University. He Co-Founded on company based on search engine named Bilgi.com. He's having expertise in Online & Mobile Marketing, Social Media and Mentoring.
Token Matrix
Token – MENA
Total Supply – 400 Million MENA
Price – $0.165 USD
Soft Cap – $5M USD
Hard Cap – $25M USD
ICO Date – November 2018
Social Media Reach
Facebook – 3.3k+ Followers – https://www.facebook.com/menapayio
Twitter – 790+ Followers – https://twitter.com/menapayio
Telegram – 320+ Members – https://t.me/MenaPay
Verdict
The Social Media hype is low, but they are active on their Telegram Group.
The Website is well-explained in detail and easy to understand the project. Currently, the Whitepaper is not available.
There are 25 members in an executive team who are having experience of working in Software, IT, UX/UI Development, Marketing, PR, Content Writing, Finance etc. Few of them are having Blockchain experience.
They have 8 advisors on board who are having expertise in Marketing, IT, Software, Designing, Finance etc. They are also lacking in blockchain experience.
The Roadmap is well-framed on the website with their milestones till 2019. Currently, MVP is not available but will be launching in September 2018. The ICO will be starting in November 2018.
They have partnered with Aslanoba Capital, Altana Wealth Ltd, Bogazici Ventures, Gedik Investment and S4Mining.
For Detailed Information
Website – https://www.menapay.io/
One Pager – https://www.menapay.io/onepager.pdf
Author : Anggita dewi