Mensarii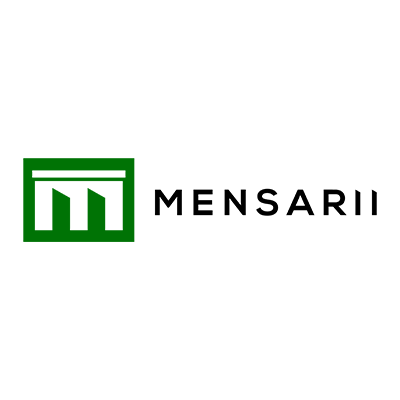 WORLD'S FIRST EVER CRYPTOCURRENCY CREDIT UNION
Mensarii is a decentralized platform that aims to help consumers and merchants overcome the obstacles of a traditional banking industry. With a blockchain validated system, the inbuilt error and malfeasance of old-fashioned bank processing can finally become a thing of the past. Mensarii will achieve a comprehensive decentralized risk management process with a dedicated platform that will, with the help of blockchain monitoring and machine learning technology, attempt to identify fraud before it becomes a systemic problem.
Mensarii will use technology ethereum blockchain for efficiently facilitate full transparency of any disputed payments within the Union and bring greater transparency to the market in terms of both processing fees and fraud by building the first decentralized platform that interacts with the Ethereum blockchain for settling payment processing like Visa, MasterCard, SEPA, Foreign Exchange, China Union Pay, ETH, LTC, BTC and many other payment methods. Mii introduces a multi-tier governance for decentralized applications. The decentralized application (Dapp) will have a governance model controlled by its members. Proposals for changes can be requested by any member, and approved by the DAO elected representatives. It will then require a vote by union members who are in good and active standing.
Mensarii (Mii) token
Mensarii token is use to provide discount on fee on the Mensarii platform, The aim is to provide 50% discount for the fees for contributors when using Mensarii and give reward to early adopters with the use of Mensarii tokens. Mensarii will focus on creating value for the users and more value for the product, thus, indirectly creating value for the token holders also can be used to validate account ownership, along with balance and transaction history.
ROADMAP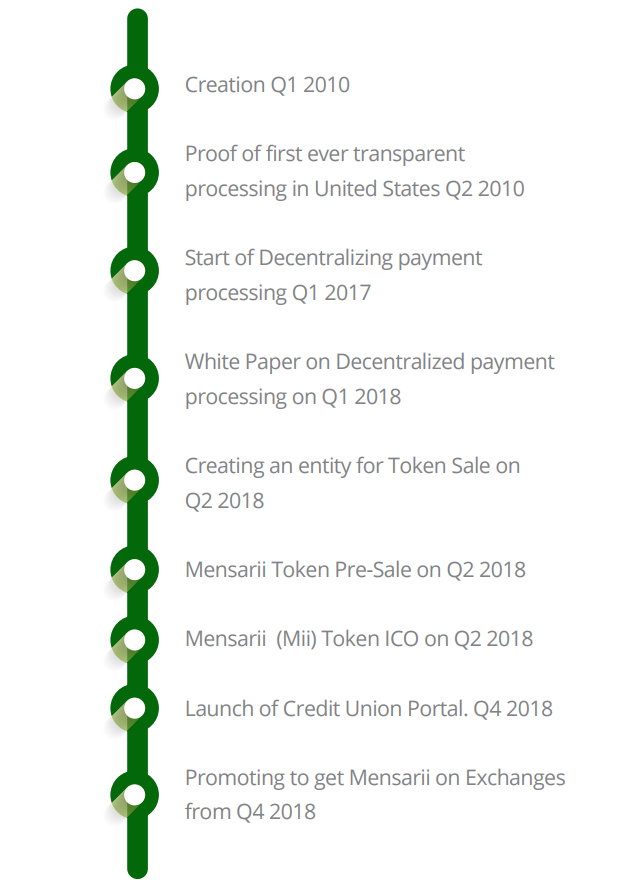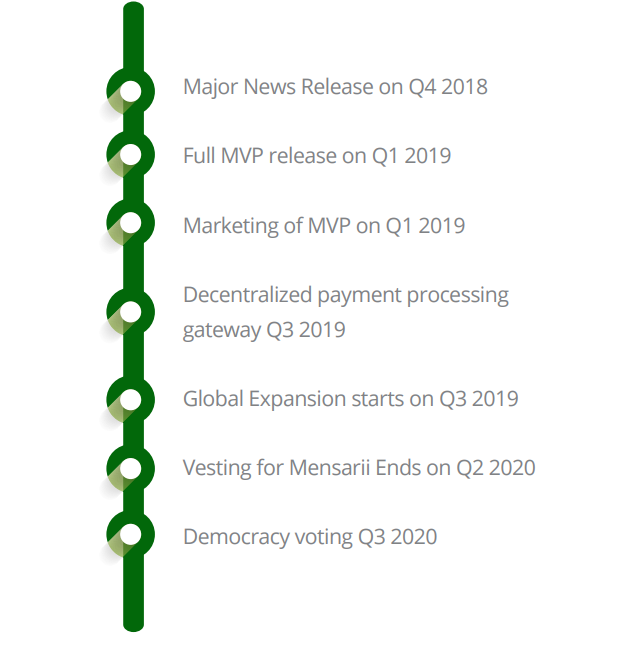 INFORMATION TOKEN AND ICO
Name: Minserri (Mii) token
Type: Standard ERC20, ETHEREUM
Total token: 2.000.000.000 Mii token
For sale: 1.100.000.000 Mii token
For development fund: 400.000.000 Mii token
The funding goal for round 1: 3.500 ETH
The funding goal for token sale: 32.000 ETH
PRESALE
Start: 1st June 2018
Ends:  30th June 2018
Price: 1 ETH = 45.000 Mii token (Price includes 50% bonus tokens for all pre-sale participants).
TOKEN SALE
Start: 1st July 2018
Ends: 31st August 2018
Price:
First 157.500.000 Mii token: 45.000 Mii token= 1 ETH
Next 93.750.000 Mii token: 37.500 Mii token= 1 ETH
Remaining Mii token: 33.000 Mii token= 1 ETH
*The token will distributed imediately.
Token Allocation
55% ICO
20% Development (vesting)
10% Founders (vesting)
10% Reserve
3% Advisory (vesting)
2% Bounty
Use of funds
25% System Development
25% Marketing and Promotion
20% Management and Legal
20% Payment Processing Development
10% Maintained Reserves
Quick link:
Website: https://www.mensarii.io/
Whitepaper: https://www.mensarii.io/images/whitepaper.pdf
Telegram: https://t.me/Mensarii_ICO
Twitter: https://twitter.com/mensarii_io
Facebook: https://www.facebook.com/mensarii
Author : https://bitcointalk.org/index.php?action=profile;u=1397196