MIXIN NETWORK
In 2017 is the year when cryptocurrency developed very rapidly. If we look at the graph of the development of the cryptocurrency market cap below:

The development of crypto market cap in 2017, took place in March to mid-June, thanks to Ethereum (the formation and announcement of Ethereum Enterprise Alliance) and Ripple. It should be noted that the market cap crypto had dropped dramatically near August 1 (Bitcoin Cash hard fork) before returning "exploding" to the highest number of all time.
A free and fast peer-to-peer transactional network for digital assets, designed to solve the blockchain scalability created by MIXIN NETWORK. Mixin came out at the end of 2017, there are some words that make people feel confused, like Mixin, Mixin Network, Mixin Messenger, and XIN. People always misunderstand them, if you agree, please continue reading this article, you will find the following answers below;
Mixin is composed of a single theoretically permanent Kernel, many dynamic Domains and different multipurpose Domain Extensions, to formulate an extended star topology. This topology may lead to the concern that Mixin is a centrally controlled network, but that's not the case because of how the Kernel itself works.
Mixin Kernel is a high performance distributed ledger and its sole responsibility is to verify asset transactions. That said, the single permanent Mixin Kernel is also a distributed network just like Bitcoin network as a whole. Although Mixin Kernel verifies asset transactions, it doesn't produce any assets. All assets flow through the Kernel by Mixin Domains. Each Mixin Domain is also a distributed ledger, whose job is providing assets to the Mixin Kernel. The assets may be those on Bitcoin, Ethereum or any other blockchains, or even central organizations like banks.
While each Mixin Domain is a component to provide assets for Mixin Kernel, the Kernel itself is also a component in the Mixin Domain to verify and govern its assets. Unlike most existing gateway based solutions, Mixin Kernel and Domains are all public available distributed ledgers, with no central authorities.
From the Kernel to Domains, the Mixin Network is all about assets and transactions. The Mixin Domain Extension is where the magic happens, whether for Ethereum contracts, EOS contracts, a distributed exchange on somewhat trusted instances, or anything else.
Mixin Messenger is an example to show developers how to create DApps on Mixin Network. Users can easily access their blockchain assets only through telephone numbers and 6-digit PIN codes. XIN is a single token used by many services in Mixin, especially the full node guarantee, DApp creation and API calls.
To join the network as a full node, it must promise at least 10,000 XIN tokens to build initial trust. Each DApp creation will cost XIN for one time, the cost is determined by the resources that DApp claims to consume. Mixin API calls from DApp may require XIN fees depending on the type of call and number. All XIN penalties and fees charged by the network will be recycled to mining.
One more thing to tell you that Mixin sponsors hack.summit 2018, the virtual Hackathon, will take place from July 6 to July 8, 2018, we provide prizes of up to 100 XIN, for more information about the Hackathon challenge, please read this.
How Mixin works as follows ;
#. The Mixin network consists of large books of different high-performance distributions, with a core ledger called 'Kernel', and supporting ledgers called 'domains' and 'domain extensions'.
#. A domain is a gateway that feeds assets from Bitcoin, Ethereum, other Blockchain, and even the central bank to the kernel. The kernel is responsible for verifying and managing its assets and transactions.
#. Domain extensions are distributed ledgers that store Ethereum, EOS and other blockchain smart contracts and trusted applications.
#. This platform is designed to offer everyone a fair platform, made on a decentralized network – built for the purpose of processing transactions, contracts and business in seconds. This is a p2p-based system that will allow third parties to use the system successfully and safely through the use of contracts. The purpose of this platform is to provide a very safe and decentralized environment where people can go to conduct exchanges and transactions
MIXIN TOKEN
Mixin (XIN) currently has a market capitalization of ~ $ 170 million with an outstanding supply of 406,156 XIN and a total supply of 1,000,000 XIN. This is a very rare inventory, especially considering that XIN is required to participate in the Mixin network. To join the network as a full node, the user must place 10,000 XIN.
The Mixin network also connects to different Dapps using an API call. These Dapps pay for networks in XIN tokens based on the amount of resources Dapp consumes.
Total Supply: 1,000,000
Circulating Supply: 438,154
Date of Selling Token: 25 Nov ~ 25 Dec 2017
Kap Market: ranked # 88
Current price: $ 148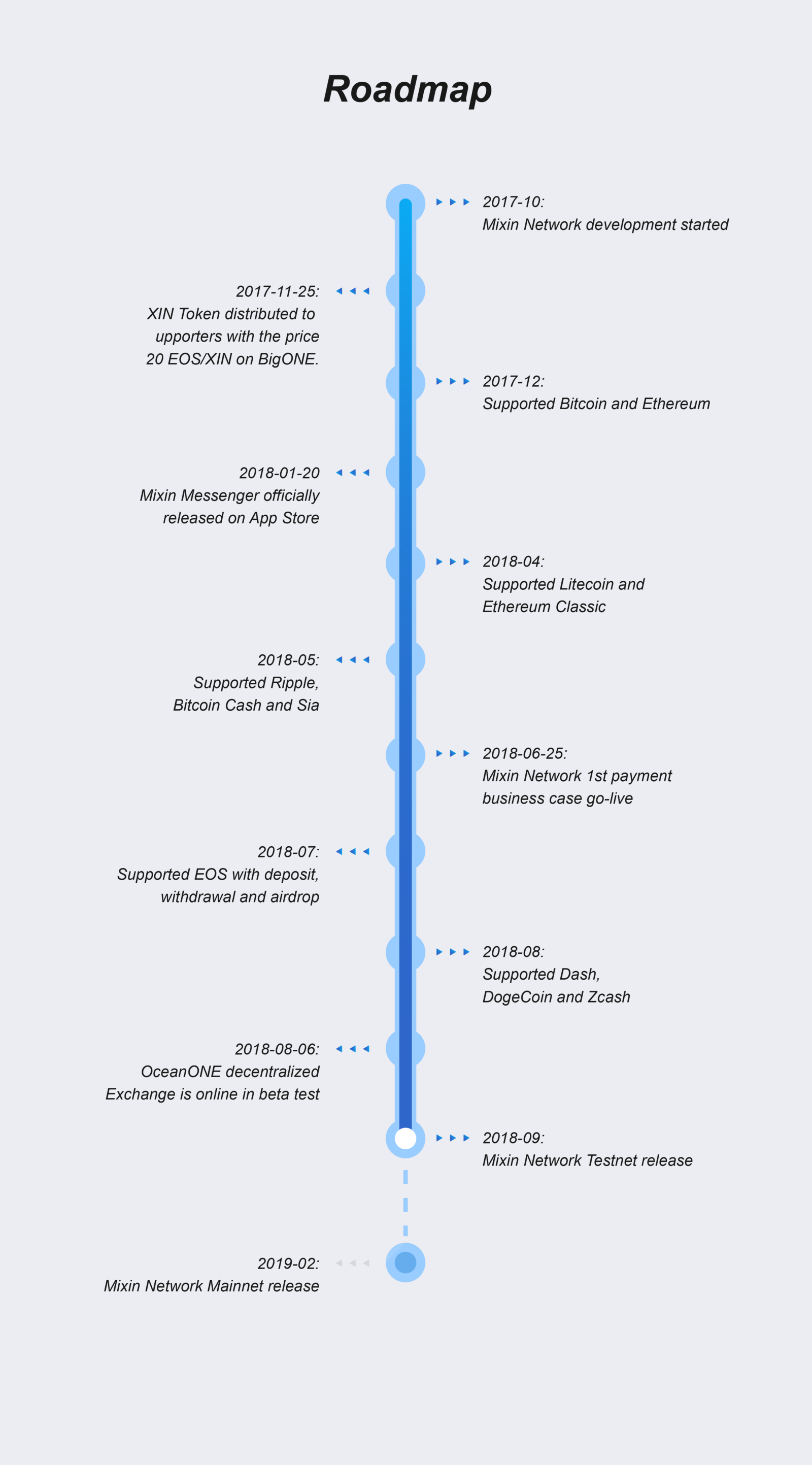 THE TEAM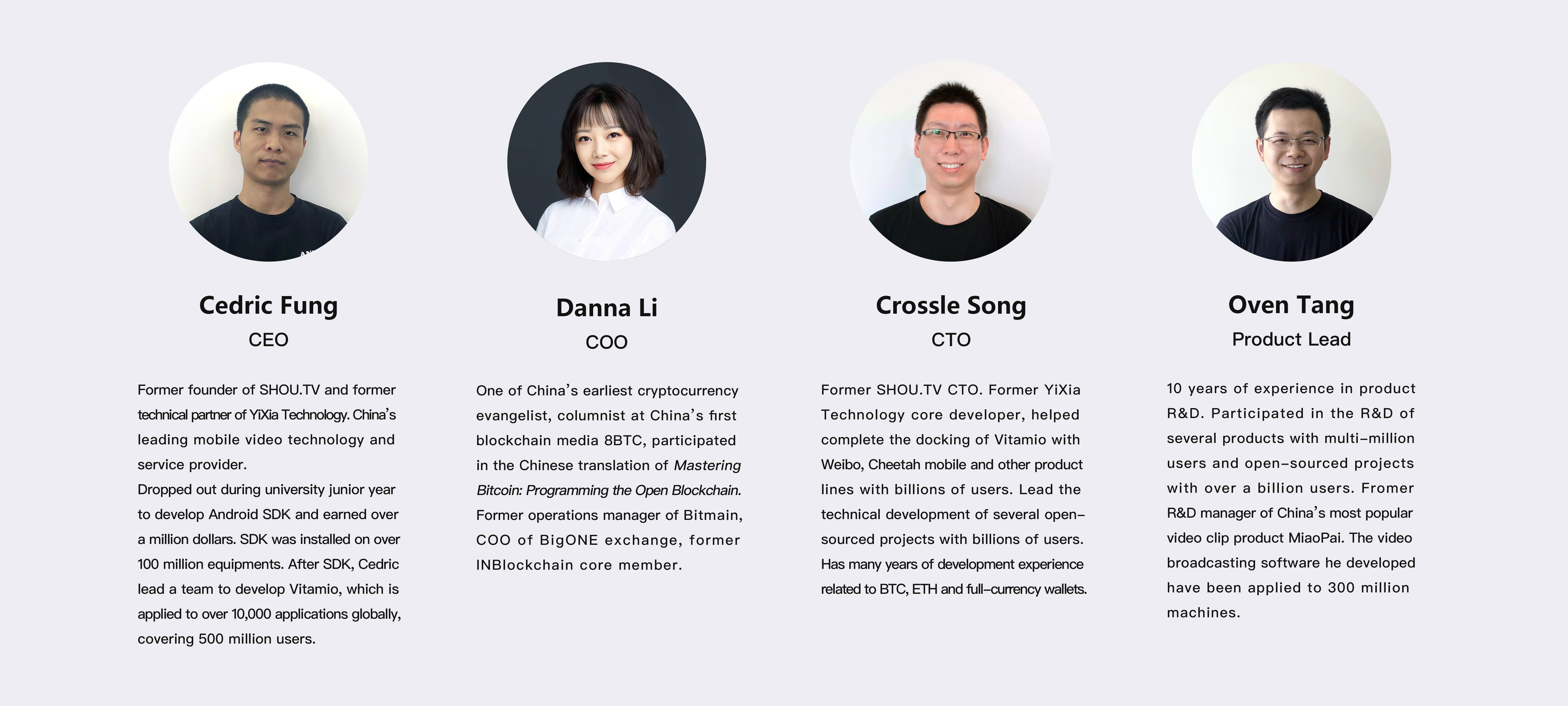 For more information you can see it at the link below:
Contact: contact@mixin.one
Website: https://mixin.one/
Whitepaper: https://mixin.one/assets/Mixin-Draft-2018-07-01.pdf
Facebook: https://www.facebook.com/MixinNetwork
Twitter: https://twitter.com/Mixin_Network
Telegram: https://t.me/MixinCommunity
Reddit: https://www.reddit.com/r/UNetwork/
Youtube: https://www.youtube.com/channel/UCg67cC-GO8wNEOdgGH5IRew
Medium: https://medium.com/mixinnetwork
Create By. BORNEO82
My Bitcointalk :https://bitcointalk.org/index.php?action=profile;u=1713096
My etherwallet: 0x2bc537a17149cBf65b0e2F8196b4e56CD1b84204