MOBILINK-COIN
Mobilink-Coin and Mobilink-Network are platforms that focus on providing and developing telecommunications services based on Blockchain technology. Mobilink-Coin provides users, a better telecommunications service by incorporating current renewable technology in the telecommunications industry with Blockchain technology, which will result in a better and safer telecommunication service. Mobilink-Coin and Mobilink-Network aim to create a more caring and profitable telecommunication ecosystem for its users.
Mobilink-Coin and Mobilink-Network were created on the premise of some concerned with the telecommunications industry, and intend to turn it in a better direction. By seeing good opportunities in Blockchain technology and previous experience, Mobilink-Network creates a better telecommunication service than today's telecom services. Mobilink-Network provides users with an unlimited data and calls service for a monthly fee that will be charged to advertisements shown to users. In other words, Mobilink-Network helps users to eliminate the cost of their calls and data each month, through advertising costs incurred by advertisers. This is a smart way to cut even the cost of calls and data, which sometimes makes it difficult for people to connect with others.

BENEFITS
Customers will be provided with unlimited voice and unlimited data, there will be no worries of paying monthly bills ,there will be profit sharing revenues earned by the customers, the revenue from digital mobile ads is expected to be more than 235% of the monthly fee revenues by 2021, which means Mobilink Coins will increase in value and users will earn more coins than they currently pay in their monthly mobile fees. you can buy as many Mobilink Coin sim cards as you want. There is simply no limit. You can share your sim cards in your circle. Your current sim card can also be replaced with the Mobilink Coin Sim Card.
Mobilink also offer users Mobilink Wallet. This allows users to buy, sell, hold and manage their coins and other cryptocurrencies. The entire operation will be completely secure. There will also be a Mobilink MasterCard. The MasterCard will pay for things online well as with physical purchases if you were to go to a store. The user should rest easy, knowing that your finances are always 100% secured. This will help users to earn more coins, which in essence function as credits. https://mobilink.io
SOLUTION MIBILINK IS PRESENTING
• Identity Management and Fraud Detection: It is very important for telecommunication companies to protect the identities of their users and avoid fraud or identity theft. The current annual cost of fraud in the telecommunication industry is whooping 38 billion dollars, a large amount that could have been used to improve their system. Blockchain solves this problem by establishing a simple smart contract. Smart contracts facilitate credible transactions without third parties. A client's account and identity will be protected and cannot be seen by other people without the direct approval of the client. And this is also done at a low or no cost at all which would save both the client and the industry a lot of money.
• Cost Reduction: With the blockchain technology, using roaming services will not have to involve multiple third parties to verify identity and validate roaming rights. It is already there and this would allow for a faster more reliable service to the users while greatly reducing the cost instilled by third-party participants.
• Enabling micro-transactions for digital assets: Blockchain with its cryptocurrencies allows for fast and secure transactions of any size with little to no cost at all. Blockchain cuts-out third parties for such transactions like banks and creditors which would save a lot of time, effort and especially money.
• Simple Process: Because blockchain cuts-out third parties and middle-men, the once complex processes would now be simple, transparent, fast and secure. It is also fully automated and digital which does not allow for human errors if it was manually done.
• Trusted Data Storage: The blockchain is the world's leading software platform for digital assets. They are linked and secured using cryptography which is like an individual password for each person. Once data is stored in it, it can never be changed and no tampering can be done to it since no single entity or institution is responsible for its management. Advertisers or companies will be able to profit from real ad users and viewers instead of fake or bot accounts.
HOW DOES IT WORK?
The Mobilink project is about creating an ecosystem of services that use and drive demand for the MBX token providing enough revenues for the network to operate at no cost to the user, and eventually generating enough revenues to start sharing with token holders. https://mobilink.io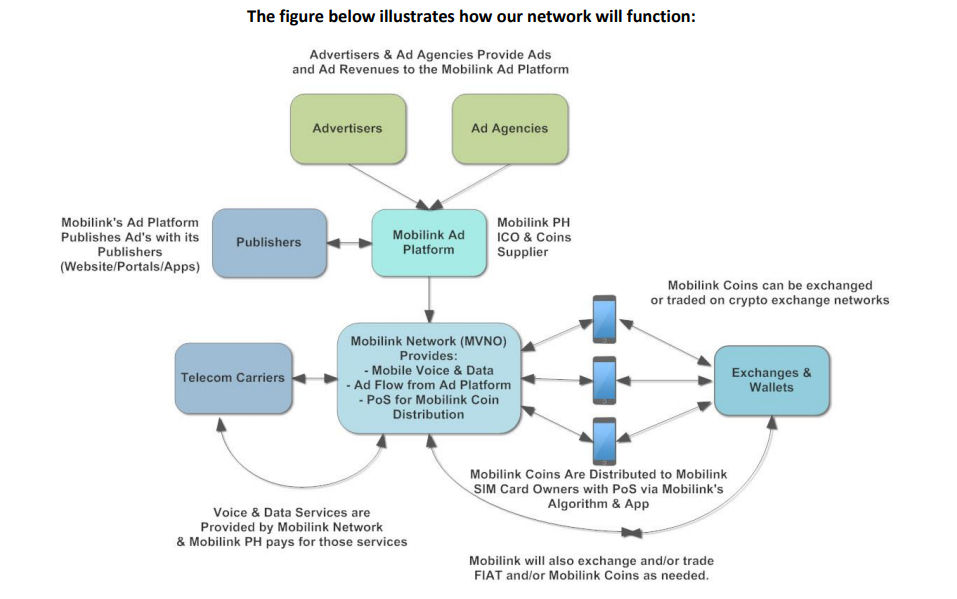 TOKEN AND ICO DETAILS
MBX tokens have a total supply of 9 billion an initial token value of $0.10 USD. They have a soft cap of $20M USD and a hard cap of $240 USD. The minimum investment to participate in this ICO is the cost of one Mobilink sim card in the amount of $300 USD. The sim card that is initially bought by users will already have 3000 MBX tokens deposited.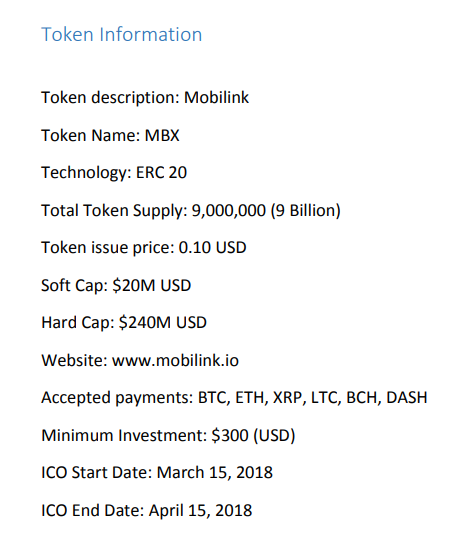 Mobilink has several incentives for those who switch before the ICO and mobile network are completely up.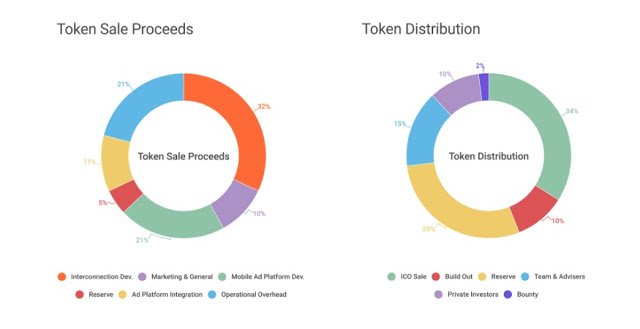 ROADMAP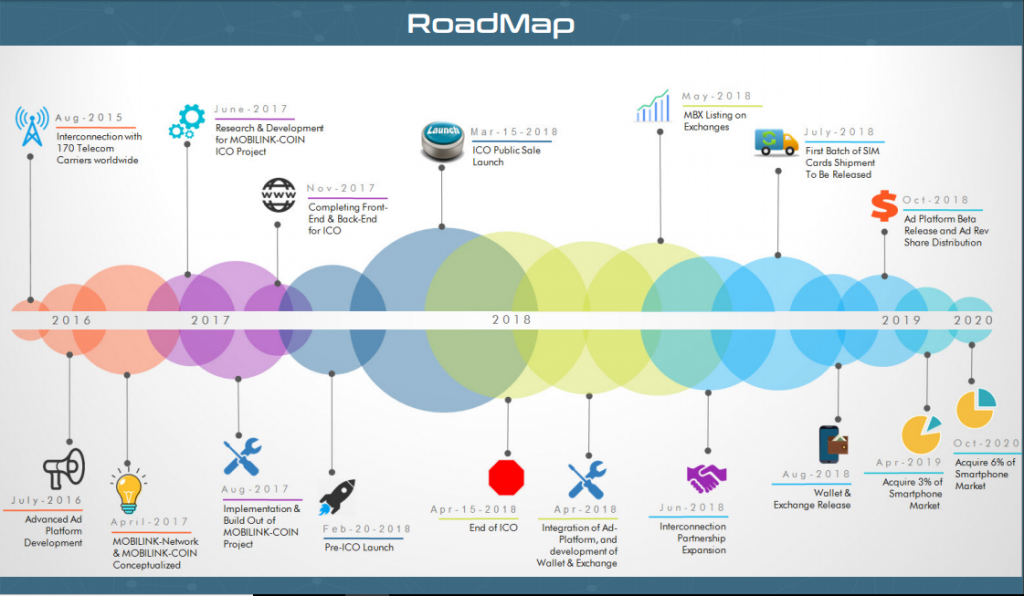 TEAM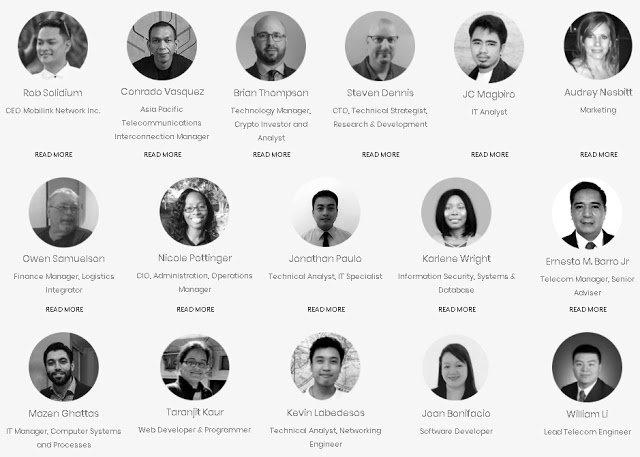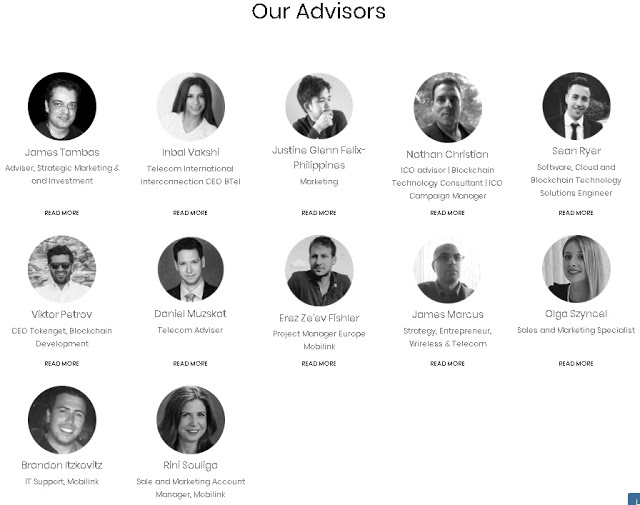 For more information about mobilink project kindly visit the links below;
WEB: http://mobilink.io/
WHITEPAPER: https://mobilink.io/Mobilink-WP-full.pdf
TELEGRAM: https://t.me/mobilinkcointechnical
TWITTER: https://twitter.com/mobilinkcoin
FACEBOOK: https://www.facebook.com/MOBILINKICO/
Author: BrainerdPaul
BitcoinTalk profile link: https://bitcointalk.org/index.php?action=profile;u=1680409