MODULE: CRYPTOECONOMIC ECOSYSTEM ON A DECENTRALIZED FILE STORAGE NETWORK

Through the module platform, the potentials and relationship of devices especially a telecommunication mobile device and cryptocurrency has been discovered. Module was designed to give asset relevance to the free storage of smartphones, PCs, servers, etc. With the Module platform, one can be able to mine cryptocurrencies using a smartphone and earn rewards with the help of Module's consensus algorithm.
In the Module's system, the space-time transaction is a factor that determine compensation plan which gives users the opportunity to mine cryptocurrencies.
One of the issues of mining cryptocurrencies is the extreme power consumption, and this is why Module has developed their technology on mobile devices. Participants can get rewards for just releasing the storage capacity of your devices. These rewards will vary depending on the free storage released, utilization time & space and type of transaction. And this system will help residents of underdeveloped countries, not only participants in developed countries, to become miners and receive rewards.
Module is quite better in sending data that requires extreme privacy because through secret sharing, its distributed data are fragmented in different locations. Blockchain will use this secret sharing method to build storage for privacy needed data.
With a system like Module and its components, devices are successfully turned into productive machines.
TOKEN DETAILS: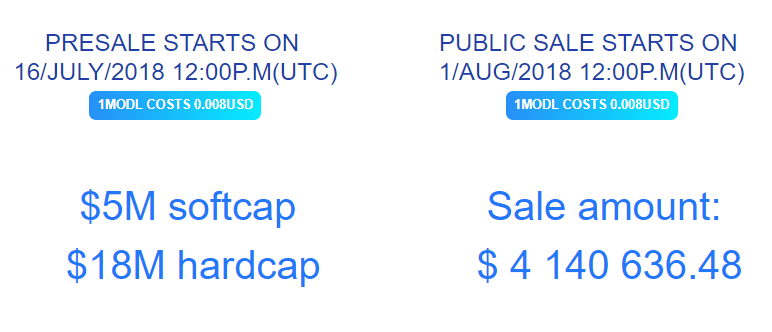 PRESALE STARTS ON: 16/JULY/2018 12:00P.M (UTC)
1MODL COSTS: 0.008USD
$5M softcap
$18M hardcap
PUBLIC SALE STARTS ON: 1/AUG/2018 12:00P.M (UTC)
1MODL COSTS 0.008 USD
Sale amount: $ 4 140 636.48
Ticker symbol: MODL
Token during ICO: ERC-20
Type: Utility Token
Total emission: 15,000,000,000MODL
Price per 1 token: 1MODL = 0.008 USD
TOKEN DISTRIBUTION:

40% – Development
30% – Marketing
30% – Recruiting
TOKEN ALLOCATION:

60% – Mining
15% – Team and Advisors
15% – Public sale
5% – ICO incentives
5% – Private sale
ROAD MAP: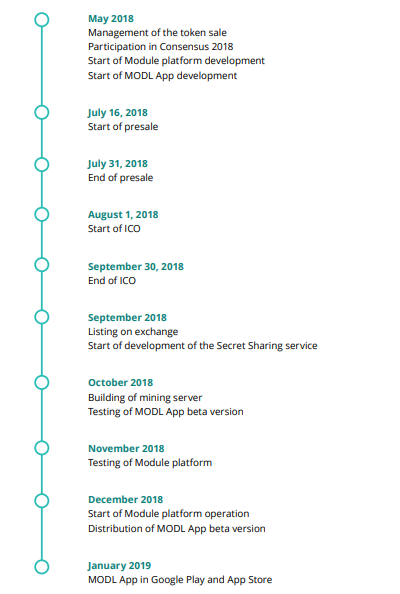 May 2018:
Management of the token sale Participation in Consensus 2018 Start of Module platform development Start of MODL App development.
July 16, 2018: Start of presale.
July 31, 2018: End of presale.
August 1, 2018: Start of ICO.
September 30, 2018: End of ICO.
September 2018: Listing on exchange Start of development of the Secret Sharing service.
October 2018: Building of mining server Testing of MODL App beta version.
November 2018: Testing of Module platform.
December 2018: Start of Module platform operation Distribution of MODL App beta version.
January 2019: MODL App in Google Play and App Store.
PARTNERS:

TEAM:
Yoshitomo Kikuchi – Marketing leader
Yuichi Yoshida – Marketing
Eisuke Matsumoto – Marketing
Koji Takane – Technology
Marina Kazakova – Press
Hiroki Owada – Senior Project Advisor
Seiichi Hosaka – Legal Advisor/General Counsel
Nick Evdokimov – Blockchain Adviser
Hiroki Kato – Marketing Advisor
Module has developed an innovative technology through Proof of Space and Time and Transaction which will enable participants to engage in mining. This is just a way to maximize the potentials of your devices especially your mobile device, turning it into a useful tool to mine cryptocurrencies. I will personally advice that anyone who wishes to gain better insight on this project should visit these following links below:
Website: https://modltoken.io/
White: https://modltoken.io/doc/whitepaper_en.pdf
GitHub: https://github.com/module-project/
Facebook: https://www.facebook.com/moduleproject/
Twitter: https://twitter.com/MODULE_Project
Linkedin: https://www.linkedin.com/company/module-project/
Telegram: https://t.me/module_project
BITCOINTALK USERNAME: thankyoulord
BITCOINTALK URL:https://bitcointalk.org/index.php?action=profile;u=2076086
WALLET ADDRESS: 0x2859DD117e5E186B2dec97b50012C66D0E7597Ad