MONORETO Make it Easy to Use Social Networks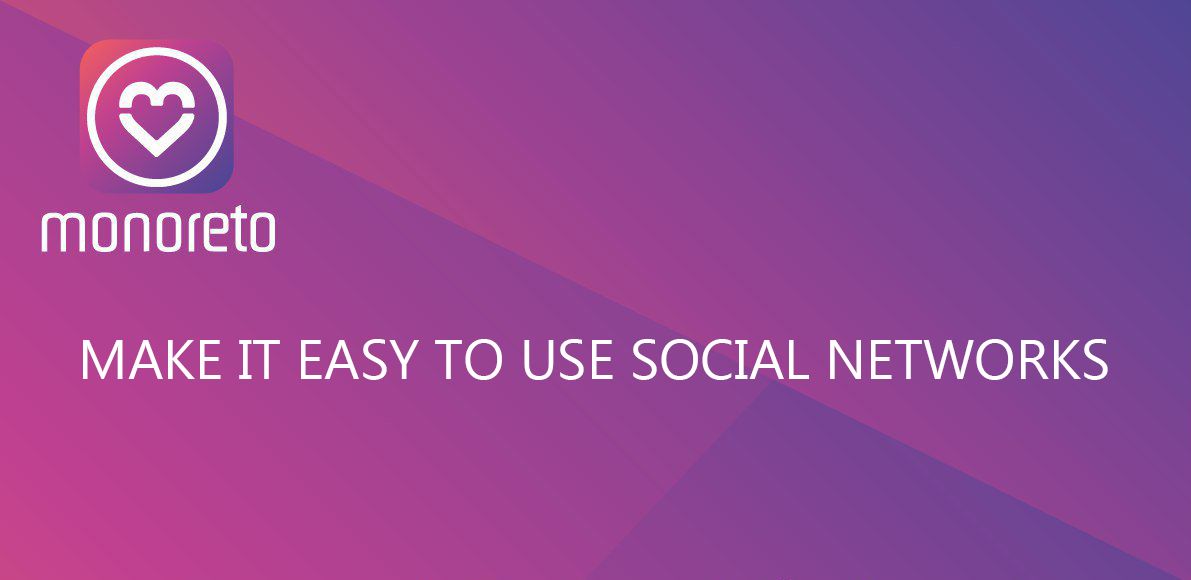 Data for January 2018 shows that 2.5 billion people on Earth use social networks every day and post a variety of content ranging from text and photographs to comments and likes.
Social network users can be sorted into three categories:
Professional bloggers, opinion makers, photographers (when creation of content is a source of professional income)
Regular users who post quality content but don't have the opportunity to monetize it
Regular users who do not create quality content (or any content at all) but make use of someone else's product (photographs, posts, comments)
Only a small percentage of users, those included in the first category, are able to monetize their publications by cooperating with brands and companies that promote their services. A significant number of social network users that create high quality and popular content don't have the opportunity to make money from it (the second category). What happens is that the content earns money for the companies that own the social networks as opposed to the creators themselves. This is how Facebook's market value has reached $350 billion to date and continues to grow first and foremost because of user content.
The overwhelming number of social media users is the audience (the third category). They usually do not create their own content but actively use social networks, ranking and commenting on content posted by others and also communicating with each other. This is the audience that creates the added value of a social network as a product.
MAIN PROBLEMS AND SOLUTIONS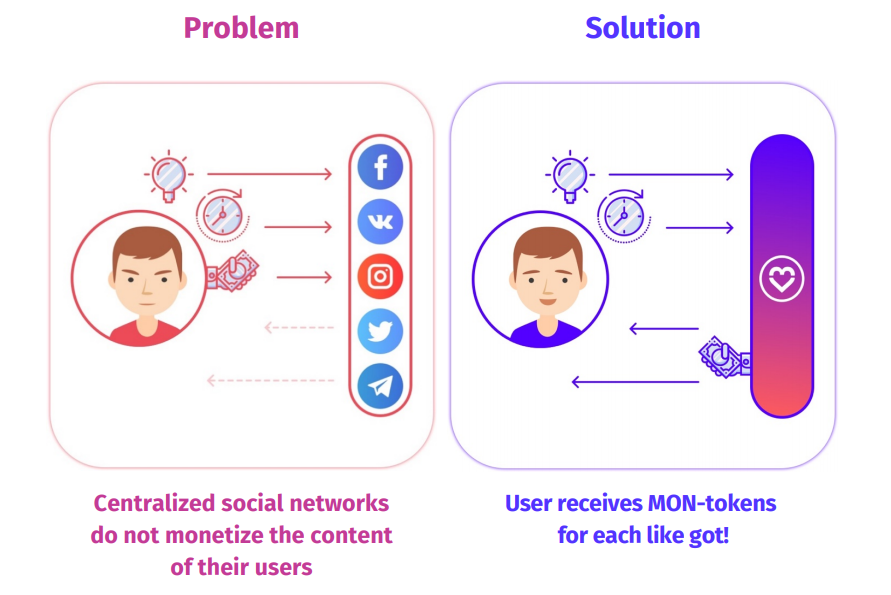 PROGRESSIVE SOLUTIONS
Manage your account and earn
Like and become popular
Raise funds
Participate in charity
Advertise your business in an effective way
To solve this problem, a team of specialists has developed the innovative Monoreto
Monoreto is a social network that :
Gives every user the opportunity to earn from posting photos and videos
Increases the significance and value of likes and improves the overall quality of content
Reduces the need for blogger ads as a monetization method
Makes fake likes and bots unprofitable
Project Ideology
Each of these user categories needs to have several important psychological and economic attributes:
Creative fulfillment
Compassion
Recognition of talent and professional skills
Earning income
Overview of Social Networking (Facebook and Instagram)
Statistics shows that the two most popular social networks in the world are Facebook and Instagram.



Data from the Social Media Marketing Industry Report 2018 indicates that Facebook and Instagram are the main social platforms used by businesses and demonstrated positive dynamics in 2017 compared to 2016.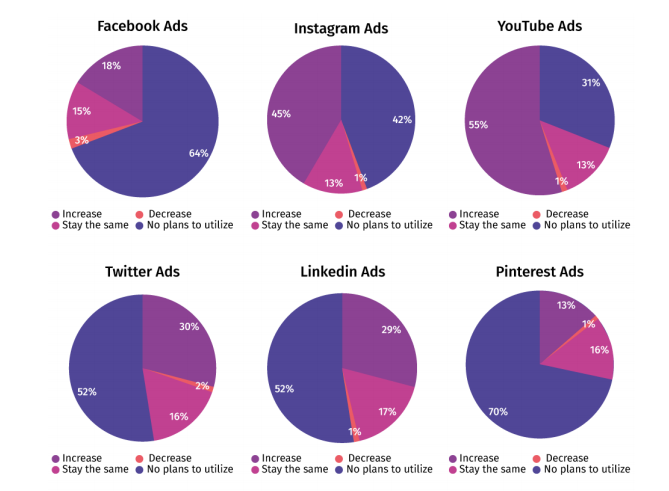 Monetization of Daily Use by Regular Users
Monoreto will make communication even easier and more convenient. Every Monoreto user will get modern social networking tools:
Improved timeline of posts with photos and videos
Comments on posts to keep in contact with followers
Stories function, which allows for creation of photos and 10-second videos with overlaid text, emojis, and handwritten notes
Unlike most other social networks, Monoreto will see winners among not only those who gain popularity but also among those who are sincerely ready to support authors of quality content.
MNR TOKEN
MNR is ERC20-compliant app token with limited emission. Each Like promotes your account in the news feed along with popular ones. Besides, you can pay by MNR for advertising on the platform. The possibility of convertation of MNR to internal tokens MON in equal proportions after the launch of the platform is under consideration.
Token Ticket
Pre-ICO start and finish dates 10 May 2018–10 June 2018
ICO start and finish dates 15 August 2018–30 September 2018
Token Supply No more than the hard cap
Distribution of Tokens and Collected Funds :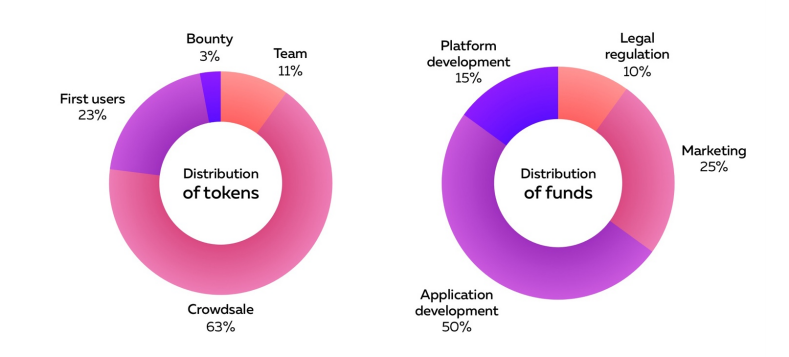 Token Distribution :
23% to initial platform users
11% remains the company's share
3% used for bounty prizes
63% to crowdsale participants
The smart contract mechanism allows indicated proportions to be maintained including in the case that less money is collected during the crowdsale than is planned.
Accordingly, there won't be an increase in the team's share if this happens.
Distribution of collected funds after the Token Sale:
50% for development of the Monoreto platform
25% for marketing and advertising applications
15% for future development of the Monoreto platform
10% in expenditure on legal regulations
Roadmap
2017
THE 2ND QUARTER
RESEARCH THE NEEDS OF SOCIAL MEDIA
Research needs of market
Research of platform launch on the international market
Creation of draft platform design
THE 3RD QUARTER
DEVELOPMENT OF THE PLATFORM MONORETO
Development of marketing innovation mechanism inside platform Monoreto
Resolving questions of technical realization of the platform and its scaling
THE 4TH QUARTER
ALPHA VERSION OF THE PLATFORM
Preparation to blockchain technology use in project
The beginning of work on Whitepaper
Engagement of consultants
Project introduction to potential users
Development of ITO campaign for raising funds
Overview of technological solutions of the platform and its positioning
Development of media plan and marketing research
2018
THE 1ST QUARTER
PREPARATION FOR THE TOKENSALE
Beginning of marketing campaigns on tokens sale
Organization of Monoreto's community
Presentation of project and integration into mass media
THE 2ND -3RD QUARTERS
DISTRIBUTION OF TOKENS
Presentation of functional core of platform
Start of fund raising to bring product to world market
Presentation of project to holders of tokens at international level
Completing distribution of tokens
Beta-version of product
THE 4TH QUARTER
INTERNAL PAYMENT SYSTEM
Monoreto Investment
Launching escrow system
Smart contracts within the platform
2019
THE 1ST -3RD QUARTERS
INTEGRATION AND EFFECTIVE PROMOTION
Unlock 20% of tokens for first users from platform development fund
Designing effective smart feed tools to promote users
Developing mobile application
Translation to additional languages
TEAM
Kirill Granev: CEO, CO-FOUNDER
Artem Vishenin: Co-founder
Mikhail Sochivets: CTO
Mikhail Bondarenko: Director of Marketing and PR
Valentin Nagovitsyn: Art Director
Konstantin Modestov: Software Architect
Dmitriy Torshin: Blockchain Developer
Andrey Vinnikov: Chief Developer
Alexandra Solodyankina: Core Developer
Anton Chervenko: Big Data Scientist
MORE DETAILS FOLLOW LINK BELLOW:
Website: http://monoreto.com/
Whitepaper: http://monoreto.com/resources/Monoreto_WP_ENG.pdf
Telegram: https://t.me/monoreto
Facebook: https://www.facebook.com/monoreto/
Twitter: https://twitter.com/MonoretoSocial
ABOUT ME
Profile : https://bitcointalk.org/index.php?action=profile;u=2318333
ETH : 0x285dc9690Dd5C7Df305F37f89bF978255Ba87fFc