MONOTERO: A NEW GENERATION SOCIAL NETWORK WITH MONETIZATION OF LIKES
(

)
Social networking is the use of internet-based social media programs to make connections with friends, family, classmates, customers and clients. Social networking can occur for social purposes, business purposes or both through sites such as Facebook, Twitter, LinkedIn, Instagram etc.
Monoreto is a mix of Instagram, SteemIT, Kickstarter, a charity platform and HQ Trivia. It's a social network with monetization of likes. When you tap "like" button you send at least 5 cents in Monoreto tokens. The Monoreto social network will offer fast and user-friendly attraction of funds for companies through the monetization of likes. Every Monoreto user can take the role of professional investor, selecting companies and projects and investing MON tokens for development of the business.
Monoreto helps bloggers free themselves from dependence on advertising since popularity is something that will also result from a large number of monetized likes. Monoreto also helps foster relations between bloggers and subscribers with less annoying advertising in posts and a more loyal audience.
Monoreto allows for distribution of advertising content in a natural environment on the social network and influences its popularity. Making it to the top on Monoreto are not only accounts that bring in the most likes but also the accounts of users that support interesting projects (top donators). In liking quality content of other users, the business account itself climbs upwards on Monoreto's smart feed and gives information to potential consumers through content. A businessowner thereby gets a real return on advertising investment and his money ends up going to his favorite photographer, blogger, actor, or even another business he decides to support instead of to some advertising intermediary.
Monoreto Investment is a process that will attract investment into technology start-ups and use MON, Monoreto's internal token. Monoreto Investment will allow users to invest in projects by liking them. Returns on investment will be delivered with help from contracts that lay out return of likes from the start-up's account to user accounts after a set period of time.
PARTNERS


![mono.PNG]
MONOTERO USE CASES
• Blog and earn
• Like and become popular
• Raise funds for your start-up
TOKEN DETAILS
Total Token supply – 125,000,000 MNR
Token Name – MNR
Pre-ICO Soft Cap – $250,000
Pre-ICO Hard Cap – $1,000,000
During the pre-ICO, distribution of 6% of tokens with a 50% discount from the ICO price excluding ICO discounts (2.5 cents) is planned.
If the pre-ICO soft cap isn't reached, all funds will be returned.
If the soft cap is reached, an ICO will be held and is scheduled to take place from 20 October 2018 to 31 December 2018.
ICO Soft Cap: $500,000
ICO Hard Cap: $5,000,000
57% of tokens are planned to be distributed during the ICO with discounts depending on when the tokens are purchased.
If the ICO soft cap is not reached, all funds collected during the ICO will be returned.
TOKEN DISTRIBUTIONS
First users – 23%
Bounty – 3%
Team – 11%
Crowdsale – 63%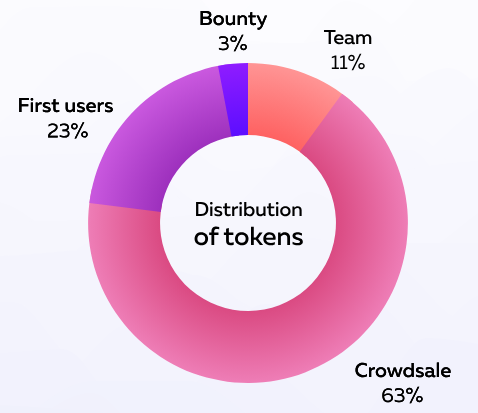 FUNDS ALLOCATION
Application development – 15%
Marketing – 55%
Platform development – 25%
Legal regulation – 10%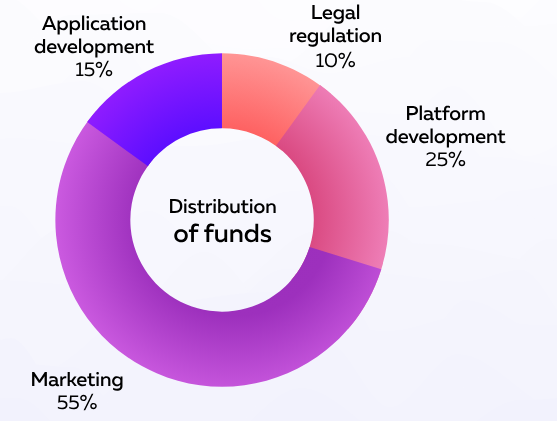 ROADMAP
2017 –
THE 2ND QUARTER: RESEARCH THE NEEDS OF SOCIAL MEDIA
• Research needs of market
• Research of platform launch on the international market
• Creation of draft platform design.
THE 3RD QUARTER: DEVELOPMENT OF THE PLATFORM MONORETO
• Development of marketing innovation mechanism inside platform Monoreto
• Resolving questions of technical realization of the platform and its scaling
THE 4TH QUARTER: ALPHA VERSION OF THE PLATFORM
• Preparation to blockchain technology use in project
• The beginning of work on whitepaper
• Engagement of consultants
• Project introduction to potential users
• Development of ITO campaign for raising funds
• Overview of technological solutions of the platform and its positioning
• Development of media plan and marketing research
2018 –
THE 1ST QUARTER: PREPARATION FOR THE TOKENSALE
• Beginning of marketing campaigns on tokens sale
• Organization of Monoreto's community
• Presentation of project and integration into mass media
THE 2ND – 4RD QUARTERS: DISTRIBUTION OF TOKENS
• Presentation of functional core of platform
• Start of fund raising to bring product to world market
• Presentation of project to holders of tokens at international level
• Completing distribution of tokens
• Beta-version of product
THE 3RD QUARTER: INTEGRATION AND EFFECTIVE PROMOTION
• Pre-ICO 2.0
• Mainnet
• Unlock 20% of tokens for first users from platform development fund
• Designing effective smart feed tools to promote users
• Developing mobile application
• Translation to additional languages
THE 3RD QUARTER: INTERNAL PAYMENT SYSTEM
• Monoreto Investment
• Launching escrow system
• Smart contracts within the platform
THE 4TH QUARTER: ICO
TEAM
Krill Granev – CEO, Co-Founder
Alexey Tikunov – First investor, co-founder
Artem Vishenin – Co-Founder
Alexandra Matveeva – COO
Mikhail Bondarenko – Director of Marketing and PR
Valentin Nagovitsyn – Art Director
Konstantin Modestov – Software Architect
Dmitriy Torshin – Blockchain Developer
Andrey Vinnikov – Chief Developer
Alexandra Solodyankina – Core Developer
Anton Chervenko – Big Data Scientist
Zakhar Burmakov – CBDO
Anton Kuklinskiy – SMM & Bounty manager
Anastasia Doronina – Junior Development Manager
Alexandr Tolstikov – Blockchain Developer
Alexandr Buldakov – Fullstack developer
Eugene Diakonov – Backend developer
ADVISORS
Suumit Shah
Kikolay Shkilev
Philip Nunn
Vladimir Nikitin
Anton Shilov
Svetlana Kadomtceva
For more details on this project, please feel free to click on any of the following links:
Website: https://monoreto.com
Whitepaper: https://monoreto.com/resources/Monoreto_WP_ENG.pdf
Telegram: https://t.me/monoreto_en
Facebook: https://www.facebook.com/monoreto/
Bitcointalk: https://bitcointalk.org/index.php?topic=4728973
Twitter: https://twitter.com/MonoretoSocial
Instagram: https://www.instagram.com/monoreto_app/
Medium: https://medium.com/@monoretoinc
Linkedin: https://www.linkedin.com/company/monoreto
Published by: tszone
Bitcointalk URL: https://bitcointalk.org/index.php?action=profile;u=1742409
Ethereum wallet address: 0x684c9d1c004AB2023E1d3ae9aEb902B514B703d1