Moozicore MZI
Moozicore MZI
Music Streaming Blockchain Service Tokens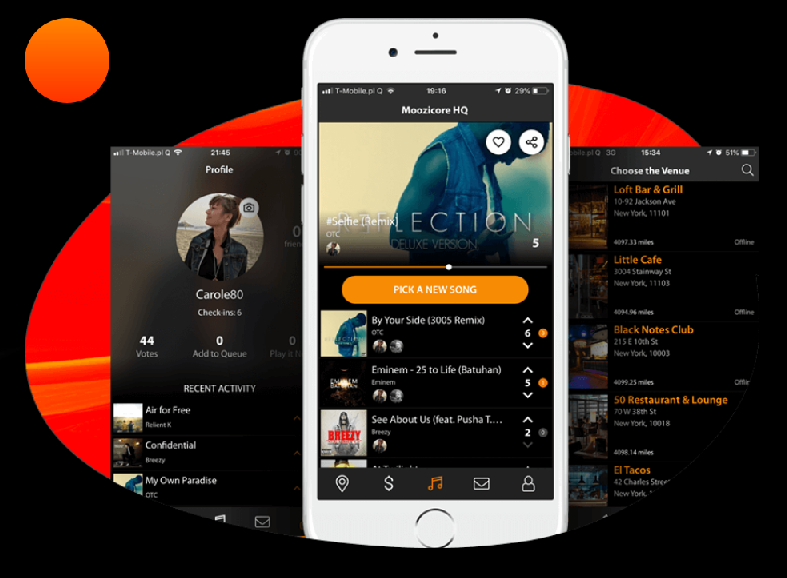 Moozicore  is a revolutionary background music service for businesses where music is very important for customers. Our service converts background music to interactive customers sourced from playlists. Unlike Spotify, Tidal or other non-commercial services, Moozicore will be fully licensed and legal for businesses of all types. Our solutions give business owners control over playlists and a better experience for their customers, with the opportunity to let them engage with music directly from their smartphone
With platform business owners, Moozicore gets access to the Moozicore Web Panel which allows to create their own vibrations from a licensed library of more than 20 million songs. You can also customize their music library by choosing from our genre-specific catalog, previously created playlists, making it yourself using special tools or importing their favorite playlists from Spotify or Apple Music.
Moozicore's goal  is to develop places such as bars, restaurants, fitness centers and other entertainment venues by creating a personal and social music experience for each customer.
What is unique about our service is that it allows customers to access dynamic user experiences to engage with public music, TV screens, social media, and promotions directly from their smartphones. Customers use the Moozicore mobile app to choose songs, vote on music that comes, interact with other bar viewers, share on social media and also review special bar offers. Mozicore believes that artists and songwriters deserve proper compensation for their efforts. For any business that uses our services, get a performance license from the US Rights Organization (ASCAP, BMI & SESAC) requested by Moozicore.
With Moozicore Mobile App patrons control music in places using Coins with:
VOTING

on music that will affect when played
CHOOSE SONG
from the library place it was pre-approved to be played next
ADD A SONG
to where the playlist is currently at the end of the queue
SHARING SONG
playing on social media with photos and Friends 'tagged'
Mobile users can buy Coins directly on the Moozicore application on their smartphones using MZI & MZG tokens or through Paypal, Apple Pay (iOS devices) and with any credit card majors. Coins will never expire and can be used at any location with Moozicore as a music source.
To create a more attractive experience for customers and improve restaurant marketing using the Moozicore App, a beacon solution for iOS & Android platforms provided by leading IoT technology system providers. Our services use beacons to target anyone who has an application around the participating locations. After that the song flare sent their push notification greetings by name, telling them that the place near them was supported by the Moozicore platform and finally their favorite songs were added to the queue.
New research from Technomic's Consumer Brand Metrics (CBM) revealed a strong relationship between restaurant vibrations and customer satisfaction.
A strong majority of 91% of diners eating restaurants say that atmospheric influences attract their decision to visit certain concepts.
For fast food restaurants, 84% of customers say it is important that the units they visit have a warm and comfortable atmosphere.
In all measured restaurant segments, Gen Z and Millennial consumers prioritize music
52% of the younger generation say that choosing the concept of music is an important factor in their decision to visit casual dining restaurants, compared to only 43% of older consumers.
98% of consumers who judge the atmosphere of the restaurant and the atmosphere of music are also considered very good in their overall visits (good or good).
75% of consumers show perceptions that are developed largely by the preferences of others.
Many tools and technology claim to be the best. But what
is the most interesting form of entertainment in a restaurant?
When asked what consumers want to see on a digital screen in a restaurant or bar, music wins again:
Studies show that music preferences as a form of entertainment in restaurants and bars are related to all genders and generations.
79% of women and 77% of men say Listening to music is important to them as a form of
entertainment
Other engagement tools prove polarization far more: 67% of men feel watching sports is entertaining, only 39% of women agree.
49% of all said that the ability to use their cellphones to influence the background of a music restaurant is very important.
39% of all said that the ability to use their telephone to connect with restaurant social media channels was very important
43% of all say the ability to use their phone to share photos of their restaurant experience is very important
The Moozicore business model is based on three sources of income
SaaS
For owners of monthly subscription fees, owners get access to a web panel that allows them to create playlists of millions of songs from the fully licensed Moozicore library giving the opportunity to let customers get involved with the music that makes up their smart phones.
Micro transactions
Customers place to pay with MooziCoins (MZI / MZG) to select upcoming songs, add songs to place playlists and request songs to play next.
Advertisement
Moozicore integrates background music services with TV screens in places to better
engage customers and also allows on-site advertising for brands
IMPLEMENTATION TOKEN USING ETHEREUM AND ERC-20
MZI and MZG will use the current industry standard – Ethereum blockchain – to issue custom digital assets and smart contracts. By adapting to the interface of the ERC-20 token, MZI will be compatible with Ethereum with existing infrastructure, such as wallets and exchanges. Virtual Ethereum (EVM) enables the deployment and implementation of smart contracts, allowing complicated publishing rules for cryptocurrency such as MZI and MZG. EVM removes all trust questions and protects transactions from those who oppose fraud. These advanced features and dynamic ecosystems make Ethereum strong for Moozicore tokens. The integration of the Moozicore application with the Ethereum wallet provides MZI and MZG shipping owners and customers completely safe and easy as long as the sender and recipient use the Ethereum wallet.
Market
Knowledgeable CHD 2017 Report shows that there are more than 700,700 arrangements in assignments in the US on purpose after the closing of votes is the key for buyers.
US Music Trade Revenue Like the RIAA, it seems that spilling the stages of music speaks only of two-thirds of the combination of the income of the US music industry in 2017 and drives most of the shows.
`Shedding classification includes income from membership administration, radiating additional radio administration, and supporting administration of on-request shedding.
US Paid Music Subscription Revenue, paid membership is the driving force for the best development for the music business in 2017. The development of financial benefits for six years out of the sixty-three sent adds to membership income of more than $ 4 billion, creating it by protracted recording the best configuration of music recordings in the US, along with forty-seven mixed markets.
TOKEN SALE DETAIL
MOOZICORE TOKEN SALE can occur
BETWEEN November, twenty-six, 2018 AND January twenty-eighth, 2019
MooziCoin Gold (MZG) is an approved ERC20 utility token offered for use in the Moozicore Service.
With persecution, MZG in the Moozicore application, a moveable application, turns the close sound in the scene into a playlist sourced from intuitive consumers.
Use of FUNDS
Porsi TOKENS
ROADMAP
4Q 2016
Moozicore's plan was made
2Q 2017
M "in the best startup logo in 2017
Moozicore the preSale token with a tiring stamp is coming!
2Q 2018
Final stage progress (HTML, iOS, Android)
The beta testing phase starts
Moozicore shipping website
4Q 2018
Public Sales of Moozicore Tokens
Administration allows completion
Moozicore shipments in Japan
Moozicore shipping in China
FOR MORE INFORMATION, VISIT THE UNDERLYLYING LINK:
by ; Kopisusu 4000
link: : https://bitcointalk.org/index.php?action=profile;u=1953415