Sometimes called information markets, idea futures, event derivatives, decision markets, or virtual stock markets, prediction markets are exchange-traded markets where individuals trade the outcome of a future event in the form of event contracts. These event contracts specify the different possible outcomes of a future event, the payment structure based on those outcomes, and the contract's expiration date.
MOS is a blockchain prediction platform that has been provided for players around the world to showcase their talent by making predictions for one or more events. By default, the interactive prediction event will be operated by MOS and the event host will be hired by MOS. On case to case basis, we will invite social media influencer/key opinion leader to participate as event host and earn MOS Coin as reward.
To encourage new sign up and prevent player from churn-out, MOS has a loyalty program in the form of MOS Point. MOS Point has the same function as MOS Token within the MOS prediction ecosystem i.e. participate in prediction event, create event, in-game purchase, etc, but it cannot be traded in crypto exchanges, convert to fiat and/or transferable to other party. MOS Point can be given for every new sign-up to encourage participation and occasionally given to inactive player so they can continue participate in the prediction game.
MOS also provide a special purpose MOS wallet for storage of the MOS Token, though user have the option to transfer the token to other ERC20 compatible wallet. To participate in the event prediction, MOS Token need to be stored in the MOS wallet while for selling/ trading in the crypto exchanges, the token can be stored in any ERC20 compatible wallet.
MOS Token Sale dashboard support token purchase in Bitcoin (BTC) and Ether (ETH). The platform is equipped with dynamic conversion formula where user input the BTC/ETH value and system automatically calculate the corresponding amount of MOS Token. The conversion rate is based on live feed of ETH and BTC price at the purchase time. Each registered user that wants to purchase MOS Token will be assigned with a unique address so our platform can keep track which user send the BTC/ETH amount. Once the Blockchain confirm the transaction, the MOS Token will be credited to the user account.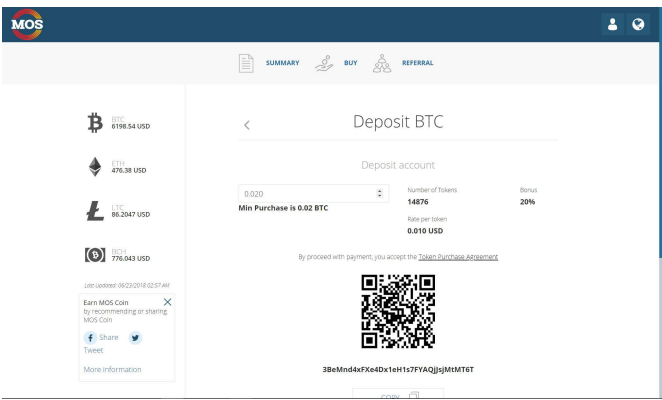 MOS APPLICATION & GAMES
Within MOS platform, we offer; MOS Prediction Game, MOS peer to Peer Prediction Application, MOS Live Prediction.
MOS PLATFORM ACHITECTURE
• Event & Games
• Oracle & Data Feed
• Blockchain Interface
• MOS Smart Contract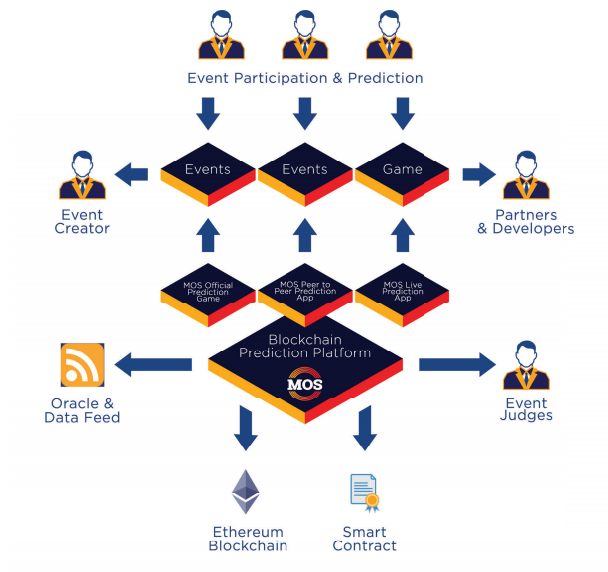 MOS REVENUE MODEL
MOSCOIN Revenue model includes;
• Event/Game participation,
• Event Creation,
• In-game Purchase,
• Event Hosting,
• Third-party Revenue Share.
TOKEN DETAILS
Token Name: MOS COIN
Token Symbol: MOS
Token Standard: ERC20
Jurisdiction of Issurance: Seychelles
Hard Cap: $30,000,000
Number of tokens issued: 10,000,000,000
Accepted Currency: ETH, BTC
Price Per Token: 0.01$
Private Sales Minimum Contribution: 10,000$
Pre-ICO & ICO Minimum Contribution: 100$
Burn Unsold Tokens: Yes
Legal Qualification: Utility Token, Not a Security
Freeze Tokens: For Management & Advisers (6 Months) For Reserved (1 Year)
Accepted Nationality: Every Nationality, except: United States, South Korea, Democratic People's Republic of Korea (DPRK) and Iran.
TOKEN DISTRIBUTION
30% – Crowd Sales
20% – Team
5% – Adviser
30% – Reserved
5% – Bounty & Airdrop
10% – Reward

PROCEED UTILIZATION
15% – Research & Development
20% – Salary
25% – Player Acquisitions
25% – Marketing
5% – Others
5% – Legal
5% – IT Infrastructure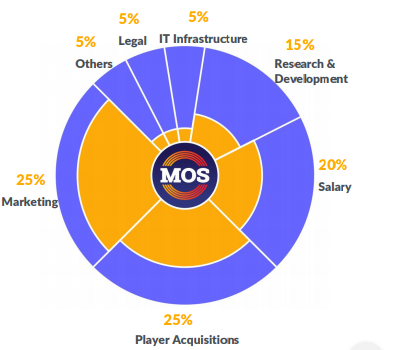 ROADMAP
MOS Conceptualization – November 2017
Company & Team Formation – December 2017
Completed MOS Platform (Minimum Viable Product) – January 2018
MOS COIN Private Sale Starts – February 2018
MOS COIN Pre ICO Starts – April 2018
Launch MOS Stock Prediction Game – May 2018
Launch MOS Soccer Prediction Game – June 2018
MOS COIN ICO Starts – August 2018
launch MOS Peer to Peer Prediction Platform – September 2018
MOS COIN Listed in major exchanges – November 2018
Launch iOS Version of MOS live Prediction Application – December 2018
Launch MOS Cryptocurrency Prediction game – February 2019
Launch Android Version of MOS Live prediction Application – March 2019
TEAM
CEO – Alexander Mittler
Head of Technology – Hans Roessler
Director of Business Development – Charlie Faulkner
Marketing Advisor – Andrey Kulikovskiy
Marketing Advisor – Simon Wajcenberg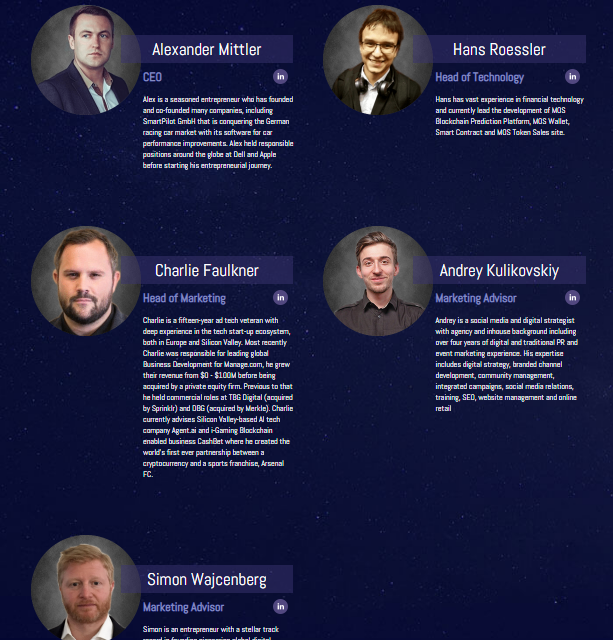 For more details on this project, please feel free to click on any of the following links:
Website: https://www.moscoin.io
Whitepaper: https://www.moscoin.io/doc/whitepaper-en.pdf
Facebook: https://www.facebook.com/moslottery
Twitter: https://twitter.com/moslottery
Instagram: https://www.instagram.com/moscoingroup/
Telegram: https://t.me/moscoin
Bitcointalk: https://bitcointalk.org/index.php?topic=2892791.0
Published by: tszone
Bitcointalk URL: https://bitcointalk.org/index.php?action=profile;u=1742409
Ethereum wallet address: 0x684c9d1c004AB2023E1d3ae9aEb902B514B703d1