MOSSLAND – OWN YOUR LANDMARK!
PRESENTATION
Mossland is a platform that focuses on providing and developing games that allow users to be able to identify and trade a place and benefit from it. Mossland is developed using Blockchain technology and Augmented Reality technology, which will provide a better and safer playing experience.
Benefits
Mossland is a location based AP mobile game based on real estate. Users can identify real estate in the area, buy and sell them in the game. Virtual objects in the game can be exchanged and liquefied through the exchange crypto currency, so that users can put time and effort to increase the value of the property. Dependence on location services (lbs) became popular as the GPS capability was available due to the personal use of smartphones. Based on such availability of GPS, users will compete to take virtual property buildings and shops in the immediate vicinity, aka check-in games. However, as technology giants such as Google and Facebook also added, registration services, simple social exchange services and checking others have lost their competitiveness. At the same time, due to a significant improvement in mobile device performance, AP services that manipulate real-time video with virtual objects have shown great potential. By adding augmented reality technology, which is the manipulation of virtual objects from the real world, based on location of services, this will create a completely new experience of mobile services. Mossland adds in-depth gaming for traditional registration in games, such as Foursquare. By installing AR objects by properties, this will enhance the users' gaming experience and motivate users to decorate and brag about their properties in addition to the basic gameplay of acquiring, protecting and taking responsibility for them.
Features
The main features of the game include, LBS- Location Based Services, to enable users to take the virtual ownerships of the buildings and stores in their surroundings, AR technology to manipulate the real world with virtual objects, and to enhance the user's gaming experience giving them complete control of the game.
Another important functionality in the game is the Mossland Check-in. Every time a user checks into any property that is in their surrounding they earn rewards in the form of Gold coins. They are incentivised to create anticipation and increase the number of check in.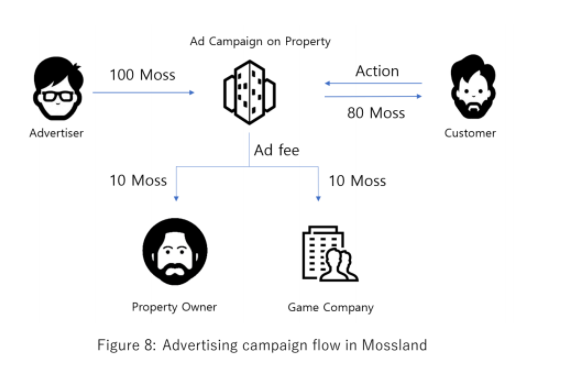 There are also other virtual items such as Property, Accessory where AR technology is weaved into the real life properties to give it additional value. They have built touchable functions with these accessories for additional visual effects.
Getting Started
Mossland is developed using reliable and professional resources and teams, which sees a good opportunity in Blockchain technology, and implements it in a game form. Mossland allows users to play virtual property, which can be customized according to user interest. Mossland is supported by AR technology, where users can install multiple AR accessories, which will attract other users. Mossland will use a landmark image that is very fascinating for users. In the marketplace that has been provided, users can directly trade their properties and accessories, which later this trade will benefit the user. Every transaction made on the Mossland Platform, going through a token named Moss, is developed to become a means of payment in Mossland, and users can trade this token on the exchange. Mossland creates an advertisement for users, where users can create and run advertising programs through user dashboards. Mossland will use an AR-based location system, which will run through the user's GPS. This feature will be the location determiner for ads and other gaming systems. Mossland focuses on the development and provision of games that can give users a good and profitable game.
Reasons for Blockchain
Blockchain can serve as an openly distributed ledger that can record transactions between two parties efficiently and in a manner that can be verified and permanent. To be used as a distributed ledger, blockchain is usually managed by peer-to-peer networks that collectively follow protocols to validate new blocks. Once recorded, the data in a particular block retroactively without the change of all subsequent blocks, requiring the collusion of the majority of the network. The blockchain is inherently resistant to the modification of the data involved. The blockchain is a growing list of records, called blocks, connected and secured using cryptography. Each block usually contains a hash pointer as a link to the previous block, timestamp, and transaction data. Blockchain technology enables the reduction of the fraud rate thus enabling a large number of potentials. Using blockchain for transactions and transparencies, creating transparent and fair markets open, democratize value distribution and narrow down relationships between advertisers, network providers, and customers.
ICO Details
Token: MOC
Platform: Ethereum
TypeERC-20
Tokens for sale: 250,000,000
With this opportunity, We invite you to enlarge this Platform, to reach the Broader Society. We will release the Token under the name "MOSS Token", here is the data.
Conclusion
Mossland trusts that with a strong and solid group and framework, Mossland can give clients, a safe and transparent game system, and give clients different focal points and ease in every game activity they do. Group Mossland likewise trusts that with deliberate and proficient advancement, Team Mossland can build a better platform than similar platforms.
ROADMAP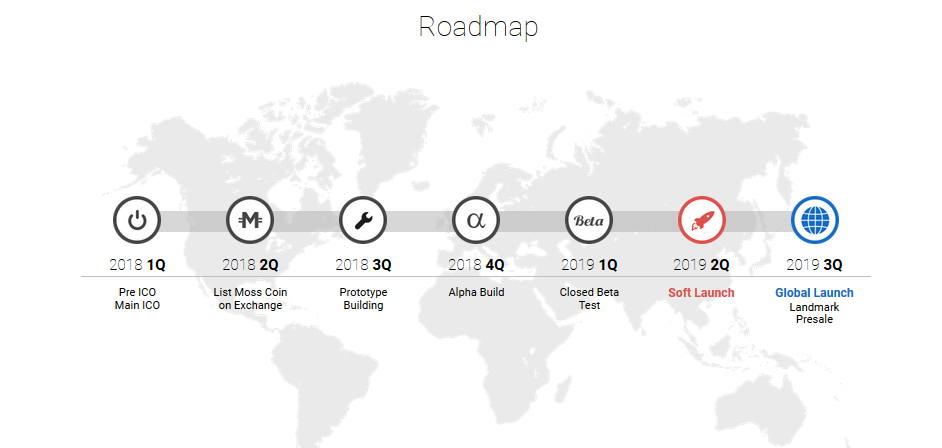 TEAM
Be a part of this incredible project. Download the whitepaper for the full scoop.
Till next time…
For more information, please visit:
WEBSITE: https://www.moss.land
WHITEPAPER: https://d2vy65gufabiok.cloudfront.net/whitepaper/Mossland+Whitepaper+-+ENG.pdf
TELEGRAM: https://t.me/mossland_eng
TWITTER: https://twitter.com/TheMossland
FACEBOOK: https://www.facebook.com/Mossland-1654411001264423/
BOUNTY: bountyhive.io/join/Mossland
Author: TheMichaelMatch
My BitcoinTalk Profile: https://bitcointalk.org/index.php?action=profile;u=1326035
Disclaimer: This article was published in terms of the bounty campaign. I am not a project team member or its representative but a supporter of this incredible project.