MoviesChain
 transformasi dalam distribusi film independen,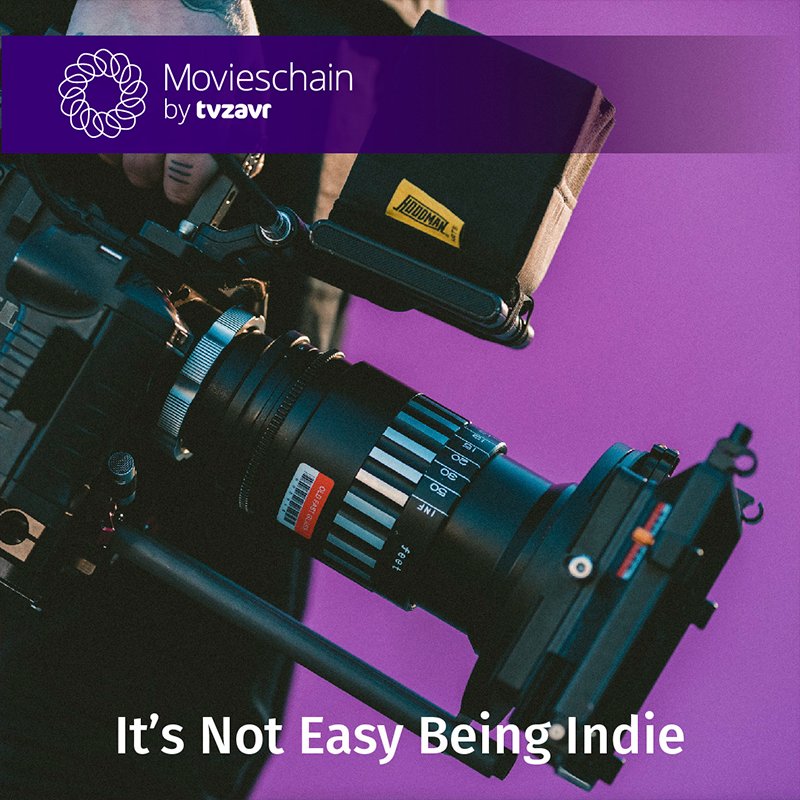 What is MoviesChain?
MoviesChain by TVzavr is the world's first blockchain, secure, and anti-collapse platform that directly unites independent movie and cinema viewers.
A revolution in the distribution of independent films, FilmChain by TVzavr decentralizes and disperses the global independent film distribution industry, providing unparalleled efficiency, transparency and global scalability.Facebook Twitter Telegram Instagram Reddit BitcoinTalk
MOVIESCHAIN ​​by TVzavr Solutions
MoviesChain by TVzavr's blockchain-based platform and platform solves many of the challenges faced by independent film industry (with an annual distribution market of $ 20 billion):
Independent film producers compete for revenue:
About 50% of the income goes to the intermediary distributor
Financing is scarce
Losses due to copyright infringement and piracy
Viewers lack acces to choices of content:
The market is dominated by Netflix, Amazon, Hulu and others
No access to original content outside of the main streaming conglomerate
Adverstising Losses:
Advertisers are not sure what content they actually pay
The market is affected by fake websites and bots that commit fraud
Targeting poor market demographics, limiting ad viewers
Rapid growth for the online film industry
Currently, the global box office growth rate is gradually slowing down. The Motion Picture Association of America (MPAA) revealed that over the past five years, the global box office revenue volume grew at an average rate of only 1.5% per year, with 60-70% coming from international distribution.
The decline in film revenue can be explained by several factors, such as increased economic problems in certain areas, informatization of the community through wider Internet use, mobile device sales growth, and global spread of Internet piracy, as well as changes in media consumption habits due to shifting generations in developed countries and growing.
According to IHS Markit, about 164,000 cinemas are screened in the world, up 8% from 2015. Over 90% of these theaters are digital. Leader in terms of growth in the number of theatrical screens in the Asia-Pacific region, which has increased by 18% since 2015.
As the audience declines in traditional cinema, the Bureau of Economic Analysis shows that the online video entertainment industry is one of the leaders of economic growth.
PricewaterhouseCoopers (PwC) estimates that, by 2018, the global revenue of the filming market will exceed $ 110 billion. The Motion Picture Association of America (MPAA) reports that six major film studios (Warner Bros., Disney, Universal, 20th Century Fox, Sony / Columbia and Paramount Pictures) accounted for 80% of the total revenue of the US film industry. In contrast, the market share of the US film industry held by independent filmmakers in 2016 is 20%.
This provides confidence that the market share of independent film producers will continue to grow. FilmChain by TVzavr will trigger positive feedback that will lead to increased production and greater market share. Our platform will further facilitate the exponential growth of client base, thus confirming the observed secular trends in the rapid proliferation of new technologies, platforms and applications .
ZVR TOKEN
The ZVR Token is the only blockchain-based cryptourrier designed to provide exclusive access to movies produced by independent film producers. The ZVR Token is further designed to address inefficiencies in the independent film distribution industry by serving as a medium of exchange on the MoviesChain platform by TVzavr. The ZVR Token will allow rental or purchase of video content on the MoviesChain platform by TVzavr, allowing everyone access quality content. In essence, MoviesChain by TVzavr applying embedded, unchangeable, transparent accounting practices, and attractive pricing, will restore confidence and confidence to original content creators, thus ensuring freedom of artistic expression. In addition, to improve the customer experience and gain audience interest, the platform includes bonus rewards for ZVR token holders, allocating 10% of all revenue (including revenues in fiat and cryptocurrency) from platform to bonus pool.
About MoviesChain by TVZAVR
Founded in 2009, we are a leading Russian video-on-demand company.
In 2010, we received $ 15 million in venture capital funding to form a strong team of 70 specialists.
By 2017, we have 30 million users who watch videos on our platform every month.
In 2017, we earned $ 10 million in revenue.
FilmChain by TVzavr is supported by our unique content delivery network system and Akamai network on 50 servers worldwide.
Film Composed by TVzavr entertainment content cryptographically protected by our own unique data rights management system, which has AES-128 standard at its core.
Since 2010, our content is available worldwide on Smart TV, Smartphones, and set-top-boxes.
Our advertising clients are the world's largest companies including those on the Fortune 500 list.
The product is ready! Our frontend system has been in service since 2010, and our backend system will be ready by the time we close our Token Sales. Funds from Token Sale will be used for marketing and purchasing video content.
How has it been so? because MoviesChain by TVzavr is a blockchain based platform.
For those of you who are still curious or who want to join invest with MoviesChain please click the link linked below:
Link:https://bitcointalk.org/index.php?action=profile;u=1929500