MOZO TOKEN

About MOZO
Retail business is currently greatly reduced in the sales field. this is influenced by many factors associated in it so that the chain of sales in the retail business, especially those moving with the physical store sales is very affected by the impact of the movement of ecommerce business. mozo project is a project that runs in the retail business covering an ecommerce area where mozo project offers solutions for retailers to easily locate and market their products at physical stores or online promotions, online promotion offered by mojo project is very simple but has an impact which is very large for retail entrepreneurs where in the promotion of mojo projects retail entrepreneurs can easily promote their products or stores to prospective buyers by giving some tokens or tokens to buyers or visitors, this idea does sound very alien and impossible but with a promotion like this the retai business actor will easily attract customers who are visiting the shopping area or in the area where the promotion is done.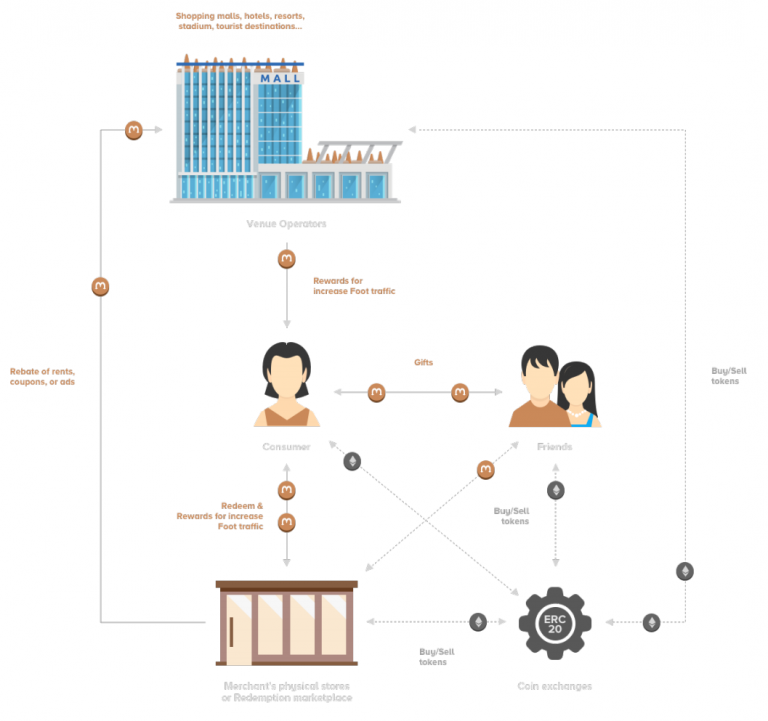 We have seen some promotional techniques in the business world today are outdated, we need the latest way or the latest techniques in attracting buyers. things like this are very rarely noticed by everyone, especially by the sellers. leave the old ways that have no potential in attracting customers and buyers. then why MOZO is connected with blockchain? this is done so that mozo can be directly in contact with the buyers. by giving a Mozo token based on a promotion or providing a shopping voucher in the form of a mozo token will be instantly effective in product sales. the use of an interconnected mozo token in a business or shopping area will be able to attract buyers to visit in various shopping areas because the mozo token interconnections will spoil the buyers within the area. on several occasions mozo project has been working with several shopping centers in some countries to mozo tokens can be directly applied to the shopping center in the future.
Mozo Blueprint

blueprint scheme describes the application of Mozo software and blockchain with field tests at both the shopping malls and individual retail stores
Blockchain: Solo & Ethereum
Initially, Project Mozo will use the Ethereum blockchain network to support our transactions, and then switch to Solo when it becomes available. Our proprietary technology Solo is a new DAG type blockchain network that is designed to support peer-to-peer micropayment transactions (Retail, IoT, Microlending, Cybersecurity etc.). In the Solo blockchain network, each transaction initiated by a sending user is approved by the destination user and only the destination user itself, hence the name Solo.
Mozo – Token of Discovery
Consumers can earn, buy, and redeem Mozo tokens by: walking into a physical store; "zapping" to discover product details; or purchasing products at the store.
the use of dynamic Mozo tokens will make it easier for users to get discounted prices, promotional prices or get free mozo tokens, users can also easily purchase Mozo tokens via exchange sites or exchange with ETH on the Mozo platform this is can be done so that every user of Mozo token or Mozo platform can enjoy the convenience of shopping and enjoy any kind of promotion inside.
Conclusion
To attract customers today requires a revolutionary way, today's retail trade competition is so frustrating the sellers, the use of ecommerce applications adds to the complexity of the retail business world. this is one of the elements that make shopping malls or shops empty of visitors. the Mozo project is very revolutionary in aiming at the trading ecosystem that will benefit both sides between buyers and sellers. a form of promotion for retail business actors will make an interest in direct sales rising rapidly compared to recent times. control of blockchain will immediately be perceived easy transactions by the users. The Mojo project is phenomenal to provide a definite step for retail entrepreneurs worldwide, with this business method token Mozo will provide a good overall ecosystem for various parties inside.
My bitcointalk profil link : https://bitcointalk.org/index.php?action=profile;u=1531574