MPCX- DIGITAL WEALTH MANAGEMENT PLATFORM
Digitization of Wealth Management is happening at different speeds in the three regions, U.S., Europe, and Asia. In developed markets, there is pressure to change business practices because of low cost competitors and in the underserved emerging markets, new business practices are being implemented with few legacy constraints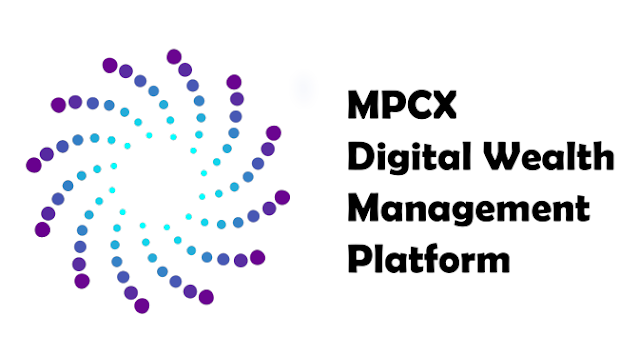 The successful key to Digital Wealth Management will belong to the platforms that integrate customer needs by providing relevant, customized, and compliant insights and tools. Digital Wealth Management is in a nascent phase, compared to innovations in Payments and Consumer Banking. However the same forces that drove these innovations – 24/7 digital delivery, compliance, contextual relevance and transparency on fees – are now also driving changes in Digital Wealth Management, MPCX will create a blockchain driven decentralized ecosystem to manage innovative investors' portfolios of crypto assets. Based on the current market situation with a huge demand for the services and very limited financial management solutions we decided to create the MPCX Platform.
MPCX is a digital blockchain driven financial services platform. Our long term aim is to aggregate all crypto financial services into one place. MPCX is designed to service entities' and individual's needs in the areas of digital wealth management, cryptocurrency exchange and trading, digital banking, crypto research and ICO promotion, and crypto lending.
The MPCX platform will be developed in three stages:
1. Jan 2017 – Dec 2018 – digital wealth management platform
2. December 2018 – Nov 2019 – exchange of cryptocurrency
3. December 2019 – July 2020 – Digital banking and managed wealth management platform
The platform will bring all the following crypto services into one place:
1. The MPCX Trading Solutions will provide full access to product platforms and crypto exchange, arbitration systems, trading terminals, and reporting.
2. The Digital Wealth Management Platform will offer the Digital Intelligent Digital Investment Mandate undermine, automatic portfolio balancing, crypto lending strategy, and reporting.
 3. Fully onboarding digital clients to reduce costs and provide clients with friendly service.
4. The digital currency of cryptocurrency in aggregate liquidity in TOP 100 currency is based on market capitalization.
5. Crypto payments, transactions, and banking solutions.
6. Custody and wallet solutions to provide secure security from client funds.
7. Three investmentable crypto indexes, AI crypto funds, ETN crypto, ICO.
8. The ICO MPCX promotional and research platform will offer two-tier access to ICO with full industry coverage.
9. The MPCX crypto lending platform will include borrowers scoring and matching loans with potential lenders.
XDMC TOKEN SALE SHAPE
Token: XDMC
supply type: Fixed
Type: Utility Token
Total supply: 999,999,416
Pre ICO price: 1 ETH = 31000 XDMC
Min investment 0.1 ETH
Roadmap
We have ambitious plans to disrupt and change the financial industry and we intend to realise them in three stages.
First Stage: Digital Wealth Management (DWM) Platform
1Q — 2017: Research and Idea validation
4Q — 2017: First Infrastructure solution with crypto assets
Dec — 2017: Began ICO preparation process
May — 2018: Pre ICO Hard Cap 1 000 ETH
Jul — 2018: First ICO Round Pre ICO : Hard Cap 12 500 ETH and MVP release before the end of Q2
Dec — 2018: Digital Smart Investment Mandate, 3 Crypto investable indices, AI Crypto Fund, Crypto ETNs, Custody and Wallets, ICOs
FOR MORE INFORMATION CLICK ON LINKS BELOW:
My bitconintalk address: https://bitcointalk.org/index.php?action=profile;u=1141276