The buzz around the world presently is all about the revolutionary blockchain technology and cryptocurrencies. Since their inception they have done more good to the society than bad. Different sectors are constantly taking advantage of the multi-solution these technology offers and some and still thinking about ways to adopt it in their system. Looking at the rate at which different cryptocurrencies which are born with different ideas are constantly being introduced to the worlds system, you would agree with me that cryptocurrency is slowing and gradually becoming a part of our life. But like we all know, every good thing comes with some challenges and cryptocurrencies hasn't been left out obviously. Today so many people are finding it difficult to understand cryptocurrencies due to the technicalities and difficulties that comes with interacting (trading and exchanging) it. The Elimination of the frustrating and discouraging technicalities is what motivated the conceptualization of this astounding MST AI trading platform.

The MST AI Trading platform is a professional trading application which features real-time quote screens, charting, portfolio tracking, auto-trading, scripting, expert advisors, stock scanning, alerts and so many other advanced features. What this platform have in stock for its users is unbeatable, this will clearly make crypto trading easy as taking ice cream from a little baby. This project has the backing of team of professional and experienced individuals in the financial software industry from USA, THAILAND & INDIA.
PLATFORM FEATURES
Your success is directly proportional to the platform's success
Zero Trading Fee
100% Reserve
Confirmations
Fully, Friendly and Tradable
Offline Musting Wallet
HOLDERS BENEFITS
A Unique Membership Card that gives you access to all the exclusive offers available on the MST Ecosystem.
Get Reliable feeds and Data Ticks at real time, you will also enjoy a 0% Bitcoin trading fee exchange.
Exclusive Discount of 50% for commission fee paid to MST trading application.
MST TOKEN AND ICO DETAILS
The MST coin is designed to give its holders exclusive access to all the services the MST platform offers.
Token Name: MSTCOIN
Token Ticker: MST
Protocol: Etherreum ERC20
Total Token Supply : 500,000,000 MSTCOIN
Total Tokens for Sale: 300,000,000 MSTCOIN
Min. Purchase Allowed: 0.1 ETH
Token Price: 1 MSTCOIN = 0.000079 ETH / 1.1616 THB (Thai Bath) / 0.036300 USD ($)
Pre-Sale (Soft Cap): $3.81m USD (105,000,000 MSTCOIN)
Hard Cap: $14.34m USD
KYC : Thai Baht require prior KYC clearance.
Accepts Fund: BTC,ETH,LTC,THB
REGISTRATION INFOGRAPHY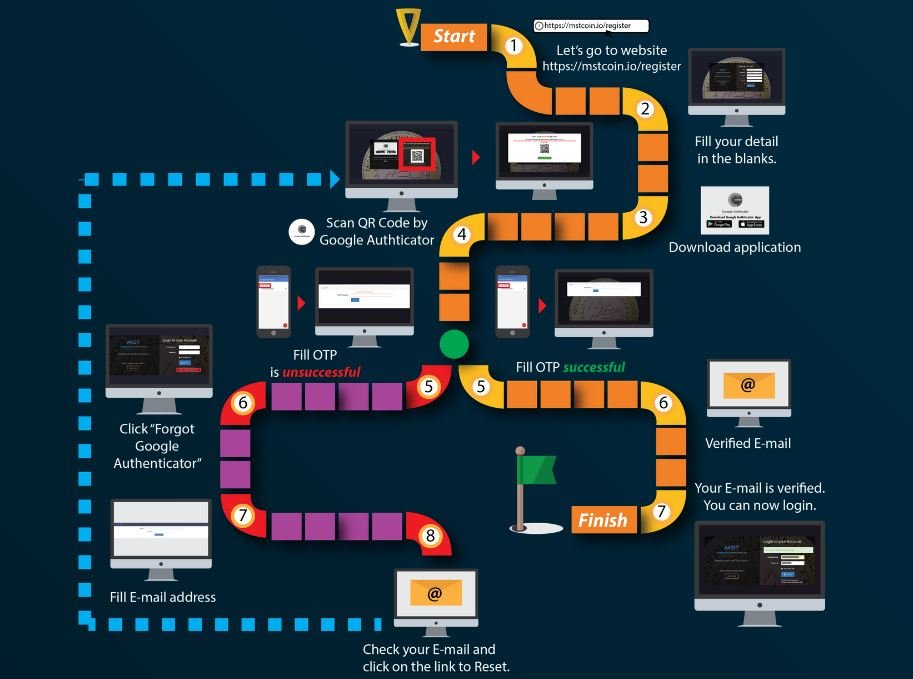 A REFERRAL PROGRAM WITH A DIFFERENCE

MY CONCLUSION
This platform is one that is introduced with a difference, it is clearly going to make a disruptive and emphatic entrance into the crypto community. The technical trading procedures will clearly be simplified by this astounding AI Trading platform being introduced by the MST team. Please you find this project promising and feel the need to know more about it, partners and advisors, connect with team and other participants around the world. Please don't click on any of the links below;
🌐 Website: https://mstcoin.io/
📃 Whitepaper: https://mstcoin.io/assets/doc/MSTCOIN_WHITEPAPER-20180424.pdf
💻 Telegram: https://t.me/MSTCOINCLIENTS
✍️ Authored By: Gabinsight
🗣 Bitcointalk URL: https://bitcointalk.org/index.php?action=profile;u=1742297
Please Follow me for fresh updates about latest and promising project/ICO's, I will always follow back. Thank You.