MUZIKA
MUZIKA – Transforming the Music World through Blockchain.
About Muzika.

Muzika revolutionized the music industry by establishing an independent and true digital music ecosystem that would eliminate unnecessary intermediaries, empower musicians and consumers, decentralize distribution power, and restore the balance of economic distribution among market participants. Muzika holds the promise of the future where compensation for music creation is comparable to the effort and dedication put into the creative process.
Music is first digitized in MP3 form, the audio file format is usually compressed to only 3 to 4 megabytes per song on average. This innovation was provided by all other previous media from music, such as CDs and cassettes, obsolete and changing industries through enabling digital distribution. This has positive and negative effects for musicians. On the one hand, they are now able to release and distribute new music around the world at will. On the other hand, pervasive copyright piracy leads to a consequent decline in music sales, and exorbitant commission distributors, combined to reduce musicians' personal gain.
Napster, a file sharing peer-to-peer (P2P) service engineered by Shawn Fanning and Sean Parker, led this revolutionary transformation. For the first time people can share digital audio files online, and services are fast gaining popularity among American students. At its peak in 2001 around 80 million registered users.
Muzika will bring innovation to the value chain in the digital music industry.
We will reform how values ​​are created and captured by various players in the industry. We will restore appreciation to those who create value, from those who only transfer value, while restoring lost parts of digital piracy through blockchain technology.
What makes us different?
The previous music blockchain project has ignored the importance of a large user base to achieve wide-scale adoption. These projects have shown that it is possible to give artists a higher level of commission for their work using Smart Contract transactions. However, for artists, the low commission rates offered from traditional music streaming applications that have a large user base are more attractive than blockchain applications using Smart Contract transactions. For example, a 10% commission of $ 1,000 from iTunes is preferable to a 90% commission of $ 1 from a Smart Contract transaction.

THE CHALLENGE

Musicians and fans are the real value creators in today's music industry,
but they are not properly rewarded for their value creation.
Musicians are starving. Everyone listens to music, more people pay for music, but artists are still not making money.
Fans (that's us) are still pigeonholed as consumers, though we are the ones who actually make super-stars! We devote our time and effort to vote, make cover songs, go viral, and even write fictions for our favorite artists, but no one rewards our effort and devotion.
Intermediaries (distributors and platforms) are making excessive profit for one time and unsophisticated tasks of 'transferring' the ready-made values.
MUZIKA WILL BRING INNOVATION TO THE VALUE CHAIN IN DIGITAL MUSIC INDUSTRY

We will reform how value is created and captured by various players within the industry. We will return rewards to those who create the value, from those who merely transfer the value, while recovering the share lost from digital piracy through blockchain technology.
WE ARE NOT STARTING FROM SCRATCH

MAPIACOMPANY, Global No. 1 Instrumental Music Platform

3+ Years of experience
150+ User nations
2,000,000+ Users
17,000+ Artists
Muzika is built on 2 million active users
Unlike hundreds of ICOs without proof of practicality, Muzika is not starting from scratch. The token economy is strongly built on the backs of our existing, profit-generating, and privately & publicly funded business with 2,000,000 active users & subscribers from 150+ nations and artists from 30+ nations.
Through years of experience, we have learned the precise ways to build a community run by loyal and incentivized individuals: a key to success of any community-based blockchain projects.
Ecosistem
How will Muzika revolutionize the music industry?

Muzika builds an ecosystem led by artists and their fans, rewarded for their dedication and dedication to music creation and consumption.
To the fans:

Fans will be rewarded for their various community activities (sharing, for example) with loyalty points, which will be converted into MZK coins. Fans can use MZK coins to fund their favorite artists, assist them and receive exclusive benefits in return, such as the ability to enjoy exclusive products, services and referrals. experience the daily lives of their favorite artists and participate in the process of creating a musical product.
For the artists:

Unlike social media platforms such as Facebook, the Muzika user base will not only be active in community activities (such as commenting or sharing), it will also have the opportunity to sponsor artists who want it. love. their taste.
The Muzika ecosystem will also include production support to create music albums that allow you to create music without having to sign with a label. The important user base and integration with popular platforms such as Mapia will help to consume more important artist content and will be rewarded for their creativity.
In addition, the Muzika platform will offer community programs and events such as competitions, competitions, and ongoing events that will help new artists to establish themselves and name them.
Why blockchain:

Intelligent contract for a transparent and fair distribution : a smart contract will allow the automatic and immediate transfer of the token. Do not wait until the end of the month to receive loyalty points or do not wonder if the transfer of the token is distributed fairly and accurately.

Content ownership : With the use of the blockchain, all content information (such as the owner) will be stored securely in the database, which will allow interested parties to check whether the undisputed record is the legal owner of any content, property.

Benefits of Muzika

The Muzika ecosystem can exploit the current audience of two million active users in 150 countries. These users exchanged their musical ideas, shared their performances, composed original works and traded a wide variety of digital music.

The founders have talent and experience in the music industry through their previous adventure, Mapia Company.

The company is supported by the executives of Naver, Kakao and Samsung; Even the famous angel investor Michael Cho is their mentor

They have successfully collected private capital from well-known Asian venture capital companies, including Neo Global Capital, Everest Ventures Group and T3 Ventures (since December 8)
Total supply: 1 billion MZK

Token Information Muzika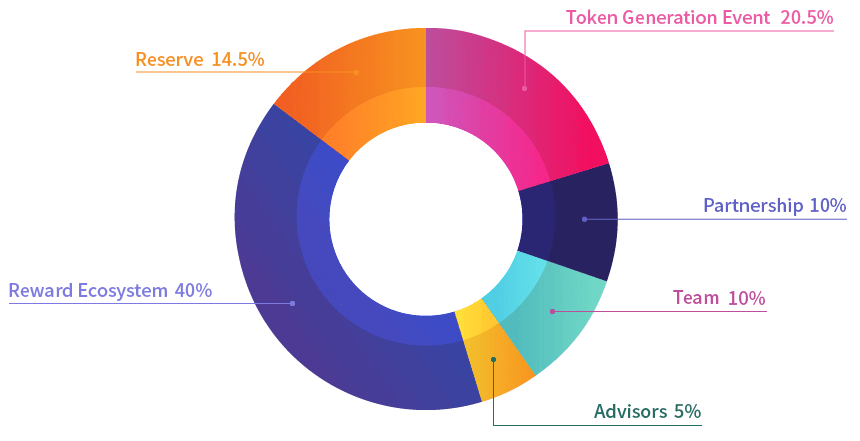 You can test how in the real environment, fans community activities (for example, like & share) will be rewarded with loyalty points and converted into MZK coins. Test here >> https://www.muzika.network/airdrop-event
Roadmap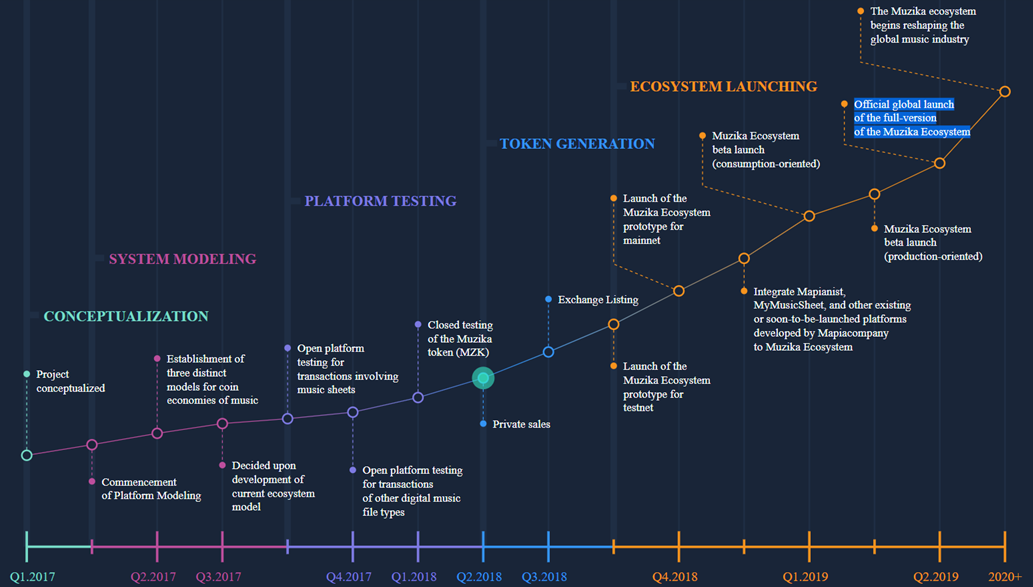 Founders and Team


For more information, visit the following link:

Author ; Melati21
Profile link ; https://bitcointalk.org/index.php?action=profile;u=1357963
Email address ; parasite887@gmail.com
ETH address ; 0x838d9F4750DFC63f9A75bdA335840C0A84aD3afc