My Review of the Atomic Wallet PC Application: The Multifeature Crypto Wallet With Excellent User In
Good day everybody, I will be making a review of atomic wallet application in this post,you can download the PC version of the wallet here.
As we are all aware that atomic wallet is offering a decentralized experience with multi-features to its user with an excellent user interface, the wallet supports the following platforms;
Ubuntu
Fedora
Debian
Microsoft Windows and
MacOS.
The picture below shows an example of how the homepage looks in the application;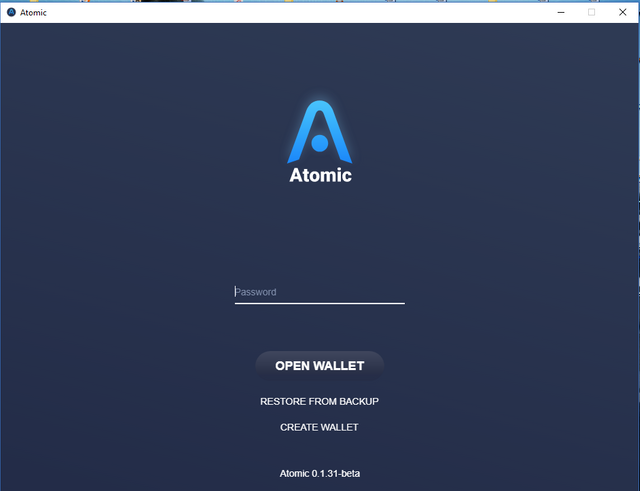 The login feature in the wallet is for already registered users and they can easily login using their password
Restoring wallet from backup is meant for users who are logging in for the first time on another PC via the use of their wallet 12 words Backup phrase after which they'll click on the restore button.
Creating new accounts can be easily done by putting a new password inside the wallet after which users can easily store their 12 words backup phrase.
Shown in the picture below is the overview of the wallet after logging in successfully;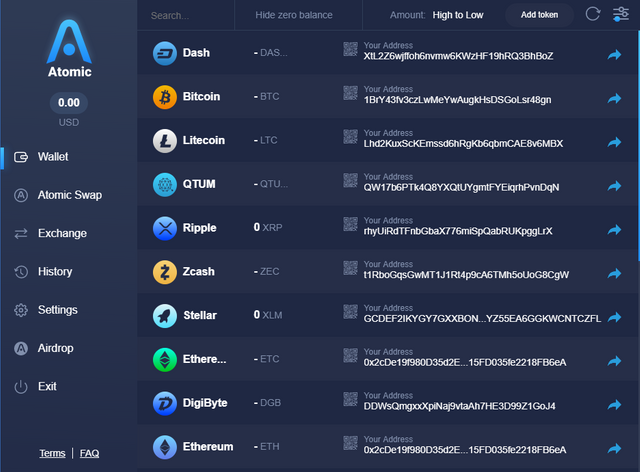 After a successful login, the wallet brings up all the available assets at a glance with each assets wallet address and balance beside it. Below the atomic logo on the top left is the display of the overall wallet worth.
To hide your zero balances, just click on the option Hide zero balance, also to change the order of the listed assets in the wallet from high balances to low balances or vice versa, click on the high to lowoption at the top of the wallet.
You can add new tokens to the list of assets by clicking on Add token which will take you to a new page as shown below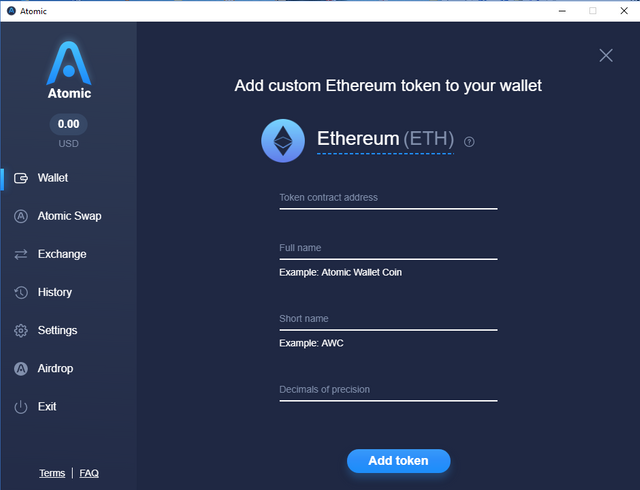 Contract address of new tokens can be added via Token contract address tab followed by adding the full name of the token in the next tab thereafter followed by the short name and decimals. After this, the token will automatically shown on the assets list provided the details are inputed correctly.
Also available at the top is the refresh button which is meant to refresh the token balance on the list of assets.
Searching for a specific token can be done using the search space at the top
Unwanted tokens o the list can be removed and ne tokens too can be added using the option at the top right side of the wallet
To send tokens/coins, this feature is made very easy in the atomic wallet application. Just click on the send arrow situated at the front of whichever tokens you're willing to send then insert the exact amount of tokens you want to send, wallet address and wallet password in the spaces provided. Each time youre sending a token/coin, the transaction fee to be used is always being displayed just below the amount of tokens you're sending. This is shown in the picture below;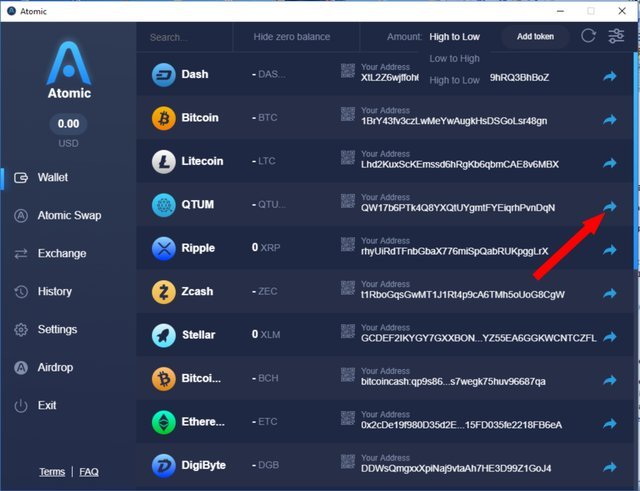 With all the multi-features present inside atomic wallet, then crypto assets management cannot be more appealing and easy coupled with its friendly user interface.
Have more enquiries on this wallet? Then visit the links below for clarifications;
Telegram
Support Email
Support page
Author Bitcointalk username: dvmmayowa
Bitcointalk link: https://bitcointalk.org/index.php?action=profile;u=2505500