Mycro
Mycro Token Just finished work

What is Mycro? Well, if you want to clean your house because you want to have a party in your house or your extended family wants to come, but you don't have time or want to repair your things, but you don't have the skills or knowledge or even time. At Mycro, you can publish your work requirements with the beautiful Micro Application. This ensures that you are connected with community members who can help you quickly. Or for job seekers who want to do these things, Mycro can connect you and the job provider. That's like a new good idea. Mycro offers many jobs such as:
Home Services: (gardening, cleaning, tidying, replacing, small repairs, cleaning windows, washing, ironing, cooking, etc.) Delivery Service: (shopping, transportation services, transportation services, shipping services, etc.) Virtual Services: (research Internet, travel planning, support services, administrative work, online surveys, etc.) Services that meet the following requirements: (tutoring, photography, modeling, piano lessons, preparing computers, installing TV programs, DJs, waiters, managing internet connections, etc.) other). On Mycro, the platform has a method of running Payments and transactions with mycro tokens (MYO). How do I use mycro tokens? 1. Shop for work:
Use the Mycro token (MYO) to get a better position on the Job Provider dashboard. So you can determine your own costs. We call it Shopping. 2. Prizes: Get MYO from the community gift collection for good placement after the job is successful and the mycro community is built – controlled by smart contracts. 3. Currency: You can plan to use Mycro tokens (MYO) to pay for your work – reliably and safely with a Smart Escrow Contract. (Planning) This is the Mycro Scheme The success of Mycro is basically based on intuitive usability.
The needs of job advertisers and employees must be fulfilled quickly and easily. This is done by matching the right job offer with the right contractor. Only then can both parties reach their goals. Good work products for job providers. Fun and tempting work for contractors. Why does Mycro use Blockchain? The reasons are: 1. Quick and easy use. The smart algorithm from Mycro can quickly assign the right job to the right contractor. You can post your work needs and employees can see the job at any time. 2. Trust
People who meet strangers lack confidence. Micro will solve this problem through a decentralized ranking and verification system implemented through smart contracts on the blockchain. 3. Security Money is stored decentralized by a smart escrow account when work is completed. Job providers and employers do not have access. The trust agreement governs the remuneration of the employer only if the job is successful. 4. Mycro's vision is saving money to turn Mycro into a fully distributed (dApp) application. Removal of intermediaries removes costs up to 30% collected by intermediaries. Work can always be arranged for free.
Employees only pay 2% to use Mycro dApp.
Project Features
Because the main features of this project are availability, openness and ease of use, Blockchain technology is an indispensable advantage. On that basis all the principles of further interaction of the participants of this platform will be built. Smart contracts and smart algorithms will help control this relationship. Contract provisions will be considered successful only when both parties are satisfied with fulfilling their obligations. Also within the MYCRO framework there will be a ranking of participants so employers have the opportunity to assess potential potential workers.
The principle of this interaction in a decentralized network will maximize the reliability and reputation of the future of all participants, while directly connecting with the specialists you need.
However, you will agree that often, people who can do your work away from you, but you don't even suspect their existence, because both of them use the wrong tools for communication and interaction. With MYCRO, this problem will be solved. Because workers and all necessary information about them will soon be available to you, when filling out your application form, which will positively affect the total search time.
Why is the Blockchain?
Fast and Simple Use

Trust

Security

Low cost
Simbol Token:
Softcap MYO :  3,500.000 €
Hardcap: 14.000.000 €
Pasokan Token: 100.000.000 MYO
Penjualan pribadi: 26.000.000 MYO
Penjualan utama: 40.000.000
MYO Spesifikasi rantai blok: ERC20
Metode partisipasi Token   : ETH *
ICO Mulai: Q4 / 2018
Token Distribusi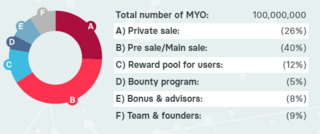 Peta jalan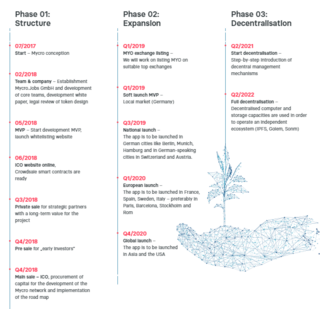 For more information:
Website:     http://www.mycrojobs.io/ 
WhitePaper:     http://www.mycrojobs.io/ 
Medium:     https://medium.com/mycrojobs 
Linkedin:     https: //www.linkedin .com / company / mycrojobs / 
Telegram:     https://t.me/mycrojobs 
Twitter:     https://twitter.com/Mycrojobs 
Facebook:     https://www.facebook.com/mycro.jobs/ 
Youtube:     https: / / www. youtube.com / channel / UC1Gk4r0HRGFnOMfX3tWEfGw /
Username: TWIXXER
Link: https://bitcointalk.org/index.php?action=profile;u=2579938